September 7, 2018
Spaghetti Alla Carbonara
You know, when you decide to start writing a food blog, you don't realize how humiliating it will be.
I mean, I was fairly certain I'd say things like, "Look! I made some brownies. You should too!" I did not think I would share my deepest secrets with you, such as the fact that I've never eaten oatmeal before or that I once drank salad dressing from a baggie. And that's just the embarrassing food stories! Let's not forget when I told you about that time in grade school when my pants were pulled right off of my butt at the skating rink.
And, now here I am, sharing with you that I have this weird fear of eggs. I mean, you guys, they are creepy.
So, imagine my surprise when I got an email from Safest Choice Eggs asking me to be a member of the Darling Dozen. I laughed my head off. Then I went on to research Safest Choice Eggs and realized that actually, we were a match made in heaven. Their eggs aren't creepy! They're pasteurized! I will not be dying of salmonella today, no sir.
I bought a dozen eggs and I did what I have longed to do for years, but was always too scared to try: I made Spaghetti Alla Carbonara.
Now, yes, I know, the heat from the spaghetti is supposed to cook the eggs. The thing is, maybe my pasta isn't hot enough to cook the egg. Or maybe you're just a liar who wants me to get salmonella? I don't know. I don't really care anymore, because I don't have to worry about it with Safest Choice.
Check out the video on Safest Choice's website to see Chef Giuliano Hazan walk you through how to make this simple recipe! It's quick, easy, and so creamy! I changed things up a bit and am including my recipe below.
If you haven't tried Spaghetti Alla Carbonara before, what are you waiting for?!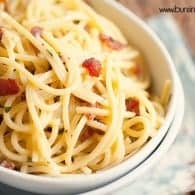 Spaghetti Alla Carbonara
Servings: 8 servings
Course: Main Course
Cuisine: Italian
Keyword: classic recipes, comfort food, weeknight dinner recipes
Calories: 327 kcal
If you haven't tried Spaghetti Alla Carbonara before, what are you waiting for?!

Ingredients
4 slices bacon sliced into bite sized pieces
2 tablespoons butter
2 tablespoons salt
1 pound spaghetti
3-4 sprigs flat-leaf Italian parsley finely chopped
1/4 cup freshly grated Parmigiano-Reggiano
2 Tbsp freshly grated Pecorino Romano
4 Safest Choice™ pasteurized egg yolks
Freshly ground black pepper to taste
Salt to taste
Instructions
Bring a large pot of water to a boil and cook pasta according to package directions.

While pasta is cooking, fry the bacon until just slightly crispy.

In a large serving bowl, combine the parsley, cheeses, and egg yolks. Stir to combine.

Remove the pasta and drain. Immediately dump the hot pasta into the bowl with the eggs.

Toss the pasta quickly to combine well and let the eggs cook from the heat of the pasta.

Pour the bacon and grease over the pasta and toss again.

Add salt and pepper to taste.

Serve immediately.
Nutrition Facts
Spaghetti Alla Carbonara
Amount Per Serving
Calories 327 Calories from Fat 99
% Daily Value*
Fat 11g17%
Saturated Fat 5g31%
Cholesterol 115mg38%
Sodium 1914mg83%
Potassium 158mg5%
Carbohydrates 42g14%
Fiber 1g4%
Sugar 1g1%
Protein 11g22%
Vitamin A 275IU6%
Vitamin C 0.5mg1%
Calcium 74mg7%
Iron 1.1mg6%
* Percent Daily Values are based on a 2000 calorie diet.
Nutrition Disclaimer: All information presented on this site is intended for informational purposes only. I am not a certified nutritionist and any nutritional information shared on bunsinmyoven.com should only be used as a general guideline.
This post was written as part of an ongoing relationship with Safest Choice. As always, all opinions are my own.