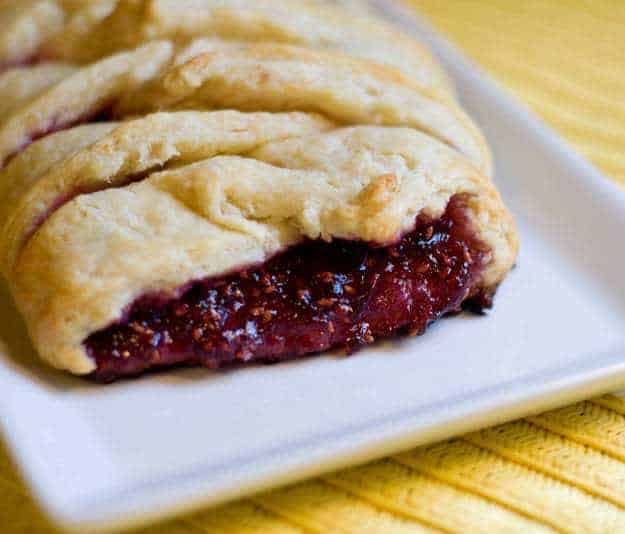 When I think of coffee cake, I think of a crumbly cake, preferably with a streusel topping, that you serve with coffee (much like this one). I do not think of pastry dough and rolling pins, but this Raspberry Coffee Cake has shown me the light. The crust is so flaky and tender and the inside is just oozing with red raspberry preserves. It's a raspberry lovers dream come true, but you could also make this with just about any other type of preserve you wanted. You could also use a seedless raspberry jam (which I usually buy, but my husband did the shopping this week) if you are scared of all the seeds.
The dough is a mixture of flour, butter, cream cheese, milk, a little salt, and some baking powder. It's so simple! You just cut in the butter and cream cheese, pour in the milk and give it a quick mix, and then knead it just a tiny bit until you have this scraggly lump of dough.
Don't be intimadated by this pastry dough! I had zero problems and the dough came out perfectly light and flaky! If the girl who relies on store bought pie crusts can master this dough, so can you.
Roll the dough out, transfer it to a baking sheet, and spread the middle third of the dough with preserves.
Slice the outer thirds of the dough diagonally, careful to leave a bit of space around the preserves, in about one to two inch thick strips. Start on one side of the dough and flip one strip of dough over on top of the preserves. Switch sides and just keep alternating back and forth until all the strips of dough are covering the preserves and you have a fancy braided looking coffee cake.
This bakes in just 12 to 15 minutes.
I forgot to line my pan with parchment paper and my kids are really going to hate me for that when it comes time to wash the dishes. Oh well, I'll just give them a big chunk of this as an apology.
Whip up some powdered sugar, milk, and vanilla and drizzle it over the top. You won't regret it.
Mm! Perfect for breakfast, brunch, with coffee, or as a dessert. Heck, I might even eat this for dinner.
Raspberry Coffee Cake
Recipe from The Luna Cafe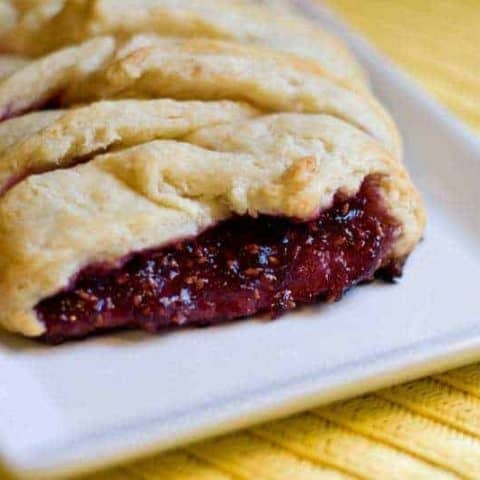 Raspberry Coffee Cake
Give this unconventional coffee cake a try!
Prep10 minutes
Cook15 minutes
Total25 minutes
Ingredients
For the cake
2 cups all purpose flour
1 teaspoon baking powder
1/2 teaspoon salt
1/2 cup butter
3 ounces cream cheese
1/2 cup milk
1/2 cup raspberry preserves
For the icing
1/2 cup powdered sugar
1 tbsp milk
1/4 tsp vanilla
Instructions
Pre-heat oven to 425 degrees.

Sift together the flour, baking powder, and salt into a large bowl. Cut in the butter and cream cheese. Pour in the milk and stir just until combined.


Turn out on a floured surface and knead lightly 4 or 5 times. Do not overwork the dough. Roll the dough out on parchment paper into an 8 x 12 inch rectangle.


Transfer dough to a lightly greased (or parchment paper lined) baking sheet. Mark the dough with a knife lengthwise into thirds.


Spread preserves down the center third of the dough. Make diagonal cuts every couple of inches on the outer thirds of the dough. Do nut cut into the preserves. Fold strips over the preserves, first from one side, then from other until you have folded over all the strips of dough.


Bake for 12 - 15 minutes, until dough is fully cooked and lightly browned on top.


Add the powdered sugar, milk, and vanilla to a small bowl. Stir together and drizzle over the coffee cake.
Nutrition Information:
Calories: 234kcal (12%)| Carbohydrates: 31g (10%)| Protein: 3g (6%)| Fat: 10g (15%)| Saturated Fat: 6g (38%)| Cholesterol: 29mg (10%)| Sodium: 197mg (9%)| Potassium: 90mg (3%)| Sugar: 12g (13%)| Vitamin A: 350IU (7%)| Vitamin C: 1.2mg (1%)| Calcium: 43mg (4%)| Iron: 1.1mg (6%)
(The recipe posted on Luna Cafe does show how to fold the dough over to make the braided shape if you need a visual!)