August 8, 2018
Peanut Butter Filled Chocolate Muffins
This chocolate muffin recipe comes together with no mixer needed! The creamy peanut butter filling makes these extra special.
So, I hate to be the bearer of bad news, but summer is apparently coming to an end. I don't know if you've been to the store lately, but gone are the floaties and the sunscreen and in it's place are loads of notebooks and pencils and a lot of really intense lunch boxes. Like, when did lunch boxes become such a thing?
Back in my day, I took a brown paper sack. <— This marks the first time I've said "back in my day." I'm officially old. Dang it.
Anyway, with back to school season here, I thought it was important to bring out a fun breakfast treat. My favorite way to celebrate important moments in my kiddos' lives is with a fun breakfast. Remember my son's birthday cake waffles? Yeah.
So, this year I thought it would be fun to start that first day back to school with some special muffins. I feel like there is a verrrrrrry fine line between muffin and cupcake. That line is frosting. If you don't cross the frosting line, you can call it a muffin.
Who's with me?
So that means that these little chocolate peanut butter treats you're eyeballing right now are definitely muffins. Because there is no frosting. Definitely not chocolate peanut butter cupcakes. No sir.
These muffins are stuffed with a mixture of peanut butter and powdered sugar, which basically makes this a peanut butter ball stuffed muffin and I'm sorry, you can not turn down that kind of muffin. You just can't.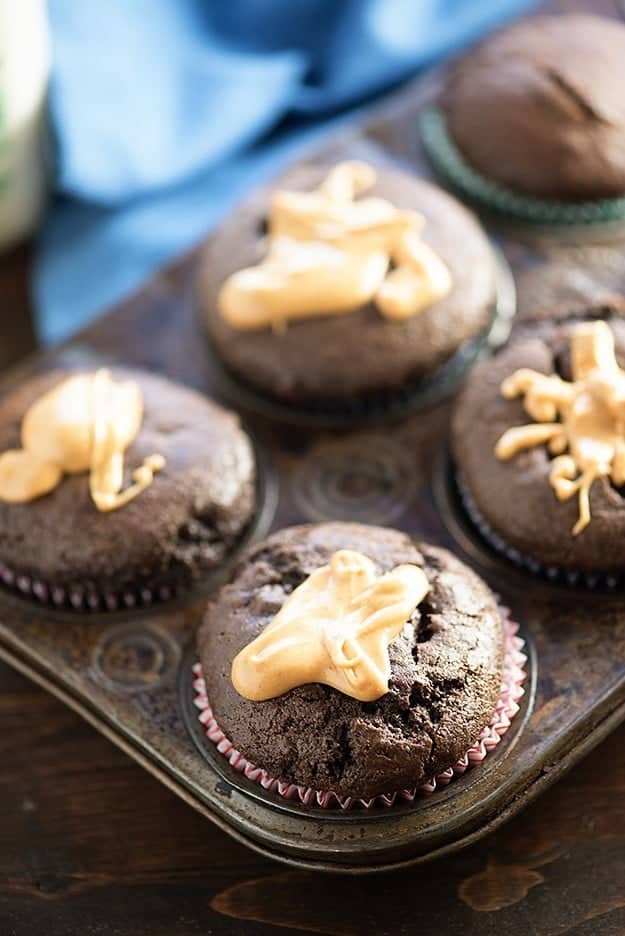 I drizzled warmed peanut butter right on top of these guys for two reasons. Number 1) extra protein. Number 2) I'm obsessed with peanut butter.
I wouldn't run around serving these to my children every day of the week, so no need to send me emails telling me that this is why America's kids are fat, but like I said, these are perfection on a special occasion. Serve 'em with a side of fruit or a scrambled egg and you're good to go.
Also, if you wanted to top these with frosting, that wouldn't be a bad thing. Just maybe call them dessert at that point, k?
Peanut Butter Filled Chocolate Muffins
Servings: 12 muffins
Calories: 392 kcal
Whether you eat these for breakfast or dessert, you and your family are going to love this chocolate muffin recipe!
Ingredients
2 cups flour
1 cup sugar
1/2 cup chocolate chunks or chips
1/2 cup cocoa powder
1 teaspoon baking soda
1 teaspoon espresso powder
1 cup sour cream
1/2 cup milk
1/2 cup vegetable oil
1 egg
2 teaspoons vanilla extract
1/2 cup peanut butter
1/3 cup powdered sugar
Instructions
Preheat oven to 400 degrees. Line muffin tin with papers.

Add flour, sugar, chocolate chunks, cocoa powder, baking soda, and espresso powder to a large bowl. Whisk to combine.

Add sour cream, milk, vegetable oil, egg, and vanilla to a medium bowl and whisk well to combine.

Pour wet ingredients into dry ingredients and stir until combined.

In a small bowl, stir together the peanut butter and powdered sugar with a fork until well combined and smooth.

Spoon muffin batter into muffin liners, filling just 1/3 of the way full. Top with a small spoonful of peanut butter mixture. Top with more muffin batter to fill 3/4 of the way full.

Bake for 15 minutes or until a tester comes out mostly clean, with just a few moist crumbs.

Cool completely. Drizzle with additional melted peanut butter before serving, if desired.
Nutrition Facts
Peanut Butter Filled Chocolate Muffins
Amount Per Serving
Calories 392 Calories from Fat 198
% Daily Value*
Fat 22g34%
Saturated Fat 6g38%
Cholesterol 24mg8%
Sodium 127mg6%
Carbohydrates 46g15%
Fiber 3g13%
Sugar 26g29%
Protein 7g14%
* Percent Daily Values are based on a 2000 calorie diet.
Nutrition Disclaimer: All information presented on this site is intended for informational purposes only. I am not a certified nutritionist and any nutritional information shared on bunsinmyoven.com should only be used as a general guideline.