Do you ever have days where you just need a big gooey bite of chocolate? Like, if you could melt a bag of chocolate chips and then smear them all over your face, you'd do it? No? Well, me neither. That'd be weird.
I totally wasn't having a day like that last week. I just made these bars for my family. I mean, I totally didn't even want any chocolate. Chocolate is over rated, am I right? (Nope.)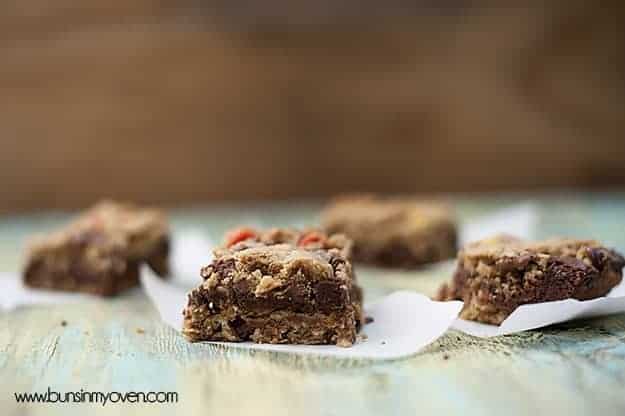 This, sadly, is about as festive and Halloweeny as I get. I don't do complex cookie decorating, or crazy cake sculpting, or even creative twinkie decorating. These cookie bars, however, have the word monster in them. Therefore they are perfect for Halloween. The "monster" in these bars doesn't come from the decorating, but from the fact that the crust is made from monster cookies – full of chocolate, peanut butter, and oats.
This recipe is another one that I found floating around pinterest, created by Mississippi Kitchen.
Monster Revel Bars
Monster cookies are a clean-out-the-pantry recipe, and putting them into bar form makes them even easier.
Prep20 minutes
Cook30 minutes
Total50 minutes
Ingredients
3 cups quick cooking oats
2 1/2 cups all-purpose flour
1 teaspoon baking soda
1 teaspoon salt
1 cup butter room temperature
1/2 cup peanut butter
2 cups brown sugar
2 large eggs
2 teaspoons vanilla extract
1 cup Reese's Pieces
1 cup milk chocolate chips
14 ounces sweetened condensed milk
1 1/2 cups semisweet chocolate chips
1/2 cup peanut butter
2 tablespoons butter
1/2 teaspoon salt
Instructions
Preheat the oven to 350 degrees and line a 9x13 dish with parchment or spray with nonstick spray.

In a large bowl, combine the oats, flour, baking soda, and salt.

In the bowl of your stand mixer, cream together the butter, peanut butter, and sugar until light and creamy.

Beat in the eggs one at a time. Stir in the vanilla until combined.

Stir in the Reese's Pieces and chocolate chips until distributed throughout the cookie dough.

Combine the wet and dry ingredients and mix until combined.

Press 2/3 of the cookie dough into the prepared pan.

Add the condensed milk, semisweet chocolate chips, peanut butter, butter, and salt to a small saucepan over low heat and heat, stirring often, until the mixture is smooth.

Spread the chocolate mixture over the cookie dough.

Take small chunks of the remaining cookie dough and flatten them with your hands and drop them over the chocolate mixture in a single layer. The top layer will not cover the chocolate completely. There should be some gaps.

Bake for 25-30 minutes or until golden brown. Cool completely before cutting.
Nutrition Information:
Calories: 594kcal (30%)| Carbohydrates: 73g (24%)| Protein: 11g (22%)| Fat: 29g (45%)| Saturated Fat: 15g (94%)| Cholesterol: 54mg (18%)| Sodium: 444mg (19%)| Potassium: 366mg (10%)| Fiber: 3g (13%)| Sugar: 49g (54%)| Vitamin A: 425IU (9%)| Vitamin C: 0.6mg (1%)| Calcium: 119mg (12%)| Iron: 2.8mg (16%)