Homemade taquitos filled with BBQ pulled pork and drizzled with ranch! This is the tastiest twist on traditional taquitos thanks to the sweet and smoky pulled pork. Big thanks to Smithfield for sponsoring this post. As always, all opinions are my own.
I like to joke that I'm obsessed with tacos, but let's be honest.
I'm not joking. It's a serious problem.
The thing is, over the years, I've come to realize that it's not necessarily the taco that I'm obsessed with – it's the soft, steamy flour tortilla.

I am 100% certain that stuffing ANYTHING inside a good flour tortilla will make it taste a bazillion times better.
I'm working with Smithfield this year to bring you fun recipes featuring their delicious marinated fresh pork. This time around we're staring with a Smithfield Sweet and Smoky Marinated Fresh Pork Roast.
Traditionally, taquitos are filled with chicken or beef, but pulled pork is a fun swap and is perfect for Smithfield's Shake It Up contest they have going on right now.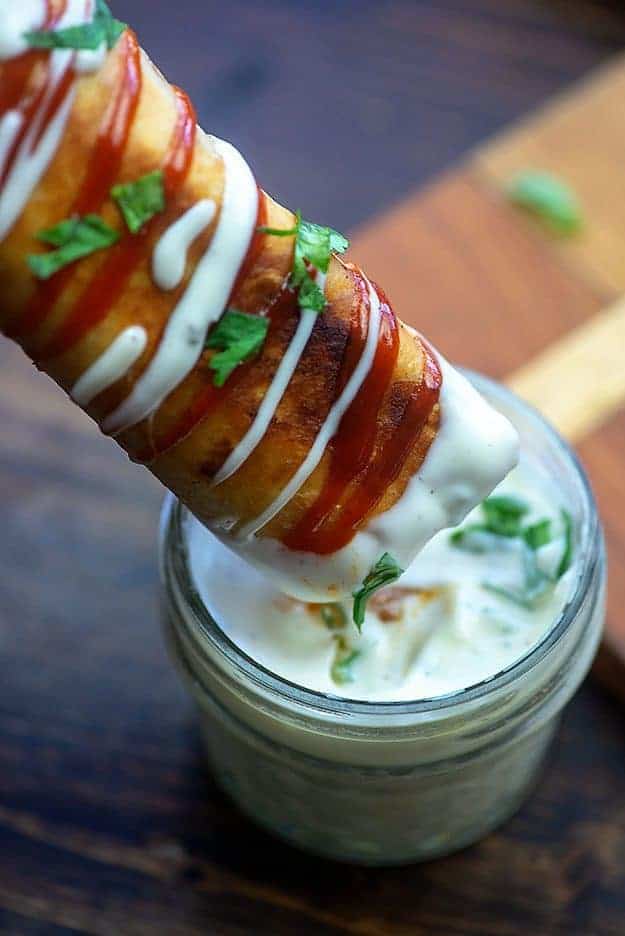 From now through April 26, visit Smithfield.com/ShakeItUp to submit a photo of your original dish along with a brief description on how you shake up your go-to recipes with Smithfield Fresh Pork instead of beef or chicken. Twenty finalists will win a $100 gift card and one lucky grand prize winner will take home $5,000! What are you waiting for?
Let's get to work on these taquitos, shall we?
How to make homemade taquitos:
To start, we're going to pop our pork roast right in the slow cooker. I love starting with the Sweet & Smoky Pork Roast because it's already coated in a tasty dry rub.
You can find Smithfield products at grocery stores nationwide, including Publix, Wal-Mart, and Albertson's in a variety of fresh cuts and mouth-watering flavors.
You'll just add a little chicken broth and apple cider vinegar to your slow cooker. No other seasonings necessary!
Cook that roast on low for 8 hours or on high for 5 hours. Every slow cooker is different and yours might take a bit longer than mine – just cook the pork until it easily shreds with two forks.
Squirt some barbecue sauce into the pulled pork and give it a good stir.
Spoon a little of the pulled pork into a 6-inch flour toritlla, top with a sprinkle of grated cheddar, and roll it up tight.
You can definitely play with the cheese here and use whatever you like best. I think cheddar is pretty perfect, though.
To fry the taquitos:
Pop that little taquito into some hot oil.
I know that frying food at home can be scary and messy, but this recipe is quite simple because you really only use a little oil. Just 1/4 inch of oil in the bottom of a skillet is all you need.
Drain the taquitos on a paper towel lined plate.
For baked taquitos:
If you'd prefer to bake your taquitos, spray them down with a little cooking spray and bake on a cookie sheet!
These bake in about 15 minutes at 400 degrees.
I personally prefer the frying method because they taste more authentic and that far outweighs the hassle of frying, in my opinion.
BBQ Ranch Pulled Pork Taquitos:
Bust out your favorite bottle of barbecue sauce and drizzle it over the taquitos. Drizzle on a little ranch dressing for good measure. Sprinkle on some chopped cilantro.
You're ready to dig in!
You can serve these with extra ranch or BBQ sauce for dipping, if you like.
Either way, I think these are going to be a total hit with your family.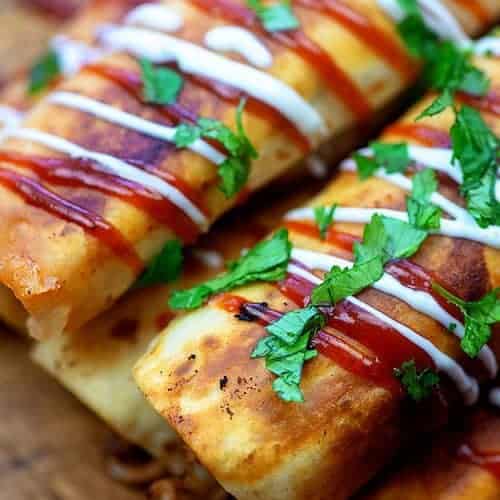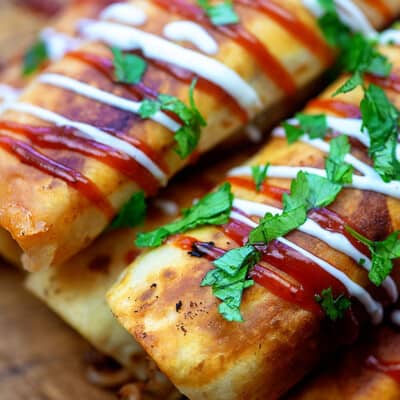 BBQ Ranch Pulled Pork Taquitos
Homemade taquitos stuffed with BBQ pulled pork and drizzled with ranch!
Prep10 minutes
Cook8 hours 20 minutes
Total8 hours 30 minutes
Ingredients
2 pounds Smithfield Sweet and Smoky Marinated Fresh Pork Roast
1/2 cup chicken broth
1/4 cup apple cider vinegar
3/4 cup barbecue sauce
10 6-inch flour tortillas
3/4 cup grated cheddar cheese
vegetable oil for frying
ranch dressing for serving
1 tablespoon minced cilantro
Instructions
Add the pork roast, chicken broth, and apple cider vinegar to a slow cooker and cover. Cook on low for 8 hours or high for 5 hours, or until the meat shreds easily with a fork.

Shred the meat and remove to a bowl. Stir in the barbecue sauce to coat the meat.

Spoon the meat evenly between the flour tortillas and sprinkle each one with cheese.

Roll the tortillas tightly and place seam side down.

Add 1/4 inch of vegetable oil to the bottom of a large, deep skillet. Heat over medium heat to 375 degrees.

Carefully place the taquitos into the hot oil, working in batches so as not to overcrowd the pan. Fry on each side for 1-2 minutes or until golden brown.

Remove to a paper towel lined plate to drain.

Drizzle the taquitos with additional barbecue sauce and ranch dressing. Sprinkle with chopped cilantro before serving.
Nutrition Information:
Serving: 1taquito| Calories: 282kcal (14%)| Carbohydrates: 24g (8%)| Protein: 25g (50%)| Fat: 8g (12%)| Saturated Fat: 3g (19%)| Cholesterol: 66mg (22%)| Sodium: 566mg (25%)| Potassium: 457mg (13%)| Sugar: 8g (9%)| Vitamin A: 135IU (3%)| Vitamin C: 1mg (1%)| Calcium: 105mg (11%)| Iron: 1.7mg (9%)