August 26, 2018
Fluffernutter Cookies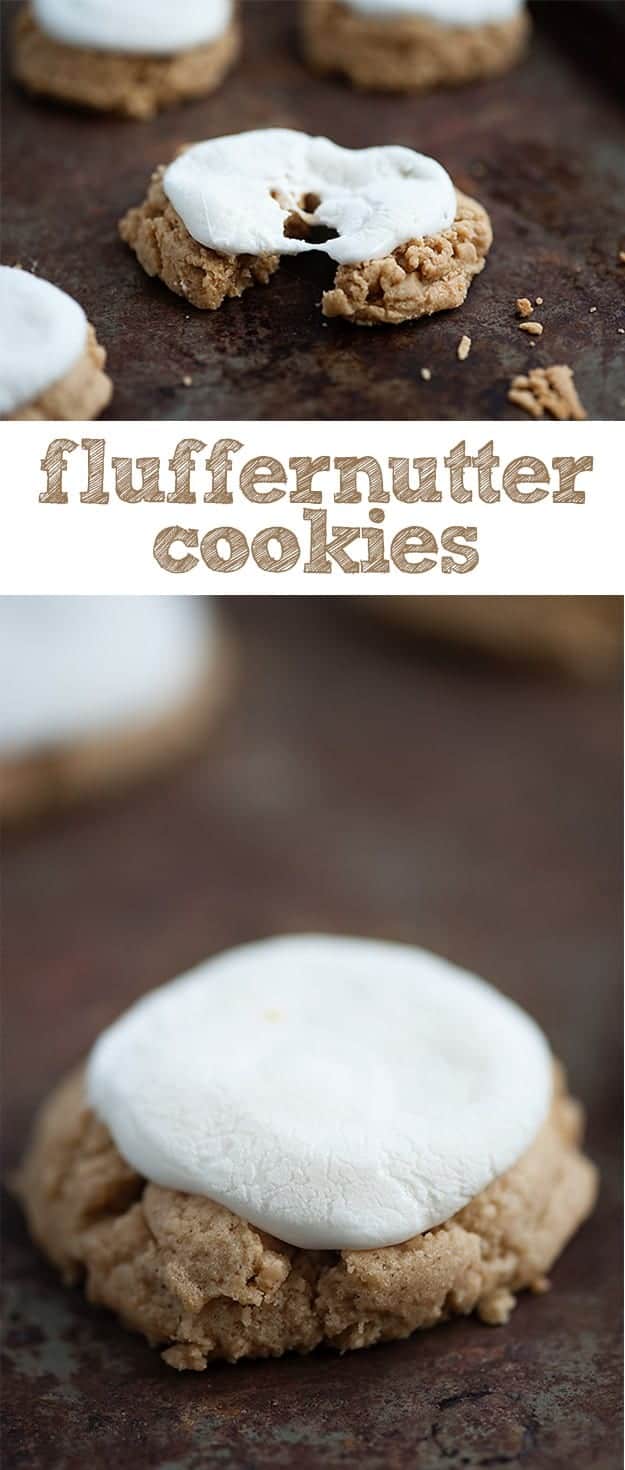 It's cookie time, y'all. Because, really. Isn't it always?
The truth is that no. It's not, sadly. I'm back on my low carb diet, which means no cookies for me. Luckily, I had the sense to make this recipe the day before I started my diet and I got to eat as many of these cookies as I wanted because I knew I was starting a diet the next day.
That's how you guys do the day before a diet starts too, right? You eat all the foods you know you won't be having for a bit? And maybe gain a pound or two in the course of 24 hours all in the name of freedom?
Huh. Maybe I'm dieting wrong?
Anyway, I don't hate my low carb diet. I eat bacon and eggs for breakfast every day. I have hamburgers with extra homemade mac sauce and no buns for lunch. I eat steak for dinner a few times a week. Yeah, yeah, there are vegetables involved, but did you hear about the bacon and the steak and the mac sauce? Makes the veggies doable.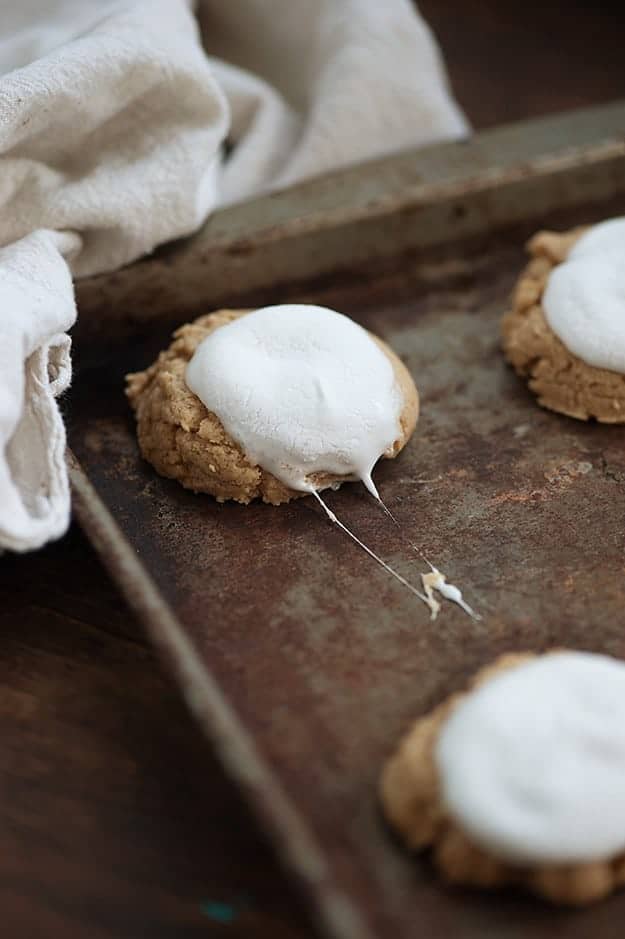 Anyway, let's back up to the eggs, shall we? As you guys must know by now, I've been working with Davidson's Safest Choice eggs for, um, 2 years now. A little more than that even. It's been pretty rad, because I legit love their eggs for a lot of reasons, like the fact that they're pasteurized so when I make myself eggs for breakfast, I'm not the least bit concerned about serving them sunny side up!
And when I make cookies I get to eat the dough before I bake it. Like my favorite recipe for peanut butter cookies. The dough is so soft and it doesn't require any chilling, which is always a bonus. The dough holds it shape really well so the cookies come out thick and puffy and delicious. But, let's be real…the raw dough is just amazing, like a peanut butter ball!
So, I wanted to experiment a little and I turned my favorite peanut butter cookies into fluffernutters by adding a half of a marshmallow to the tops of the cookies! It worked so well. The marshmallow melts over the cookie and stays soft even after it's come back to room temperature. What an easy way to frost a cookie and add a little pizzazz!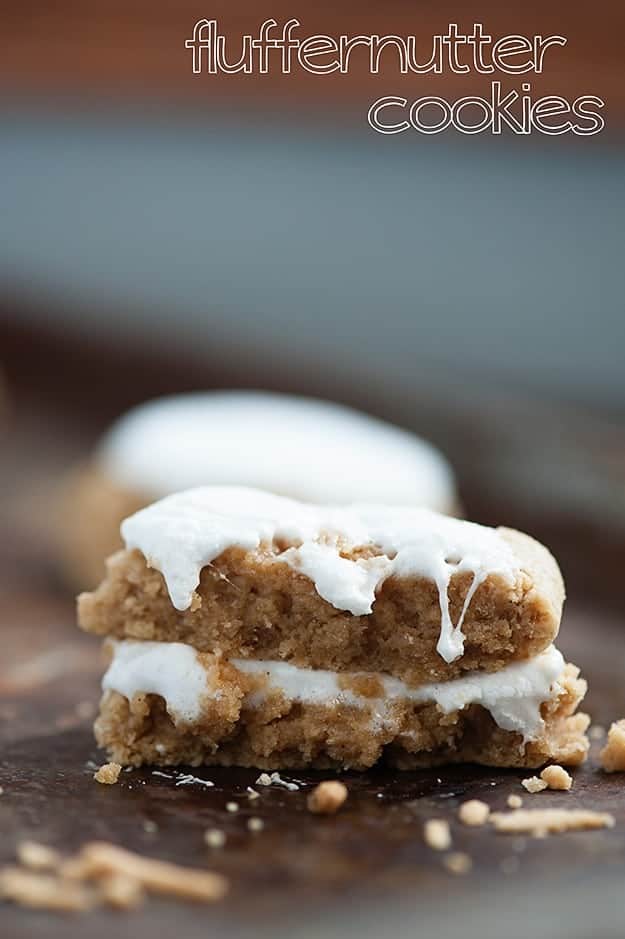 Fluffernutter Cookies
Servings: 30 cookies
Course: Dessert
Cuisine: American
Keyword: back to school, easy cookie recipes, kid-friendly recipes
Calories: 120 kcal
I wanted to experiment a little and I turned my favorite peanut butter cookies into fluffernutters by adding a half of a marshmallow to the tops of the cookies! It worked so well.

Ingredients
1/2 cup butter softened
1/2 cup peanut butter
3/4 cup brown sugar
1/4 cup white sugar
1 large egg
1 teaspoon vanilla
1 3/4 cups flour
1 teaspoon baking soda
1/2 teaspoon salt
15 marshmallows cut in half
Instructions
Preheat the oven to 350 degrees. Line a baking sheet with parchment paper.

In the bowl of a stand mixer, cream together the butter, peanut butter, and sugars until light and fluffy. Beat in the egg. Stir in the vanilla.

In a medium bowl, combine the flour, baking soda, and salt. Gradually add to the creamed mixture and beat until well combined.

Use a medium cookie scoop to drop balls of dough on the cookie sheet, leaving at least 1 inch between each cookie. Use your hands to gently flatten the dough a bit.

Bake for 4 minutes and remove from the oven. Carefully top each of the cookies with the halved marshmallows and return to the oven for 4 more minutes.

Let the cookies set on the baking sheet for 5 minutes to set up before transferring to a wire cooling rack.

Store covered for up to one week.
Nutrition Facts
Fluffernutter Cookies
Amount Per Serving
Calories 120 Calories from Fat 45
% Daily Value*
Fat 5g8%
Saturated Fat 2g13%
Cholesterol 14mg5%
Sodium 128mg6%
Potassium 45mg1%
Carbohydrates 16g5%
Sugar 9g10%
Protein 2g4%
Vitamin A 105IU2%
Calcium 9mg1%
Iron 0.5mg3%
* Percent Daily Values are based on a 2000 calorie diet.
Nutrition Disclaimer: All information presented on this site is intended for informational purposes only. I am not a certified nutritionist and any nutritional information shared on bunsinmyoven.com should only be used as a general guideline.