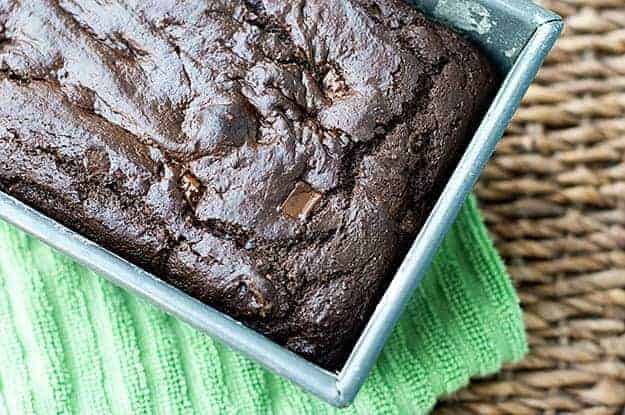 I've been wanting to making this chocolate bread with peanut butter spread for a long time now and for a couple of reasons.
The number one reason, obviously, is because it rhymes.
Say it with me – Chocolate Bread with Peanut Butter Spread.
That's just fun.
The second reason is because it sounds yummy. It's chocolate bread, for the love of Pete. And then you spread peanut butter on it! And it's considered BREAKFAST.
The one thing holding me back, however, has been my husband.
Every couple of weeks I'd mention this bread. "Hey, how about some chocolate bread with peanut butter spread for breakfast tomorrow?" And every time he would wrinkle his nose and ask "Chocolate bread? Sounds gross. How about some cookies instead?"
Yes. Cookies. For breakfast. Like that's reasonable.
Today, I told him that I just couldn't live like this anymore and I made the dang bread. The chocolate bread with peanut butter spread.
I'm sorry. Rhyming is just so fun. I can't help but repeat it over and over.
Bread and chocolate together in total carby goodness!
The original recipe called for dark chocolate chunks to be mixed through the bread, but I used half dark and half semi-sweet. My kids aren't dark chocolate fans and I didn't want to be forced to eat the whole loaf myself. I would have done it, of course, but I wouldn't have liked it. Or maybe I just would have liked it too much? Hard sayin'.
Either way, this was yummy. The kids and I had it for breakfast and the husband had some leftover Oreos. We're a healthful bunch.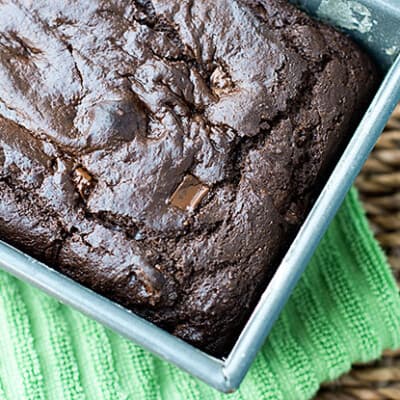 Double Chocolate Bread with Peanut Butter Spread
This chocolate bread is great on it's own, but that peanut butter spread really takes it over the top!!
Prep15 minutes
Cook1 hour 10 minutes
Total1 hour 25 minutes
Ingredients
For the bread:
3/4 cup firmly packed brown sugar
1 cup unsweetened cocoa powder
1 1/2 cups all-purpose flour
3/4 cup granulated sugar
1 1/2 teaspoons baking soda
3/4 teaspoon baking powder
1 teaspoon salt
2 large eggs
1 large egg yolk
3/4 cup buttermilk
1 teaspoon vanilla
1/2 cup vegetable oil
8 ounces dark chocolate chunks
For the peanut butter spread:
3 ounces cream cheese softened
3 tablespoons peanut butter
1/3 cup powdered sugar
Instructions
For the bread:
Preheat the oven to 350 degrees. Butter and flour a 9x5 inch loaf pan.

Place the brown sugar in the bowl of a mixer fitted with the paddle atttachment. Press out any lumps with the back of a spoon. Add the cocoa, flour, granulated sugar, baking soda, baking powder, and salt and mix until combined.

In a seperate bowl, whisk the eggs and egg yoolk until blended, then add the buttermilk, oil, and vanilla. Whisk until combined.

Turn the mixer to low and slowly stream the wet ingredients into the dry, mixing until just combined. Stir in the dark chocolate chunks by hand. Do not over mix!

Pour the batter into the prepared pan and bake for 1 hour to 1 hour and 10 minutes, or until a toothpick inserted in the center comes out clean.

Cool in the pan for 10 minutes and then turn out onto a cooling rack.
For the peanut butter spread:
In the bowl of a stand mixer, beat together all ingredients until well combined and fluffy. Use immediately or store tightly wrapped in the refrigerator for up to 3 days.
Nutrition Information:
Calories: 673kcal (34%)| Carbohydrates: 86g (29%)| Protein: 11g (22%)| Fat: 35g (54%)| Saturated Fat: 21g (131%)| Cholesterol: 85mg (28%)| Sodium: 611mg (27%)| Potassium: 516mg (15%)| Fiber: 6g (25%)| Sugar: 56g (62%)| Vitamin A: 290IU (6%)| Calcium: 117mg (12%)| Iron: 5mg (28%)
recipe from Baked Explorations