Cruising with teenagers is always a good time! I'm sharing some of the reasons why we think it's a great option for vacationing with teens and some tips and tricks as well. Big thanks to Princess for sponsoring this post.
Family vacation is my favorite time of the year, especially now that my babies are teenagers! Sure, teenagers come with their own unique challenges, but I've found this stage of their lives to be the most fun when it comes to vacation time!
We're blessed to be able to take a couple of vacations with our teens each year and I'm going to share why I think cruising is the way to go when it comes to travelling with teenagers.
1. Destinations that keep everyone happy!
Choosing a destination is just a little easier when you're cruising, because you're not committing to spending an entire week in one spot.
We sailed around the British Isles last year and my daughter had zero interest in visiting Europe (she's a beach girl), but knowing that she'd be on a cruise ship with ample opportunities for fun and visiting somewhere new every day meant that she was okay with our choice.
Had we just packed a bag and stuck around one city for a week, she would have been much more likely to grow tired of the museums and lose the excitement of exploring somewhere new.
Choose a general destination (you'd be surprised some of the places you can sail to with Princess!) and then get your teens involved in choosing the perfect itinerary. If everyone has at least one stop they're really excited about, the vacation planning will be fun too!
2. Free range teens without too much worry!
My teens are 18 and 13 and we've been perfectly comfortable with them roaming a cruise ship on their own.
We walk the ship with them a few times to get them used to the layout, point out the maps located near every elevator, and let them go on their merry way. We always set up check in times with them, so while they have their freedom, we also have a plan for meeting back up.
Don't be surprised when they stop for free ice cream every time they leave the room. I do it too. 😉
Princess offers free messaging through their app. Highly recommend downloading it before you set sail! It's super convenient, because you likely won't have service while at sea and it's expensive to use if you do. Princess's free messaging makes it so much simpler.
3. Everyone gets a night to choose their favorite restaurant!
Princess has some amazing restaurants onboard and we all have our own favorites. You could certainly be happy sticking to the restaurants that are included in the price of your cruise, but we enjoy the specialty restaurants and find they're worth additional cost. We allow each family member to pick one restaurant and we all go eat there. It's a good time and everyone is happy that they got to choose their favorite.
Read up on my "What To Eat Onboard The Caribbean Princess" for restaurant recommendations!
4. If the budget allows, get two cabins.
I realize that this won't work for everyone's budget, but if you can swing that extra cabin I would do it.
I certainly love a good balcony view, but if I had to choose between two inside cabins or a single balcony cabin, I'd always choose the two inside cabins.
Extra storage space, extra bathroom, extra room to breathe.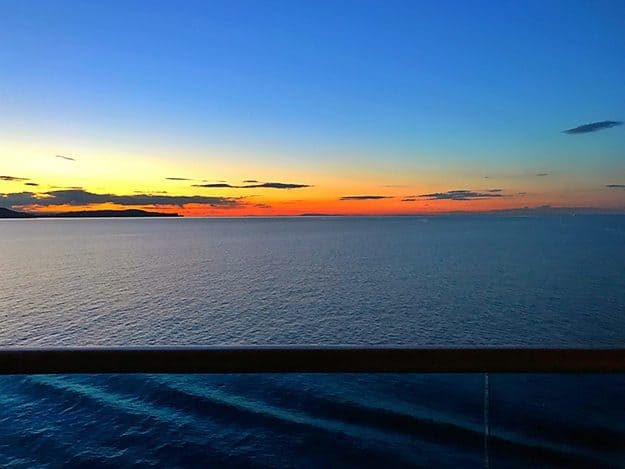 Princess does require that you have an adult in each room when you purchase your trip, but the staff at Guest Services is happy to change your rooms around once your onboard. They'll make you new keys and get you all set up so the kids are in one room and adults are in another.
Princess also has free room-to-room calling, so checking in and keeping in touch is simple. I do recommend getting rooms as close together as possible – those ships are huge!
5. Pack board games.
We're a family of gamers, so we always leave extra space in our suitcase for a couple of our favorite games. On our last cruise we packed Settlers of Catan and set up shop inside Sabatini's restaurant during the day to play at their dining tables. Sabatini's doesn't open until dinner, so we generally had the whole space to ourselves.
If there is another activity that your family enjoys doing at home, try to bring it along in case of rain or other downtime.
There is plenty to do onboard a Princess ship (shows, art auctions, Bingo, the kids' club, the pool, etc.) but it's nice to have something packed for back up.
Of course, lounging by the pool is always my favorite thing to do on sea days.
6. Shore excurisions for everyone!
As soon as we had everything reserved for our Princess cruise, I went into their easy to manage online cruise planner and favorited all of the excursions that I thought everyone would enjoy. I didn't favorite anything that was out of budget or that I knew one person would hate, because inevitably those would have been the excursions that the kids chose. 😉
Once I had a few options for each port, I gathered the family and we each voted on excursions. The teens loved being involved and were happy to compromise with each other. They each had a 'must-do' and they worked with each other to make it happen.
My son's must do included a trip to view some Mayan ruins and you can read about it here.
My daughter insisted on spending at least one day at the beach and we did this in Honduras, riding their 'Magical Beach Chair' over to a private beach. So fun!
Check out all of Princess' itineraries and start planning your next trip!