This garlic bread recipe is the only one you'll ever need – it's creamy cheesy perfection and it's so easy to make!
Oh, Lord, y'all. Have I got a recipe for you.
The other day I was flipping through my rather large stack of unread cooking magazines searching for recipes to tear out and save for later. I came across a recipe for how to make homemade garlic bread – creamy onion garlic bread, to be precise – and my heart stopped. The name alone was enough to make my mouth start watering. It wasn't pretty.
I hurriedly ripped the recipe out, because with ingredients like onions and garlic it had to be good, right? Well, yeah, I'm sure it probably was a "good" recipe, but it wasn't what I was hoping for. The list of ingredients included garlic powder, but no real garlic, and that, my friends, is a real tragedy.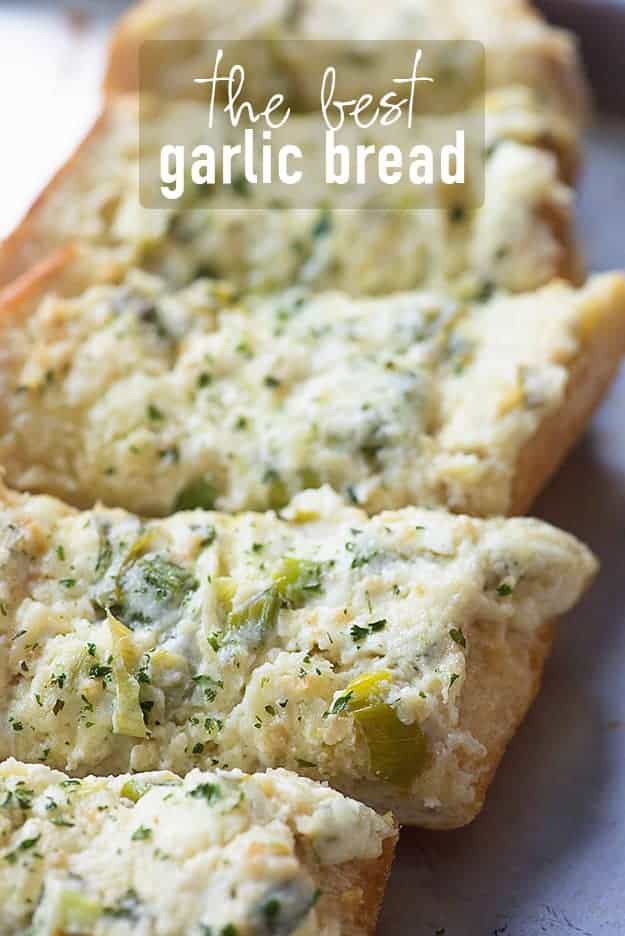 I decided right then and there that I was going to save the world from eating mediocre garlic bread and, y'all, I don't want to brag or anything, but this is the best garlic bread I have ever eaten in my life.
I created something amazing, if you ask me. If you try just one recipe from this site, let it be this one. Seriously. Delicious doesn't even begin to describe the creamy yumminess that is this bread.
Here's what you'll need to make the best garlic bread recipe ever: cream cheese, butter, mayonnaise (if you're a mayo hater, just double the amount of cream cheese), Parmesan cheese, garlic, garlic powder, green onions, salt and pepper. Oh, and a loaf of french bread.
Pretty easy, right? Nothing too crazy.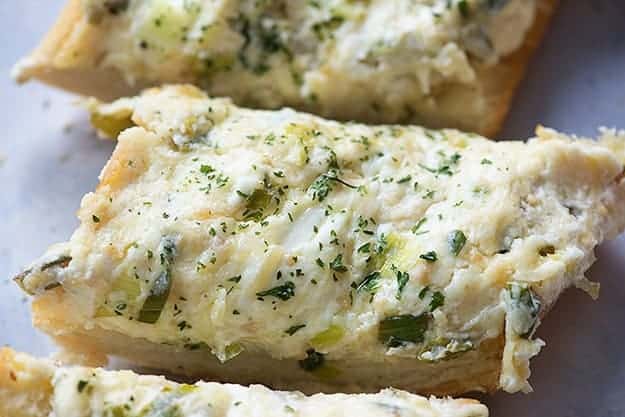 Here's some good news about this bread – you can totally freeze it for another day!
The bread gets sliced in half, so I'll bake one half of the loaf right away and pop the other half in the freezer for another day. This is easy to freeze – just stick it into the freezer, uncovered, for thirty minutes. After thirty minutes the topping should be frozen enough not to smear all over the place. Wrap it tightly in aluminum foil and freeze until needed. Bake it straight from the freezer at 400 degrees for 10-15 minutes. Keep an eye on it, though, you won't want it to get too brown and crunchy.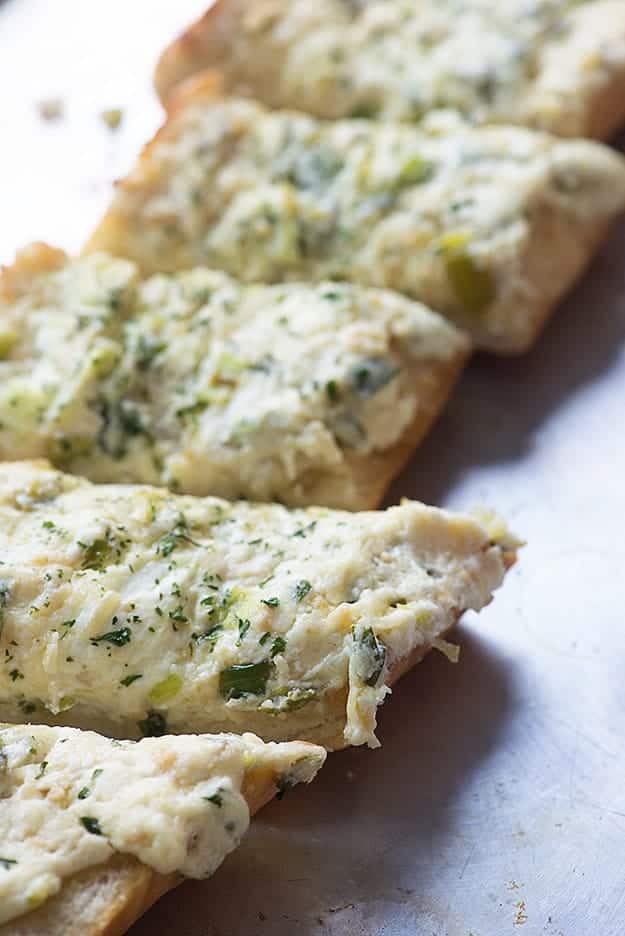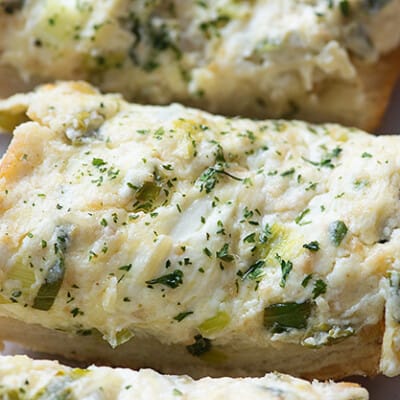 Creamy Onion Garlic Bread
This garlic bread recipe is the only one you'll ever need - it's creamy cheesy perfection and it's so easy to make!
Prep5 minutes
Cook12 minutes
Total17 minutes
Ingredients
2 teaspoons olive oil
1/4 cup chopped green onions
4 cloves garlic minced
4 oz. cream cheese room temperature
1/4 cup butter room temperature
1/4 cup mayonnaise
1/4 cup shredded Parmesan cheese
1 teaspoon garlic powder
Salt and pepper to taste
2 teaspoons dried parsley flakes
1 loaf French bread
Instructions
Preheat oven to 400 degrees.

Finely dice the green onions and garlic. Drizzle a large pan with olive oil and saute onions and garlic for 1-2 minutes, until garlic is soft and fragrant. Remove from heat and set aside.

In the a medium mixing bowl, stir together the cream cheese, butter and mayonnaise. Mix in Parmesan cheese, garlic powder, salt and pepper.

Pour in the onion and garlic mixture and stir together with the cheese mixture.

Slice the french bread in half lengthwise and spread the cut sides of the bread with the mixture.

Bake for 5-10 minutes, until the topping has warmed through and the bread is golden at the edges.
Nutrition Information:
Calories: 158kcal (8%)| Carbohydrates: 14g (5%)| Protein: 4g (8%)| Fat: 9g (14%)| Saturated Fat: 4g (25%)| Cholesterol: 17mg (6%)| Sodium: 224mg (10%)| Potassium: 51mg (1%)| Vitamin A: 210IU (4%)| Vitamin C: 0.5mg (1%)| Calcium: 40mg (4%)| Iron: 1mg (6%)
This post was updated with new images in 2017. Original photos from 2009 below.