These almond butter cookies are soft and chewy and loaded with chocolate chips!
Hello, my name is Karly and I'm an almond butter addict. It's been…23 seconds since I last stuck a spoon in the jar of almond butter and licked it clean.
I wasn't always this way. I once was a normal, respectable human being.
Okay, wait. Back up. That's a lie. I've always been the type of person to dip a spoon into jars of good stuff and then lick it clean when no one was looking. Usually, though, my dipping was limited to peanut butter. Or Biscoff spread. Or Nutella. Whatever, so I have a problem. Admitting it is the first step.
Then I discovered almond butter.

I'm going to be super uncool and risk getting kicked out of the food bloggers' club, but I actually prefer the more processed almond butter. The all-natural kind is just too oily and gritty for me. I mean, every now and then it's good on some toast or a bagel, but for licking off a spoon? I'll take the processed kind every day of the week. Jif makes a lovely version that is both affordable-ish and perfectly smooth and creamy.
So, anyway, all of my dipping spoons were dirty, so I had to resort to baking with my almond butter instead of eating it plain. I was prepared to throw myself to the ground and scream and kick about that unexpected turn of events, but then I figured that cookies would cheer me up, so I just preheated my oven instead.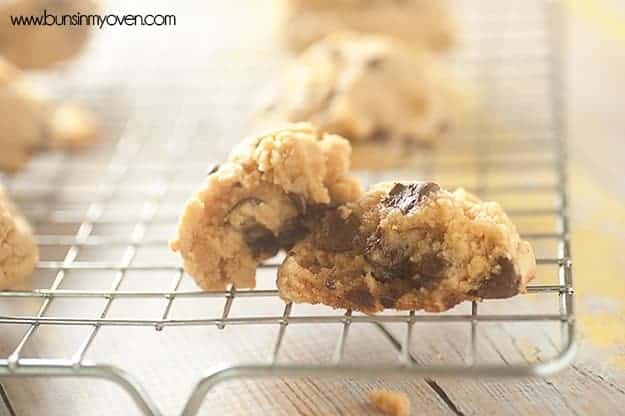 These are delightful little cookies. So moist and rich and chewy, much like a good peanut butter cookie, but with more depth of flavor from the almond butter. They tasted a little more fancy and grown up to me. Wait. Is "grown up" actually a flavor? It is now, friends. It is now.
Anyway, these were made with the processed almond butter I mentioned above. I do not know if this will work with the all-natural almond butter, but my guess is no. If you can find an all-natural no-stir variety then give it a try, but I make no guarantees as I haven't tried it myself. Basically, what I"m saying is don't come yell at me if your cookies turn into grease puddles, k?
Chocolate Chip Almond Butter Cookies
These almond butter cookies are soft and chewy and loaded with chocolate chips!

Prep30 minutes
Cook8 minutes
Total38 minutes
Ingredients
1/2 cup butter softened
1/2 cup almond butter
3/4 cup brown sugar
1/4 cup white sugar
1 large egg
1 teaspoon vanilla
1 3/4 cups flour
1 teaspoon baking soda
1/2 teaspoon salt
1 1/2 cups chocolate chip any variety
Instructions
In the bowl of a stand mixer, cream together the butter, almond butter, and sugars until light and fluffy. Beat in the egg. Stir in the vanilla.

In a medium bowl, combine the flour, baking soda, and salt. Gradually add to the creamed mixture and beat until well combined.

Stir in the chocolate chips.

Chill the dough for at least 30 minutes.

Preheat oven to 350 degrees and line a cookie sheet with parchment paper.

Drop spoonfuls of dough onto baking sheet 2 inches apart and bake for 8 minutes exactly.

Let the cookies set on the baking sheet for 5 minutes to set up before transferring to a wire cooling rack.
Nutrition Information:
Calories: 128kcal (6%)| Carbohydrates: 16g (5%)| Protein: 1g (2%)| Fat: 6g (9%)| Saturated Fat: 2g (13%)| Cholesterol: 13mg (4%)| Sodium: 93mg (4%)| Potassium: 40mg (1%)| Sugar: 10g (11%)| Vitamin A: 105IU (2%)| Vitamin C: 0.1mg| Calcium: 27mg (3%)| Iron: 0.6mg (3%)