You won't miss the meat in this easy, ten minute vegetarian dinner that's perfect for Meatless Monday! Big thanks to Davidson's Safest Choice for sponsoring this post!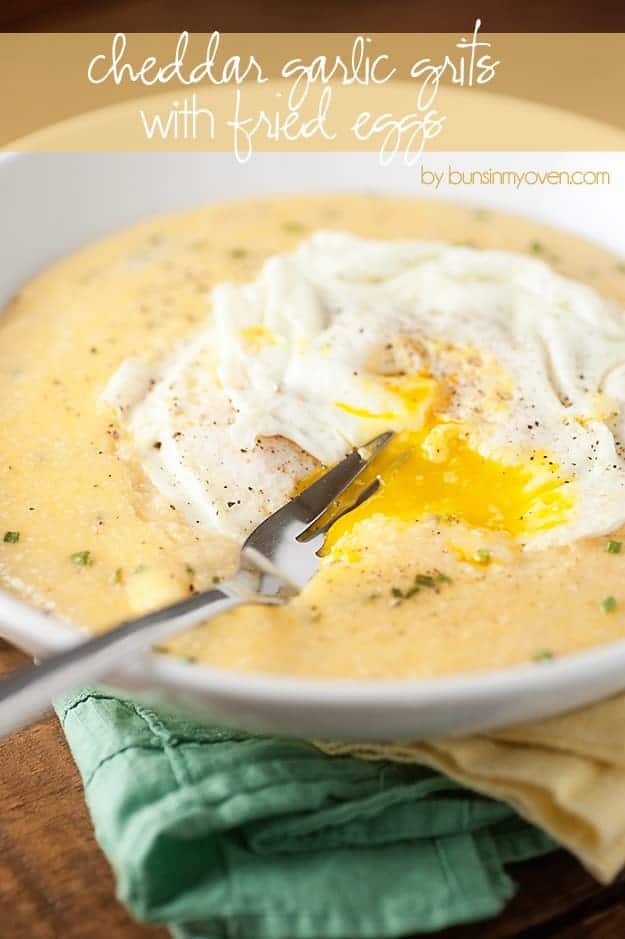 Do y'all do Meatless Monday at your house?
We tend to not. My husband is the world's biggest carnivore. If I do manage to sneak in a vegetarian meal, I definitely include eggs! The man can never get enough eggs and they have just enough protein to fill him up and keep him happy. People always joke about a happy wife, happy life, but you guys. Men are even bigger babies than women. Fact.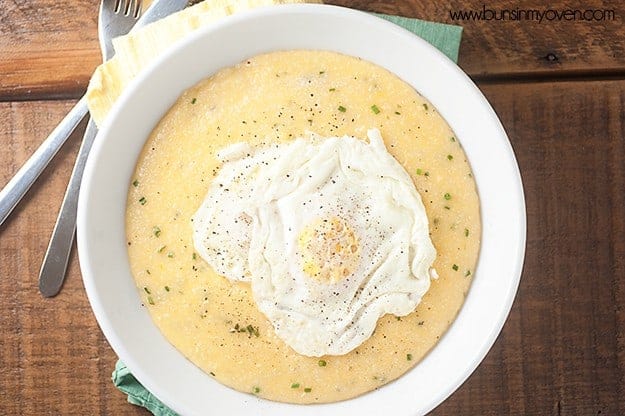 Anyway, I whipped up this ten minute dinner for all of you that is perfect for a meatless dinner and fabulous for Lent! (I think? I'm not Catholic, so correct me if I'm wrong!)

Even better, this dish isn't just dinner! These cheesy grits and eggs would be perfect at any time of day. Serve them for breakfast with some fresh fruit, for lunch with a small salad, or for dinner with a side of steamed veggies and some garlic bread! These creamy grits are full of garlic flavor and the runny egg yolks add the perfect richness making this easy dinner a total comfort food.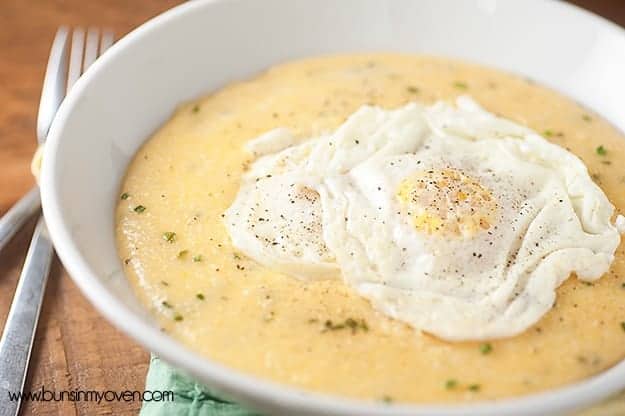 I've used Davidson's Safest Choice eggs in this recipe, because they're pasteurized. This means that I have no worries about the runny yolks and get to enjoy the creamy richness without any worries for my family's health. Each large egg only has 70 calories, too, so load up!
This dish comes in at around 400 calories and 23 grams of fat. Reduce the cheese if you'd like to save even more calories and fat, but you know…don't. Fat and calories are delicious, you guys.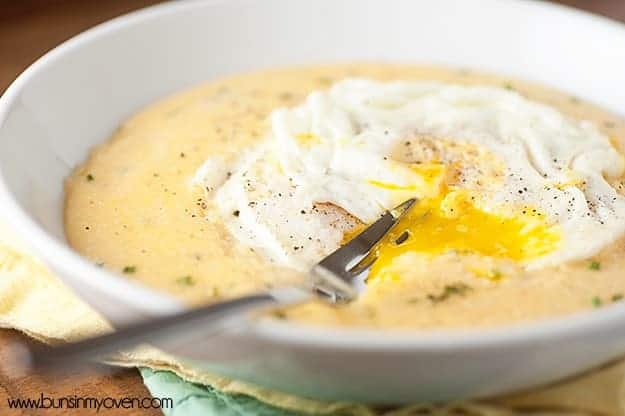 If you struggle frying up the perfect egg, I've got some tips for you!
Low and slow is key for perfectly cooked eggs! I always start with a non-stick pan and either spray in a bit of Pam or melt in some butter. Butter definitely tastes better, but Pam saves calories and makes for prettier, whiter eggs. Either option works great, though.
Heat your pan over medium-low heat and then gently crack your egg into the pan. If the whites of the egg try to run all over the place use a spatula to scoot them back into a pretty shape. Let the eggs cook until the thick white surrounding the yolk has gone opaque, but not quite white. Gently slide your spatula under the edge of your egg and flip it over carefully so as not to break the yolk. From there you just continue cooking the egg until your yolk is done to your preference. You can gently press the yolk with your finger to judge how runny it is. The squishier it is, the runnier your yolk.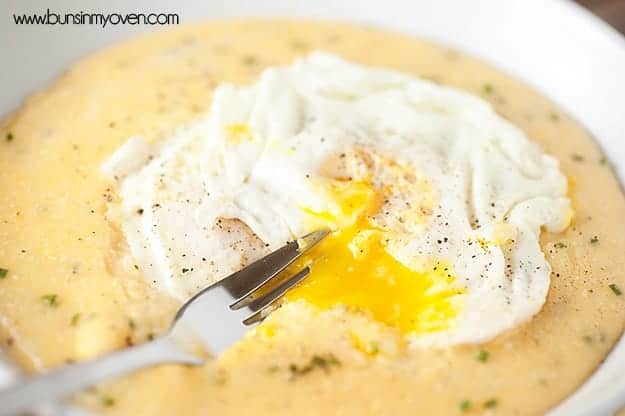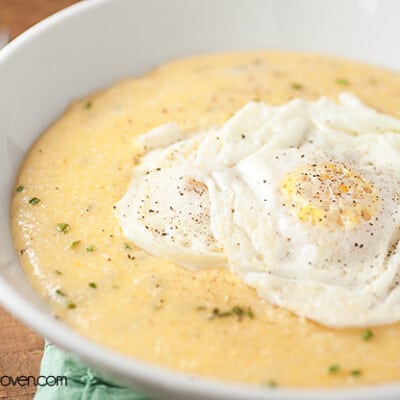 Cheddar Garlic Grits with Fried Eggs
You won't miss the meat in this easy, ten minute vegetarian dinner that's perfect for Meatless Monday!

Prep2 minutes
Cook8 minutes
Total10 minutes
Ingredients
2 cups water
1/2 cup quick cooking grits found by the oatmeal in most stores
1 clove garlic grated
1/4 cup grated cheddar cheese
1 tablespoon chopped chives
4 large eggs
Salt and pepper to taste
Instructions
In a small saucepan over high heat, bring the water to a rolling boil.

Reduce heat to medium, stir in the grits and garlic, and cover. Continue cooking and stirring often for 5-7 minutes or until the grits have thickened.

Remove from the heat, stir in the cheddar and chives until combined. Add salt and pepper to your taste. Set aside.

While the grits are cooking, heat a non-stick skillet over medium heat. Spray with non-stick cooking spray or add a pat of butter to the pan.

Crack the eggs into the pan (depending on the size of your pan, you may need to cook the eggs in batches) and cook over medium low heat until the thick whites surrounding the yolk begin to turn opaque. Carefully flip the egg over and continue cooking until the yolk has cooked to your satisfaction.

Pour the grits into two shallow bowls. Top each bowl with two eggs and more salt and pepper.

Serve immediately.
Nutrition Information:
Calories: 342kcal (17%)| Carbohydrates: 31g (10%)| Protein: 19g (38%)| Fat: 15g (23%)| Saturated Fat: 6g (38%)| Cholesterol: 386mg (129%)| Sodium: 652mg (28%)| Potassium: 201mg (6%)| Fiber: 1g (4%)| Sugar: 1g (1%)| Vitamin A: 745IU (15%)| Vitamin C: 1.3mg (2%)| Calcium: 313mg (31%)| Iron: 17mg (94%)