If you've ever wondered how to make chilaquiles, this chilaquiles recipe is super easy and is a great breakfast for dinner idea!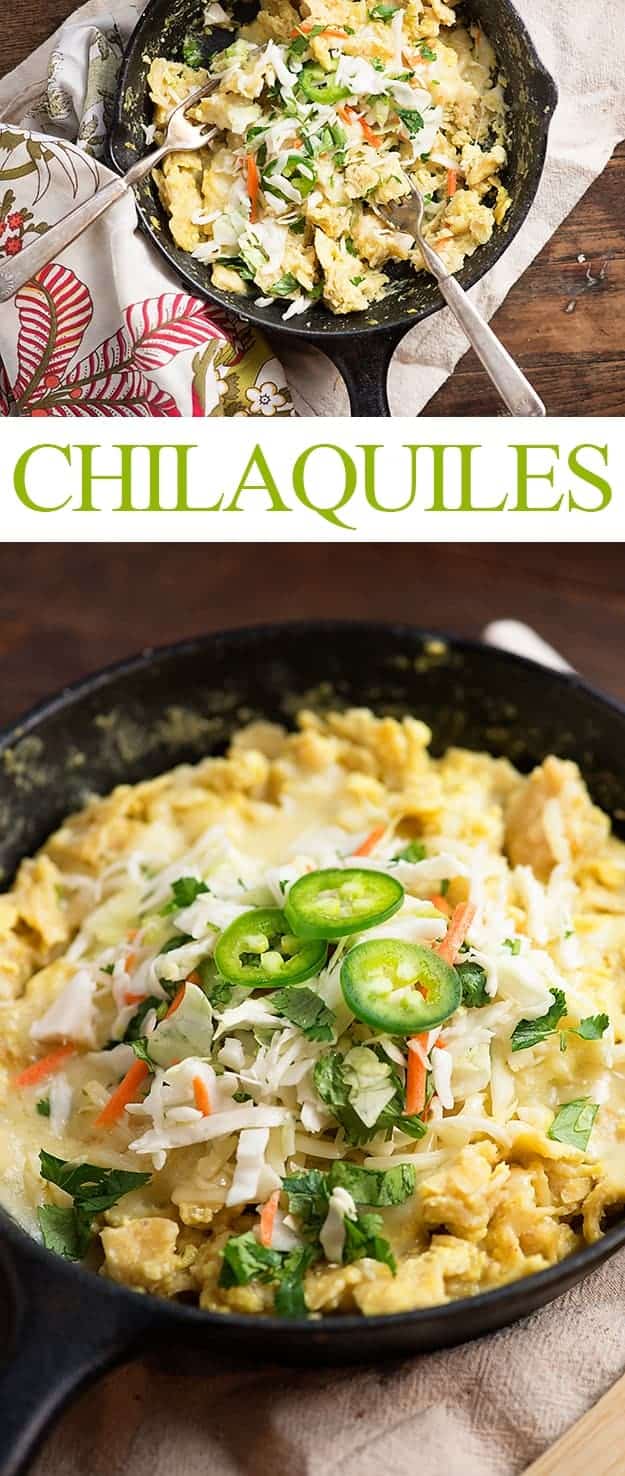 So. Last week, you guys.
It was…well, it was a week.
We had all new appliances delivered and that was good. I mean, actually, that was pretty stinkin' fabulous. The downside was that the microwave we ordered is also an actual oven that you can roast chickens in and bake cookies and who ever even heard of such a thing? Well. I'm very excited about it, but we didn't realize that it would need a fancy 220 outlet instead of the standard 110. So, we had an electrician come out to run the wire. And he left to grab whatever it was he needed from the store and my carbon monoxide/explosive gas alarm started going off. And going off. And going off.
So, I acted like a rational adult and ran around like a crazy person, flapping my hands, and making my children army crawl out of the house because smoke rises? Right? Isn't this how that works?
Then I called 911, because that seemed like fun. And I really like making a good impression on our new neighbors and to do that I decided to bring them pretty firemen. And by pretty I mean smokin' hot. <—- See what I did there?
Anyway, our alarm was just really old and nothing was wrong. The electrician came back and finished up the electrical work and we now have pretty appliances.
The whole week was like that, but whatevs.
One of the ways I made it through the week was with these cheater chilaquiles. Normally, chilaquiles are made by cutting up soft corn tortillas and frying them in a bit of oil. It's not hard, but I didn't feel like making a mess with hot oil in my shiny new kitchen. I just crushed some tortilla chips and it was basically a genius idea.
I used green enchilada sauce in this recipe, but red works just as well! Cheddar or queso fresco works in place of the pepper jack, too. I hope you enjoy this tasty breakfast…it's one of my favorite breakfast for dinner recipes!
I topped these with a bit of the Southwest Slaw from Perry's Plate. I tend to put that stuff on all of my Mexican food…so good! It's pretty fab on my pork carnitas, too.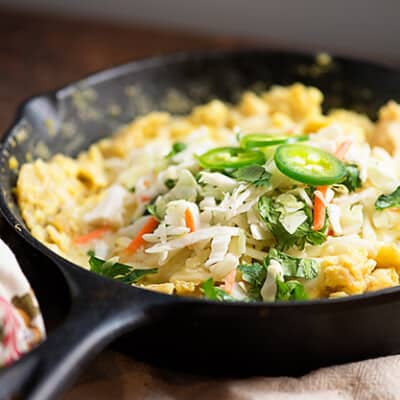 Cheater Chilaquiles
If you've ever wondered how to make chilaquiles, this chilaquiles recipe is super easy and is a great breakfast for dinner idea!

Prep5 minutes
Cook15 minutes
Total20 minutes
Ingredients
3 cups crushed tortilla chips
4 large eggs beaten
1 cup canned green enchilada sauce
2 ounces Pepper Jack cheese grated
1 cup coleslaw mix or shredded cabbage
1/4 cup chopped cilantro
1 teaspoon lime juice
1 teaspoon olive oil
Salt and pepper to taste
Instructions
Spray a 10 inch deep skillet with non-stick cooking spray and heat over medium high heat.

Add the crushed chips to the skillet and cook until warmed.

Stir in the beaten eggs to coat the chips. Continue cooking and stirring until eggs are scrambled and chips are only slightly moist looking.

Pour in the enchilada sauce and stir to combine. Cook for 2 minutes.

Add the shredded cheese on top, reduce heat to low, and continue cooking until the cheese melts.

Add the cabbage, cilantro, lime juice, and olive oil to a small bowl and toss to combine.

Remove from the heat and serve with the slaw mixture on top. Season with salt and pepper as desired.
Nutrition Information:
Calories: 583kcal (29%)| Carbohydrates: 63g (21%)| Protein: 17g (34%)| Fat: 30g (46%)| Saturated Fat: 6g (38%)| Cholesterol: 198mg (66%)| Sodium: 1033mg (45%)| Potassium: 295mg (8%)| Fiber: 6g (25%)| Sugar: 5g (6%)| Vitamin A: 865IU (17%)| Vitamin C: 8.3mg (10%)| Calcium: 291mg (29%)| Iron: 3.4mg (19%)