I can hardly believe it, but this recipe right here is my first ever with Nutella as an ingredient.
It's like I don't even know myself. I mean, WHAT KIND OF BAKER AM I? How hath I forsaken thee, oh Nutella?
Sorry, I tried to channel Shakespeare there for a minute. I thought that would distract you all from the fact that my Nutella consumption is pretty much limited to me sticking my face in the cabinet and scooping that delicious chocolate concoction out as quickly as possible with the largest spoon I can find. You don't want your kids to see you eat Nutella from a jar. It would give them ideas.
Kids with ideas are no good.
Trust.
Anyway, look! I baked with Nutella! I'm a new person.
These bars are super quick and simple to make, as are most of the recipes on this happy little blog of mine. The crust and crumb topping are the same thing, so you only dirty one dish there. The caramel just whips up in one sauce pan, and the Nutella? Well, you just spread that on with an 0ff-set spatula…then you lick the spatula clean. Repeat as many times as necessary. I won't tell anyone.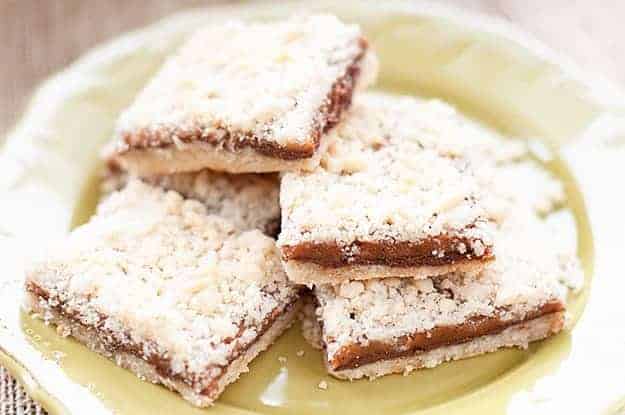 Caramel Nutella Crumb Bars
These sweet crumb bars are always a hit.
Prep15 minutes
Cook30 minutes
Total45 minutes
Ingredients
For the crust & topping:
1 cup unsalted butter room temperature
1/2 cup sugar
1/4 teaspoon salt
1 teaspoon vanilla
2 1/2 cups all-purpose flour
For the caramel & Nutella filling:
4 tablespoons unsalted butter
1 tablespoon light corn syrup
1/4 cup packed brown sugar
14 ounces sweetened condensed milk
1/4 - 1/2 cup Nutella depending on how thick you want your Nutella layer
Instructions
Preheat oven to 350 degrees and line a 13x9 baking dish with parchment paper.

To make the dough, in the bowl of a stand mixer beat together the butter, sugar, and salt on medium speed until creamy using the paddle attachment. Beat in the vanilla.

Turn the mixer to low and slowly add 2 1/4 cups of the flour, beating just until the dough becomes smooth and the flour is incorporated.

Press 3/4s of the dough in the prepared baking dish. Press the dough evenly to form the bottom layer. Refrigerate while you prepare the crumb topping and filling.

Add the remaining 1/4 cup of flour to the remaining dough and beat together until coarse and crumbly. Do not over mix.

For the caramel filling, place the butter, corn syrup, brown sugar, and condensed milk in a saucepan over medium low heat. Bring to a simmer, whisking occasionally. When the mixture begins to boil, whisk frequently until it darkens and begins to get thicker, about 10 minutes. Remove from the heat and allow to cool for 10 minutes.

Remove the pan from the refrigerator and spread with the Nutella (I used 1/4 cup, but would add a bit more next time) using an off-set spatula. You may need to warm the Nutella in the microwave for a bit to soften it up enough to spread easily.

Pour the caramel filling over the Nutella layer and spread evenly with the spatula.

Sprinkle on the crumb topping.

Bake for about 30 minutes or until the filling is a dark brown color and hot and bubbling. Cool on a wire rack for 15 minutes and then cut into squares.
Nutrition Information:
Serving: 1bar| Calories: 425kcal (21%)| Carbohydrates: 52g (17%)| Protein: 5g (10%)| Fat: 22g (34%)| Saturated Fat: 13g (81%)| Cholesterol: 61mg (20%)| Sodium: 96mg (4%)| Potassium: 161mg (5%)| Sugar: 32g (36%)| Vitamin A: 680IU (14%)| Vitamin C: 0.8mg (1%)| Calcium: 107mg (11%)| Iron: 1.3mg (7%)