Our CAJUN CHICKEN ALFREDO is made with an ultra creamy 4 ingredient Alfredo sauce that tastes like it came from your favorite restaurant. Simple, flavorful, and perfect for a quick family dinner!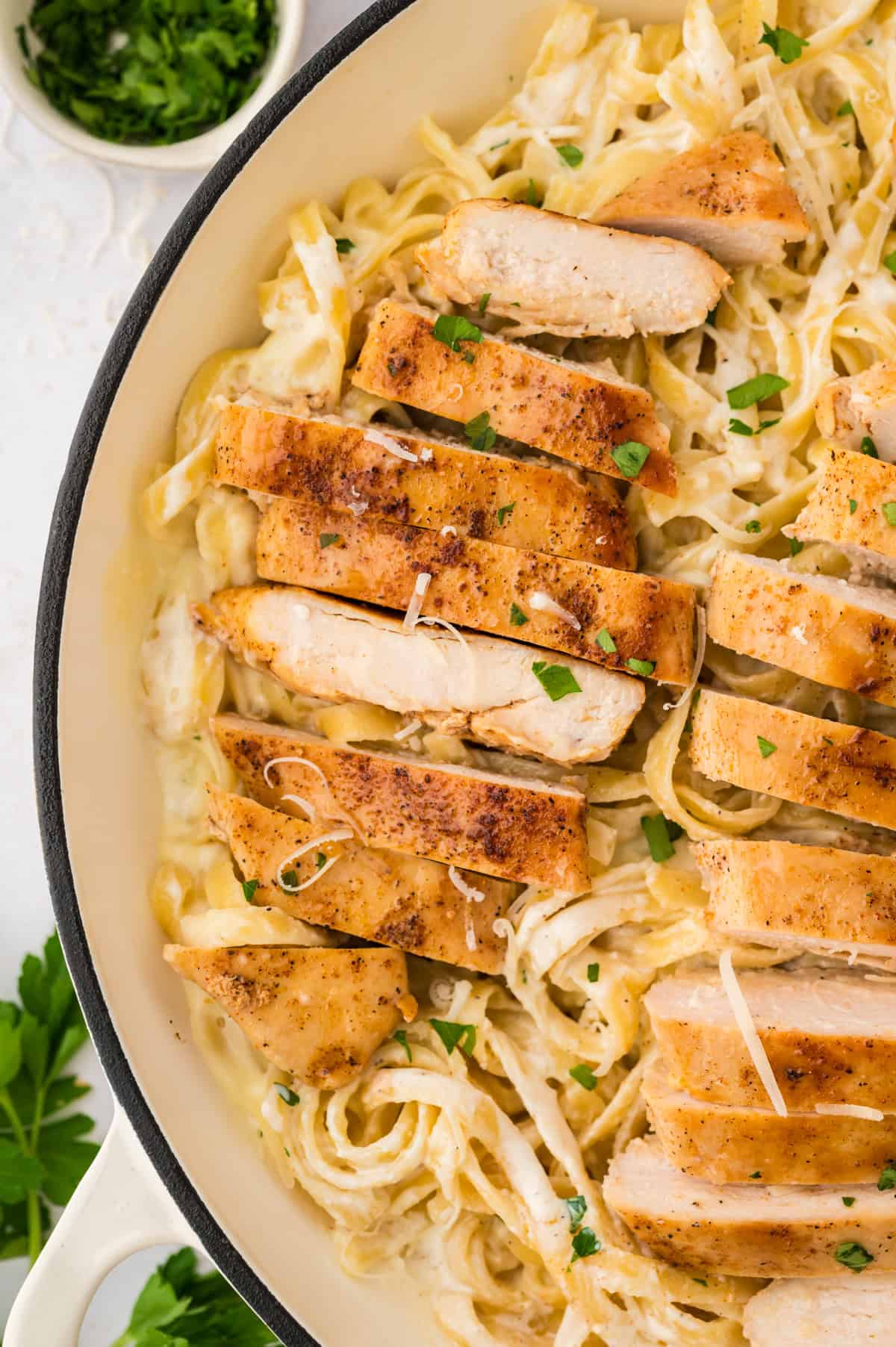 My family asks for our homemade Alfredo sauce pretty regularly and I'm always happy to whip up pasta for dinner. Or, when I'm trying to be healthier, we make this Keto Chicken Alfredo.
I mean, Alfredo sauce is actually super simple with just a few ingredients and pretty much everyone loves it! Rich, creamy, cheesy…what's not to love?
We spiced things up with this Cajun Alfredo sauce and it's safe to say we have a new favorite around here!
The Cajun seasoning adds just the right amount of kick…not too spicy, since its balanced out with all of that cream and cheese, but enough to really take the Alfredo up a notch.
recipe notes!
What We Love About Cajun Alfredo
This dish is restaurant quality, with a rich, decadent, creamy sauce coating the pasta and chicken, but it only takes 40 minutes from start to finish.
It's easy to increase the Cajun spice to suit your tastes and heat preferences and you can even sprinkle extra Cajun seasoning on individual servings. This makes it perfect for feeding both kids and adults.
Ingredient Notes:
Chicken – We prefer breasts, but you could use thighs as well.
Cajun Seasoning – We love Slap Ya Mama seasoning, but it's quite salty. If you're sensitive to salt, you may want to look for a low sodium brand of Cajun spice or just add the spice in slowly to suit your tastes.
Heavy Cream – There is no sub for heavy cream when it comes to Alfredo. This is what makes the dish so rich and creamy.
Cheese – Traditional Alfredo sauce uses just Parmesan cheese, but we're adding in a bit of mozzarella to this one.
What Readers are Saying!
"This is such a favorite comfort food of mine – I love the Cajun flavor paired with a creamy sauce. Plus. PASTA!!!"
– Nichole
How To:
Chicken: One of my favorite things about this Cajun chicken pasta recipe is how quickly it comes together! Start by pounding out the chicken and coating it generously with your favorite Cajun seasoning!
Sauté the chicken in a bit of oil until cooked through and then set aside to make the sauce. Wipe out the pan.
Pasta: Drop some fettucine into boiling water and cook until al dente while you whip up the sauce.
Sauce: Add the butter to the skillet and let it melt. Once melted, stir in the garlic and cook for about 30 seconds before pouring in the heavy cream.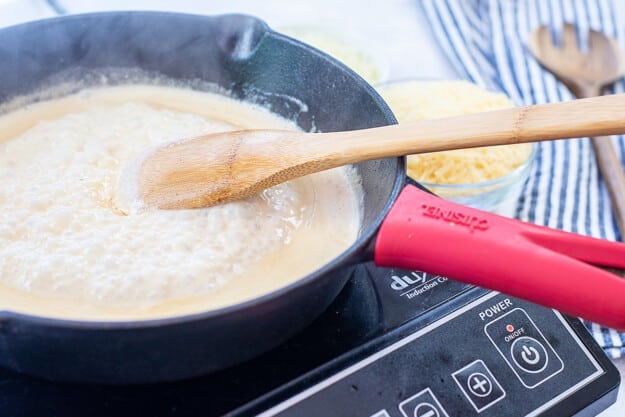 Once the cream mixture is good and hot, stir in the Parmesan and mozzarella until you have a smooth and creamy sauce. Sprinkle in Cajun seasoning to taste.
Combine: Stir the pasta into the sauce to coat and then slice or chop the chicken and plate it all up together or stir it together in the skillet.
FAQ's:
What is authentic Alfredo sauce made of?
Authentic Alfredo sauce is traditionally just made with butter, Parmigiano Reggiano, and pasta water. We like to make it a bit creamier by adding in heavy whipping cream and mozzarella cheese.
What type of Cajun seasoning should I use?
We like Slap Ya Mama Cajun seasoning or Tony Chachere's Creole seasoning in this recipe. For a
What type of Parmesan should I use in Alfredo sauce?
Freshly shredded or pre-shredded Parmesan will work in Alfredo sauce, but do not use the green can of grated powdery cheese in this recipe.
MORE CAJUN RECIPES!
Check out some of our other favorite Cajun recipes:
Slow Cooker Cajun Sausage & Bean Soup
Fried Green Tomatoes with Cajun Remoulade
You're going to love this one! Serve it with my favorite Garlic Bread Recipe and you're good to go!
If you love alfredo, check out my Penne Alfredo with Bacon and Broccoli too!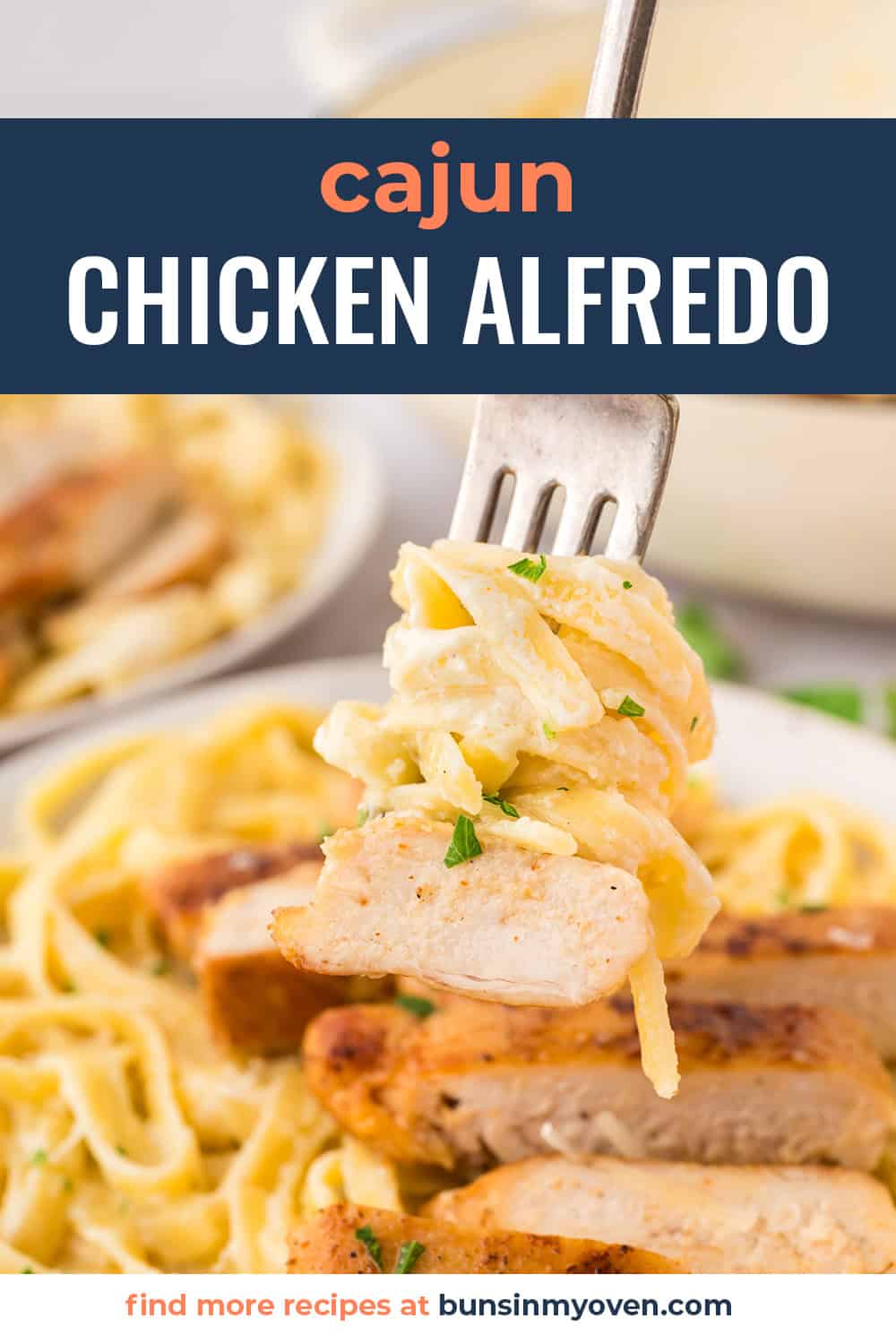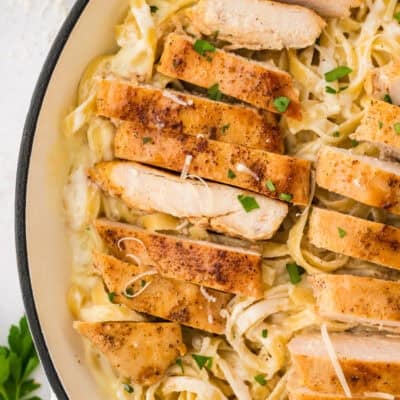 Cajun Chicken Alfredo
Rich and creamy Alfredo sauce is a breeze to make. We've spiced it up with juicy chicken and Cajun flavors for a quick weeknight meal that our entire family loves.
Prep10 minutes
Cook30 minutes
Total40 minutes
Ingredients
1 pound boneless, skinless chicken breasts
2 teaspoons Cajun seasoning plus more, to taste
1 tablespoon olive oil
16 ounces fettucine
1/2 cup butter
2 cloves garlic minced
1 cup heavy cream
8 ounces shredded Parmesan
4 ounces shredded mozzarella
Instructions
Pound the chicken breasts to an even thickness. Season with the Cajun seasoning, making sure to coat both sides of the chicken.

Bring a large pot of salted water to a boil.

Heat a large oven proof skillet over medium heat. Swirl in the oil to coat the pan.

Add the chicken to the skillet and cook through, flipping halfway through cooking, about 10 minutes.

Remove the chicken from the skillet and place on a cutting board to rest.

Add the fettucine to the boiling water and cook until al dente.

While the pasta is boiling, place the skillet back over medium heat and add the butter. Once melted, stir in the garlic and cook for about 30 seconds.

Add the heavy cream to the skillet and cook for 2-3 minutes to heat the cream. Once hot, add the cheeses and whisk together until the sauce is smooth and combined.

Taste and season with Cajun seasoning, as desired.

Drain the pasta and add it to the sauce. Toss to coat.

Slice or chop the chicken and serve with the pasta.
Tips & Notes:
Some Cajun seasoning blends are very salty. Taste as you go and season to taste.
Nutrition Information:
Calories: 878kcal (44%)| Carbohydrates: 57g (19%)| Protein: 46g (92%)| Fat: 52g (80%)| Saturated Fat: 29g (181%)| Polyunsaturated Fat: 3g| Monounsaturated Fat: 16g| Trans Fat: 1g| Cholesterol: 248mg (83%)| Sodium: 978mg (43%)| Potassium: 567mg (16%)| Fiber: 3g (13%)| Sugar: 2g (2%)| Vitamin A: 1877IU (38%)| Vitamin C: 1mg (1%)| Calcium: 607mg (61%)| Iron: 2mg (11%)