I'm back from my trip to the Emerald Coast and I can't wait to share with you all of my favorite places to grab a bite!
Hi guys!
So, if you follow me at all on Instagram or Facebook, you might have noticed that I spent a few days in Destin, FL this September. It was such an amazing trip and I can't wait to tell you all about it!
First of all, I just want to mention that the Emerald Coast is downright beautiful. I was lucky enough to work with the Emerald Coast Convention and Visitors Bureau on this trip. This means that they comped my stay at the Emerald Grande in exchange for me writing about the stay. Check out my blog post all about the Emerald Grande and find out what makes it so unique! As always, I'm only sharing my honest opinions with you. 🙂
Okay, now the reason you're really here – to find out what to eat in Destin, FL!
Gilligan's On The Harbor
We stopped by Gilligan's Seafood Restaurant on a whim because my daughter was begging for some popcorn shrimp. I was a little leery because it was one of the few restaurants I hadn't researched and the outside was a bit run down looking. My mom reminded me that these are usually the best places to stop and she was right.
SO GOOD, YOU GUYS.

We got fried pickles, popcorn shrimp, a fish po'boy, and some mac and cheese. <— You'll notice mac and cheese is a common theme. My niece went with us and ate mac and cheese for EVERY meal. She said she wanted to find the best mac and cheese in Destin, but I think it had more to do with the fact that she's nine years old and maybe a bit picky. 😉
Anyway, the fried pickles were the best I've ever had and I don't say that lightly. I'm a fried pickle connoisseur. These hit the spot.
The fish po'boy was pretty good, though they were a bit skimpy on the fish.
The all you can eat popcorn shrimp with hush puppies and homemade slaw were a huge hit. Total win all around!
Crab Island Cantina
Crab Island Cantina is a Mexican joint and I don't travel anywhere without stopping for a taco. Except for when we cruised around Europe and, while that was a great trip, I really missed my tacos. 😉
Anyway, Crab Island Cantina is located at the end of Harbor Walk Village and we actually liked it so much we ate there twice.
The fried tacos were really good. The Mexican rice was amazing. The salsa and chips were fresh and tasty. And the carne asada street tacos were great too!
Margaritaville has been on my list of places to try for a long time. I know it's a total tourist trap, but you guys, it's good. The "Who's To Blame" margarita? Solid choice, especially during happy hour.
I ordered the fish tacos and they were outrageously good. Quite possibly the best thing I ate on this trip. Fried fish fillets in a flour tortilla topped with grilled habanero cream sauce, fresh guacamole, shredded lettuce and mango pico de gallo. It was just the right combo of sweet and spicy between the habanero sauce and mango pico.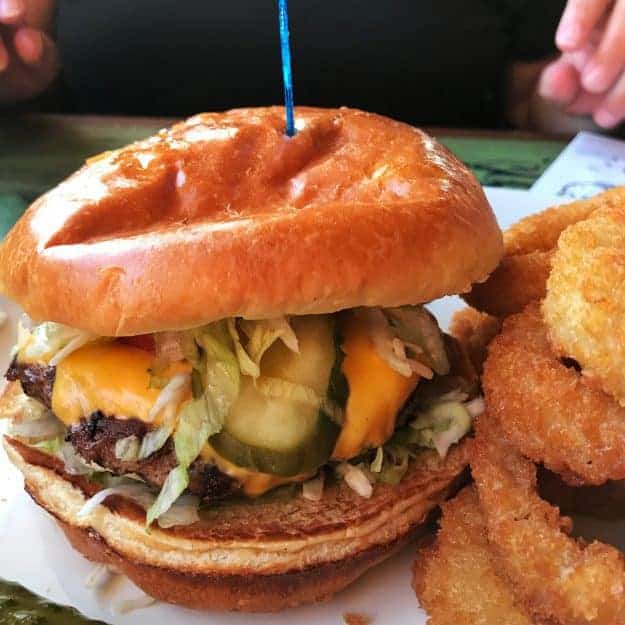 My mama got the Cheeseburger In Paradise and said it was really good and juicy.
I kept stealing bites of my daughter's penne pasta with butter and Parmesan. I love simple dishes like that. 🙂
We stopped at The Pancakery for breakfast one morning and they were packed! They took our phone number and we headed across the parking lot to a souvenir shop and they text us when our table was ready. Fun!
The pancakes were thick, fluffy, and HUGE. So good. My daughter got her pancakes with m&ms and I kept sneaking bites when she wasn't looking.
I ordered a breakfast with bacon, eggs, grits, and a biscuit. It wasn't really anything special (the grits were real good though) and I wished I'd gotten a stack of their specialty pancakes instead of trying to get in some protein. 😉
My mama said the breakfast potatoes were amazing and they sure looked it!
The Donut Hole
We had hoped to eat a full breakfast at The Donut Hole, but the wait was a bit too long for us. We ended up grabbing some cupcakes and donuts for dessert one night and it was a fun treat! The donuts were really good and I wish we'd been able to get in earlier to have a better selection. But, I was not too disappointed since I bought a bunch of cupcakes to try.
The chocolate cupcake was so good! Rich and full of chocolate flavor. The vanilla cupcake with caramel frosting was perfectly rich. Loved them all, though.
This one is on my list to stop at for a real breakfast next time, for sure.
Okay, so this was my favorite restaurant of the trip except for one thing – the lighting inside was this weird purple color which made taking photos of my food IMPOSSIBLE.
So, forgive me for the lack of photos, but just know that this restaurant is 100% not to be missed.
Aside from the weird lighting, this place is decorated with dollar bills. People sign them and them staple them anywhere and everywhere. They were hanging from the ceilings, attached to the walls, and stuck on the booths. So crazy and fun. We left a few signed dollars of our own.
As for the food, we went at lunch time so we weren't really in the mood for a steak, though I wish we'd had time to go back for one. They butcher their own meat and our server really talked it up. He was super friendly and so helpful and knowledgeable about the menu.
We ended up ordering the fried cheese and Irish boxtys as an appetizer. Irish boxtys are garlic mashed potatoes rolled in bread crumbs and fried. They came with a few dipping sauces, but the horseradish sauce was a perfect match for the potatoes.
Before our meal, the server also brought out some brown bread with a honey butter glaze over the top. Divine.
My mama ordered a BLT Wrap with homemade potato chips. Those chips were downright delicious.
I ordered the chicken salad plate and it was literally some of the best chicken salad I've ever had. I felt like a weirdo for not getting something Irish, but I have no regrets. That chicken salad was amazing.
This was another little place located at Harbor Walk Village and I think we stopped in here most nights to sample the fudge and get frozen yogurt.
The chocolate dipped rice krispies treats were amazing. So fresh and chewy and delicious!
My daughter loved the fro-yo and their topping bar was huge!
The fudge, of course, was delicious. Who can say no to fudge?? We loved the pralines too!
Here's another restaurant that is located at Harbor Walk Village. We really loved all of the variety so close to our hotel!
Harry T's sets over the water, so be sure to grab a table outside for the gorgeous views and cool breeze from the ocean.
I had the Pimento Cheeseburger, because I can not go south without eating pimento cheese. Just doesn't happen.
The jalapeno pimento cheese paired so well with the bacon jam on the juicy burger. The french fries were really good too – crispy on the outside, soft on the inside, and a really tasty seasoning!
I think that about sums up my favorite places to eat in Destin, FL! I definitely plan to head back again for a few reasons – to enjoy that gorgeous warm, crystal clear water, to find new places to eat, and to stop back by these new favorites of mine! And, of course, there were so many places that I didn't get a chance to try in our 4 days there. I have to make another trip just to try all the restaurants I missed this time around!