February 14, 2014
Pimento Cheese and Bacon Pizza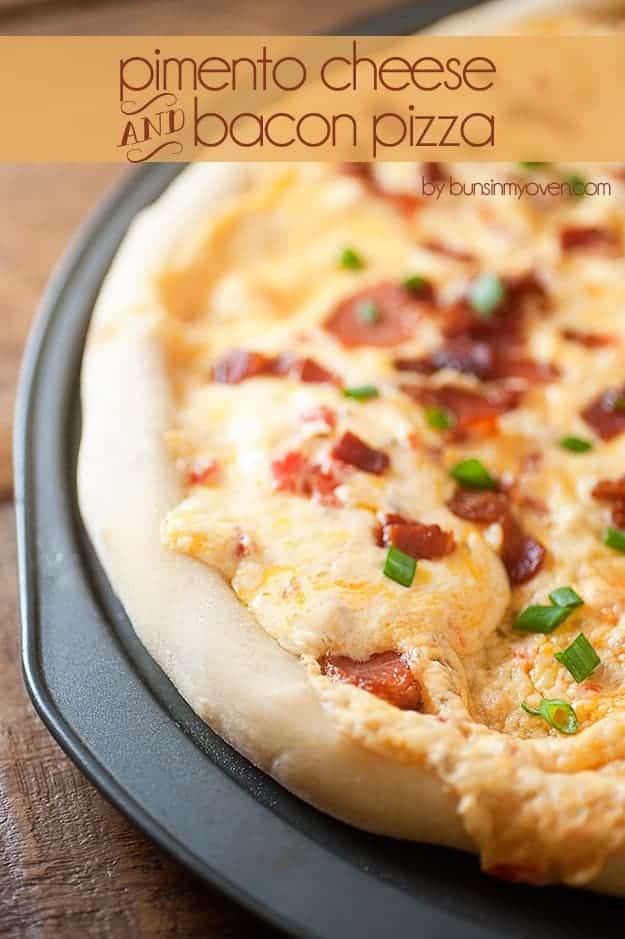 You guys want to hear something that I never thought I would say in a million years?
I've sort of given up TV. I mean, not like 100%, but my television watching since moving to Nebraska is about 1/10th of what it used to be.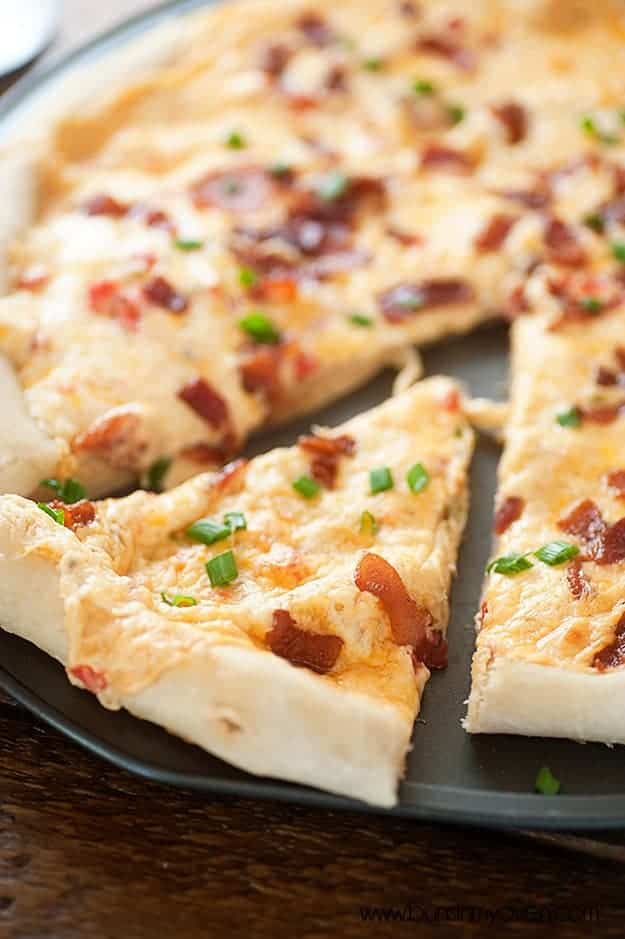 You think it's because I've come to realize that TV will rot my brain or something, right? Nope! It's because the layout of our new living room doesn't allow me to lay on the couch while watching TV and what is the point of watching TV if you have to do it upright?
It's kind of sad how lazy I am, really.
My husband thinks this furniture layout is just brilliant. Anytime I mention rearranging he says something along the lines of, "But look how nice it is having laundry folded!" or "I've never seen you vacuum this much in your life!" He's rude, you guys.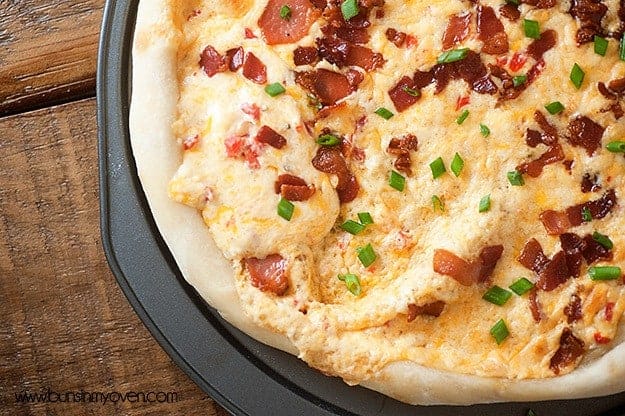 Anyway, I made pizza, and I would love to lay in front of the television and eat this pizza, but instead I guess I'll have to sit in the sparkly clean dining room like an adult while I eat.
I'm mildly obsessed with pimento cheese. When you go and add bacon to the mix, things just get even better. That salty crunch from the bacon seriously just rocks pimento cheese's world. Spread it on a pizza crust, bake until gooey and hot, and oh my. This is my idea of a dream pizza. In fact, this pizza is so good, that it made it into my "Buns In My Oven Favorites" category! Click here to check out some of my other favorite recipes!
Pimento Cheese and Bacon Pizza
Ingredients:
For the dough:
3/4 cup warm water
1/2 teaspoon active dry yeast
pinch of sugar
2 cups flour (bread or all purpose works well here)
3 tablespoons olive oil
For the pimento cheese topping:
2 ounces cream cheese, room temperature
1/4 cup mayonnaise
1/2 cup freshly grated cheddar cheese
1/2 cup freshly grated monterey jack cheese
2 tablespoons diced pimentos
1/2 teaspoon garlic powder
1/4 teaspoon onion powder
1/4 teaspoon salt
1/8 teaspoon red pepper flakes
5 slices bacon
green onions, for sprinkling on top
Directions:
To make the dough:
To prepare the dough, place the warm water in the bowl of a stand mixer. Sprinkle the yeast on top and let bloom, about 10 minutes.
Add the flour, salt, and olive oil to the yeast mixture and turn the mixer (fitted with the dough hook) to medium. Knead until the dough comes together to form a smooth dough. Remove dough to an oiled bowl and place in the oven with the light turned on.
Let rise for one hour, or until doubled in bulk.
When the dough has doubled, punch it down.
Preheat the oven to 500 degrees.
Roll the dough out on a well floured surface to a 12 inch circle and place on a pizza stone or pan.
To make the pimento cheese:
In the bowl of a stand mixer, beat together the cream cheese and mayonnaise until well combined. Beat in the cheddar, monterey jack, bacon, pimentos, garlic powder, onion powder, salt, and red pepper flakes. Mix on low until combined.
Meanwhile, dice the bacon into bite sized pieces and fry until crisp. Set aside to drain.
Spread the pimento cheese over the pizza dough as evenly as possible. Sprinkle the bacon on top.
Bake for 10 minutes or until the crust is golden and the cheese has melted. Dice the green onions and sprinkle on top before serving.
Share this: