December 10, 2013
Buckeye Ball Sandwiches
I'm all about the easy, last minute treats this time of year. Nothing is worse than running out of Christmas cookies and candies. I mean, no cookies? But it's the holidays! And the holidays can not go on without sugar, you guys!
So, just in case you've already eaten all the cookies or stuffed your face full of all the fudge, I have an easy little treat that doesn't even need to go in the oven. Total win!
Not only do I love a quck and easy treat, I love to save money! Especially when I'm spending most of it on gifts. I used Planters® Peanut Butter to make these Buckey Ball Sandwiches. Lucky me, Target has some great coupons for Kraft products right now. You can save up to $20 on participating Kraft products, only at Target! I was able to snag a coupon for $1 off my Planters® Peanut Butter.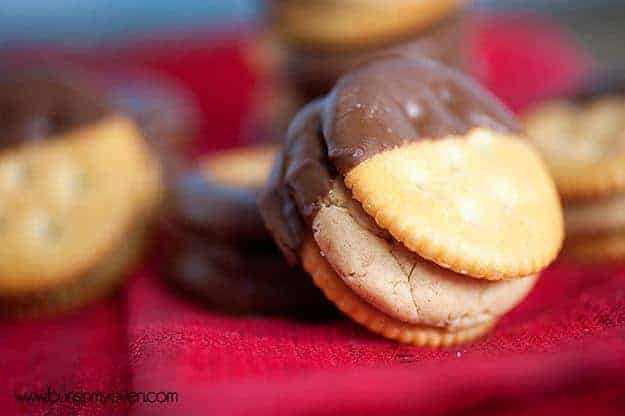 Buckeye Balls Sandwiches
Ingredients:
1 1/2 cups creamy peanut butter
2 1/2 cups powdered sugar
2 tablespoons milk
1 teaspoon vanilla
1/2 teaspoon salt
60 round butter crackers (such as Ritz)
2 cups milk chocolate chips
2 teaspoons shortening
Directions:
In the bowl of stand mixer, add the peanut butter, powdered sugar, milk, vanilla, and salt. Beat until well combined.
Scoop out a scant tablespoon worth of mixture and roll into a ball and smash between your hands, similar to how you would make a hamburger patty. Place between two butter crackers. Repeat with remaining peanut butter mixture.
In a microwave safe bowl, heat the chocolate chips and shortening on low in 20 second intervals until melted.
Dip the sandwiches in the chocolate to coat one half of each sandwich. Let harden on a parchment lined baking sheet.
From shopping for gifts to planning family dinners, it's hard to keep up with all your holiday to-do's. This year, Kraft is helping out with great weeknight meals and entertaining ideas to make the season a little bit easier. Plus, Kraft is offering up to $20 in coupons, redeemable exclusively at Target, to make food shopping easier and to help you have a happy holiday season.
This is a sponsored conversation written by me on behalf of Kraft. The opinions and text are all mine.
Share this: