November 1, 2013
Skinny Sweet Potato Donuts with Maple Glaze
These skinny sweet potato donuts are low in calories with zero fat! You don't even need a mixer for this one. Just grab a bowl and a whisk and you can have healthy homemade baked donuts in less than 20 minutes!
You guys are never going to believe what I did!
I turned an incredibly moist baked donut into a relatively healthy and skinny breakfast treat that you don't have to feel guilty about. My work here is done. Goodbye forever.
Okay, wait. Let's talk more about these amazing donuts!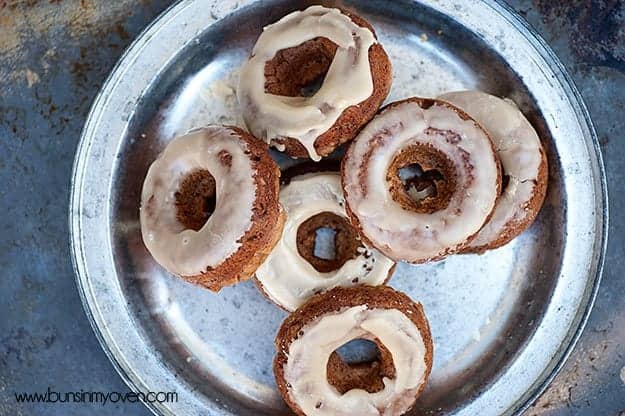 I loaded them up with pureed sweet potatoes and even if you hate sweet potatoes I predict that you'll love these! Did you know that sweet potatoes taste just like pumpkin when they're baked with cinnamon? True story! So, if you love pumpkin, you'll love this healthy donut recipe! And if you really hate sweet potatoes, you can just swap in pumpkin puree! Pumpkin puree will save you some calories, too!
There is ZERO fat in this recipe. Each donut has around 230 calories, which is 130 calories and 21 grams of fat LESS than one Dunkin' Donuts pumpkin donut! You can make them even lower in calories by skipping the glaze and tossing them in a bit of cinnamon sugar. I'm a sucker for maple glaze, though.
Now, personally, I tend to shy away from foods labeled "skinny." You know the saying "Nothing tastes as good as skinny feels?" Psh. I call bull on that one. I've been skinny and I'm here to tell you that donuts taste better. Which is why if I turn a food into something low calorie, you can bet I'm going to pack it full of flavor!
This isn't the first time I've turned skinny-fied a recipe. These Chocolate Caramel Scones were my first attempt!
Give these donuts a try and let me know what you think! I bet you'd never guess they were skinny if I didn't tell you!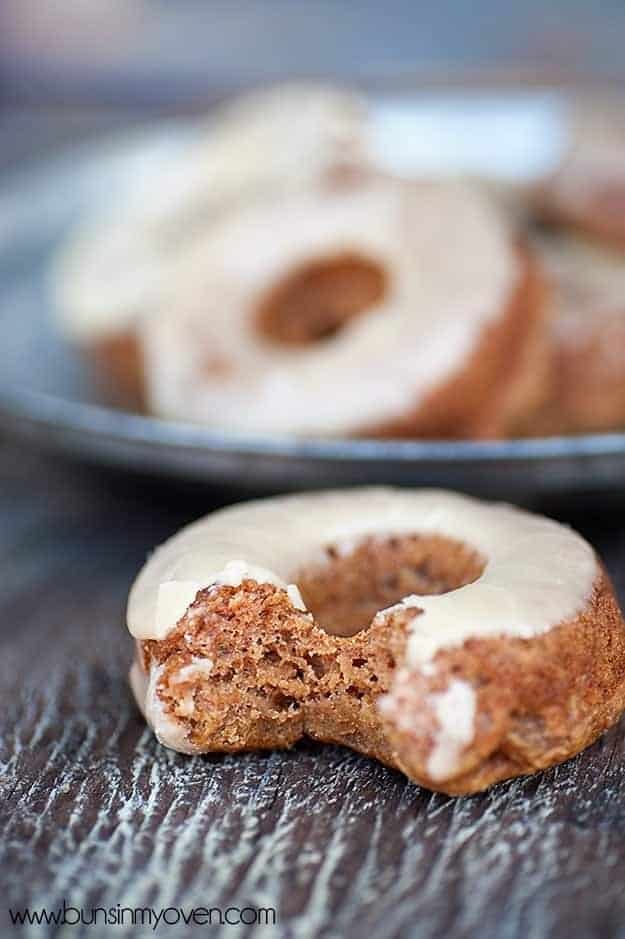 Sweet Potato Donuts with Maple Glaze (Skinny Recipe)
Ingredients:
For the donuts:
15 ounce can candied yams
1 egg
1/4 cup pure maple syrup
2 tablespoon 0% fat Greek yogurt
1 teaspoon vanilla extract
2/3 cup all-purpose flour
1 teaspoon baking soda
1/4 teaspoon salt
1 teaspoon cinnamon
For the glaze:
1 tablespoon butter
3 tablespoons pure maple syrup
1/2 cup powdered sugar
Directions:
Preheat oven to 350 degrees. Spray donut pan with nonstick cooking spray.
Drain the liquid from the can of yams/sweet potatoes. Puree in a blender or food processor or mash them as best you can with a fork or potato masher.
In a medium bowl, beat together the pureed sweet potatoes, egg, maple syrup, greek yogurt, and vanilla extract until well combined. In a small bowl, combine the flour, baking soda, salt, and cinnamon.
Stir the dry ingredients into the wet ingredients until just combined.
Spoon the batter into the donut pan and bake for 11 minutes.
Let cool for 5 minutes before removing from the pan.
While the donuts are cooling, prepare the glaze.
In a small saucepan over low heat, melt the butter and maple syrup together. Whisk to combine. Whisk in the powdered sugar until smooth.
Dip the tops of the donuts into the glaze or spoon it on. The glaze hardens quickly so you may need to reheat it to keep it at the right consistency. There is just enough glaze to coat the tops of the donuts and you may need to use a spoon to spread it on the tops of the last few donuts as there won't be enough in the pan for dipping.
Share this: