July 12, 2013
Peanut Butter and Jelly Puff Pastry Pinwheels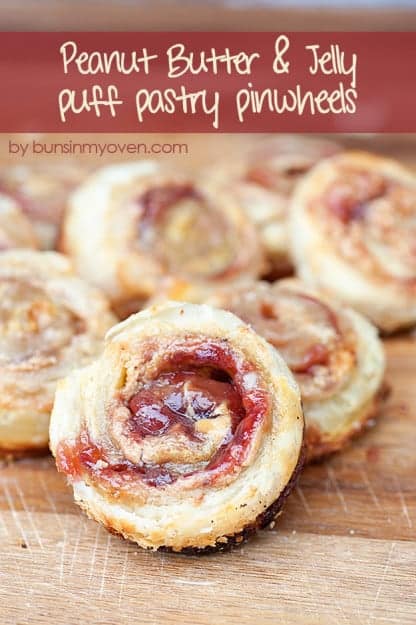 So, I have this friend. Maybe you've heard of her.
She likes peanut butter. She takes gorgeous photos. She is a recipe genius. Her food will make you drool.
Ah, yep. You guessed it. It's Averie from Averie Cooks.
She recently released her first cookbook, Peanut Butter Comfort, and was kind enough to send me a copy to review. Um, you guys? Even my kids are in love with flipping through this book. The photos are just beautiful, but it's the recipes that really get our attention. They are full of our favorite food: peanut butter!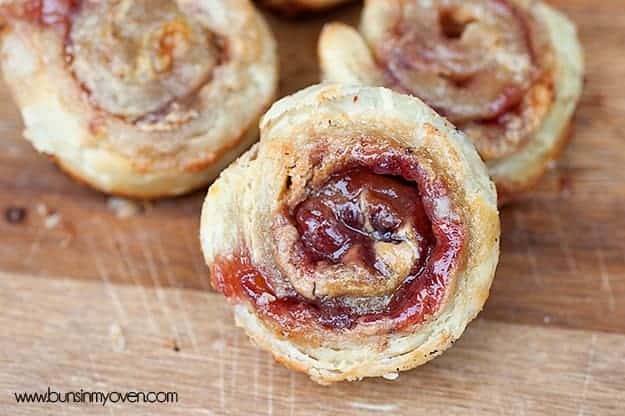 This book is chock full of breakfast recipes, cookies, brownies, cakes, and frozen desserts. Her information section at the front of the book is packed beyond belief with all kinds of helpful hints and tips for baking! Basically, Averie rocked this book.
I thought I'd share a recipe I made from her book with all of you! These Peanut Butter and Jelly Puff Pastry Pinwheels were a perfect start to our day! The kids love peanut butter toast, peanut butter and jelly sandwiches, and cinnamon rolls, so I figured these had to be a hit. Uh, yeah. You could say that. I was allowed one bite and then my daughter snatched it out of my hand and finished off my pinwheel after devouring 3 of her own. My son ate 4. I cried because my kids are pigs and I really wanted to eat all the pinwheels for myself.
These were quick and easy to make, too. With less than 10 minutes of hands on time, 20 minutes of baking, and 10 minutes of cooling, these can be on the table in a hurry! Want to turn them into more of a dessert? Swap the jelly for Nutella. You're welcome.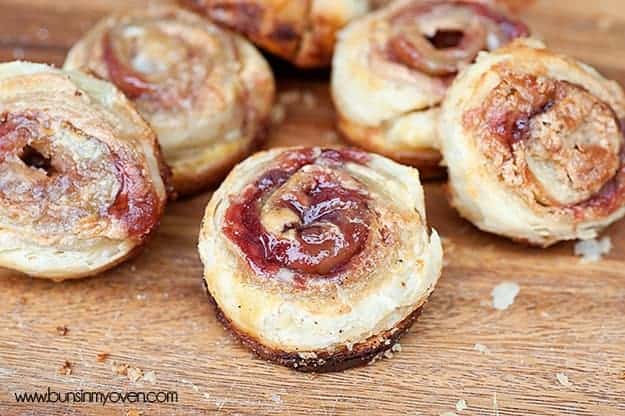 Peanut Butter Puff Pastry Pinwheels
Ingredients:
1 large sheet puff pastry, thawed but cool
1/4 cup creamy peanut butter
1/4 cup strawberry jam or jelly
1 large egg, beaten
1/4 cup granulated sugar
1 teaspoon cinnamon
1/4 cup confectioner's sugar, optional for glaze (I didn't do the glaze)
1 tablespoon cream or milk, optional for glaze
flour, for flouring your work surface
Directions:
Preheat oven to 400 degrees and spray a 12 count muffin pan very well with non-stick spray. You'll only need 8 cavities. Set aside.
Lightly sprinkle your work surface with flour and lay your puff pastry. Lightly press together the seams, if needed, to form a solid sheet of pastry. Spread the peanut butter evenly over the pastry, allowing for /2 inch margins from the edges. Dollop and spread jam evenly over the peanut butter.
Roll up the pastry into a log shape and slice into 8 pieces, about 1 inch thick.
Carefully transfer the pieces to the muffin pan, placing one piece per cavity.
Crack an egg into a small bowl, beat with a fork, and liberally egg wash each of the pinwheels. You'll use about half of the egg.
Combine sugar and cinnamon in a small bowl and stir to combine. Sprinkle it over the top of each pinwheel evenly.
Bake for 14 to 16 minutes or until pinwheels have just begun to puff and brown. Keep a watchful eye on them as they can quickly go from underdone to burnt.
Allow pinwheels to cool in the pan for 10 minutes before removing them. Run a knife around the edges to dislodge them if they're stuck to the pan. Serve immediately.
To make the optional glaze, combine the confectioner's sugar and cream or milk in a small bowl, whisking until smooth, and drizzle over the pinwheels.
Store in an airtight container for up to 3 days, though they are best enjoyed the day they are baked.
Share this: