January 10, 2017
Chocolate Caramel Pecan Shortbread Bars & GE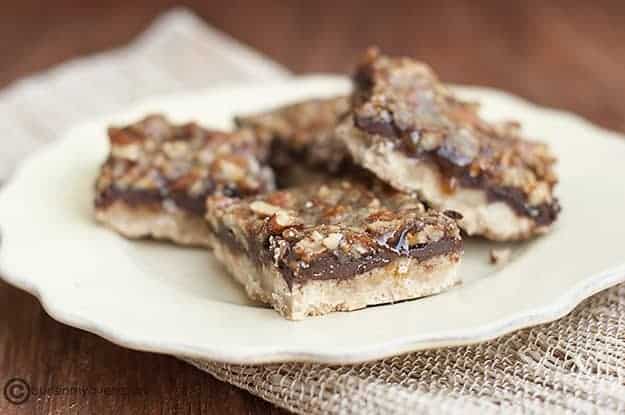 I'm often found in the kitchen talking to myself. I like to think it makes me "cute" instead of "crazy." My husband, however, doesn't let me hold on to that illusion for long. I get some pretty strange looks and, if we're being honest, a few eye-rolls every now and then.
I can't help it. I talk when I cook. If no one else is around, then I'll just talk to myself. I'm a pretty cool girl! I say interesting things! I have some great conversations with me!
I'm sorry. I think my weird may be starting to show. Whoops!
Anyway, one of the things I often converse with myself about is my need for a double oven. This conversation (between me and me) definitely happens more frequently around the holidays. Yes, I'd like a double oven all year round, but at the holidays, it really turns from a want to a need.
When GE CaféTM and BlogHer asked me to share a recipe and a little info about the new GE CaféTM Advantium 120V and GE CaféTM Double Oven Range, I jumped for joy. It's like I'm being forced to talk about my need for a double oven! To someone other than myself! Sweet!
Anyway, before I share the fabulous chocolatey, caramel-y, Thanksgiving-y recipe with you, let me share a couple of facts about those two ovens I just mentioned.
The GE CaféTM Double Oven Range is kind of a food blogger's dream appliance. There is a tri-ring burner that goes as high as 20K BTUs. That's the most powerful burner GE CaféTM has ever made, y'all. I need it. I need it badly. The range also has an integrated griddle. I have one of those bad boys on my range now, and I love it. I don't use it that often, but it's nice to know that I have the option. Plus it's all shiny and pretty looking. I like shiny, pretty things.
The best part is that it's two ovens in one, both of which can be set at different temperatures. Oh, and did I mention they are both self-cleaning? Come to mama.
The other product I'd love to own is the GE CaféTM Advantium 120V. This is a speedcook oven, which is sort of like a microwave on steroids. It roasts chickens in half the time it takes a regular oven. It can bake cookies. It works as a warming oven. Oh, and it'll totally pop your microwave popcorn too.
All right, enough of that. Let's talk food. This Thanksgiving, I'm sure I'll be making quite a bit of food; while I don't know for sure what all I'll make, I do know that these will be on the menu.
Traditional pecan pie is total Thanskgiving food, right? This year, I'm changing things up. Traditional is boring. Let's live a little.
These bars have a simple shortbread crust, a layer of melted chocolate, and the yummiest, most gooey, caramel pecan topping you can imagine. They pretty much taste like heaven and are beyond simple to make. These took me about 5 minutes to prepare and are just about impossible to screw up. The recipe doubles easily, too!
Before we get to the recipe, how about a little giveaway? If you'd like to enter to win a $100 Visa gift card, just leave me a comment on this post answering the following question:
What's your favorite holiday dessert?
Don't forget to hop on over to the BlogHer Promotions & Prizes page between 11/10/11 – 11/30/11 and enter to win a GE CaféTM  Advantium 120V oven. Actually, scratch that. Stay away. That oven is mine, y'all.
Chocolate Caramel Pecan Shortbread Bars
Ingredients:
For the shortbread: 1 cup all-purpose flour 1/3 cup brown sugar 1/2 cup (1 stick) butter, softened For the pecan topping: 1 cup semi-sweet chocolate chips 1 egg 1/3 cup brown sugar 1/4 cup caramel sauce (ice cream topping) 1 cup chopped pecans
Directions:
In the bowl of your stand mixer beat together the flour, sugar, and butter until it is a coarse, crumbly mixture. Dump the mixture into an ungreased 8x8 baking dish and press to form the bottom crust. Bake at 350 degrees for 20 minutes. While the shortbread is baking, beat together the egg, brown sugar, caramel sauce, and pecans. Set aside. After 20 minutes remove the shortbread from the oven and sprinkle on the chocolate chips. Wait 1-2 minutes for the chocolate chips to soften and then spread them gently with an off-set spatula to cover the shortbread crust. Pour the pecan mixture on top of the chocolate. Return to the oven and bake for 12-15 minutes or until the pecan mixture is set. Remove from the oven and immediately run a knife around the edges to prevent the bars from sticking to the side of the baking dish. Let cool completely before cutting and serving.
 Rules for the $100 Visa gift card sweepstakes:
No duplicate comments.
You may receive (2) total entries by selecting from the following entry methods between 11/10/11 and 11/30/11:
a) Leave a comment in response to the sweepstakes prompt on this post
b) Tweet about this promotion and leave the URL to that tweet in a comment on this post
c) Blog about this promotion and leave the URL to that post in a comment on this post
d) For those with no Twitter or blog, read the official rules to learn about an alternate form of entry.
This giveaway is open to US Residents age 18 or older.
Winners will be selected via random draw, and will be notified by e-mail.
You have 72 hours to get back to me, otherwise a new winner will be selected.
The Official Rules are available here.
Click below for more recipes for the GE CaféTM Thanksgiving campaign and more chances to win!
Share this: