November 19, 2012
Chocolate Frosting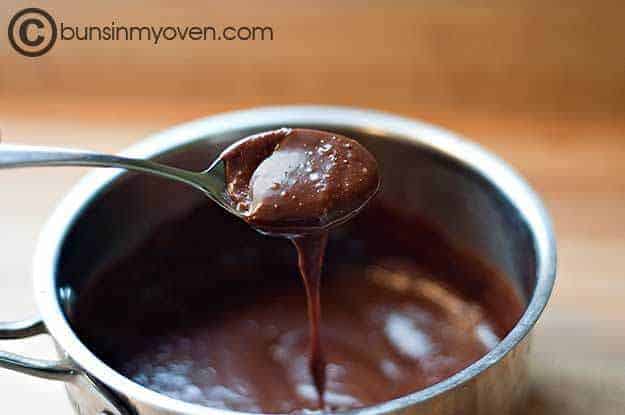 Alright, y'all. Brace yourselves. I am about to share with you the most fudgy, delicious, amazing frosting recipe that you will ever eat in your life. (I know I promised to share this recipe a few days ago, but life has been crazy this week. I apologize.)
My mama used to make this and spread it on brownies. I'm not a fan of frosted brownies (the frosting does something funky to the texture of the brownie, in my opinion), but I had no problem scraping the frosting off with my teeth and tossing the brownie in the trash.
I can remember my mom making this, standing at the stove and counting to 60, making sure that the milk and sugar boiled for exactly 60 seconds. I'm not sure what would happen if it boiled for 61 seconds, or heaven forbid, 62 seconds. My mama took the 60 second rule very seriously. So do I, and so should you. Don't mess with perfection
I also remember that my parents always let my brother and me lick the bowl when they made brownies or cakes, but when it came to this frosting, it was a family event. The kids had to share with the parents.
Have I convinced you to try this yet?
Put it on brownies if you're a frosted brownie kinda gal (or guy) or use it to frost doughnuts like I did. It's a bit thin for piping, but it hardens up very quickly into a fudge like texture. In fact, I plan on experimenting with this soon to see if I can turn it into fudge. I imagine it would be divine.
If you're really desperate for a little chocolate, but don't feel like baking, go ahead and make a 1/4 batch of this and eat it with a spoon. It'll make you happy. Trust me. I know.
Chocolate Frosting
Recipe from my mama
1 cup white sugar
6 tbsp butter
6 tbsp milk
1/2 cup chocolate chips (milk chocolate or semi-sweet)
Add sugar, butter, and milk to a small saucepan over medium heat and bring to a boil. Boil for exactly 60 seconds and remove from heat. Stir in chocolate chips and continue stirring until the chocolate has melted. Use frosting immediately as it will harden quickly. Makes about 2 cups and will frost a 9×13 pan of brownies.
Share this: