January 8, 2015
Sloppy Joe Cornbread Bake
This sloppy joe casserole combines two of my favorite things – sweet and tangy meat with an easy cornbread casserole recipe! My whole family devours this anytime I make it, which is pretty often since it's so stinkin' easy!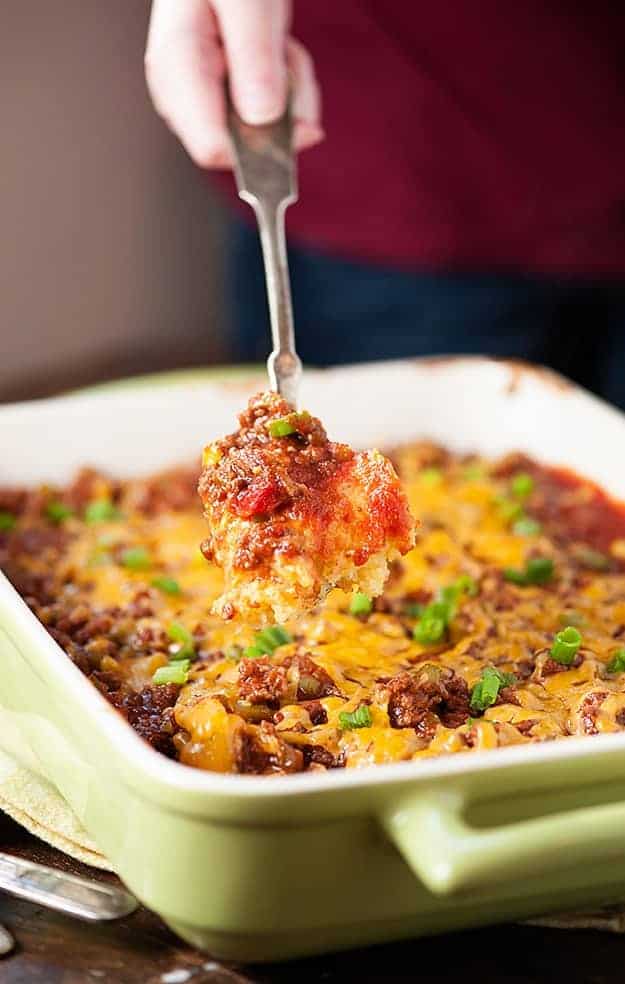 Family dinners, man. I love them.
We're pretty big on eating at the dining room table and when we were looking at houses to buy I was completely shocked at the number of houses that didn't even have dining rooms or a space to put a table in the kitchen.
Where do people eat? On the couch?? I mean, that sounds lovely and all, but what about the kids?
Can you imagine handing a kid a sloppy joe and sending him off to your carpeted living room? I die just thinking about that.
No, we eat at the table in our house, partially because I think it's just easier, partially because there is no carpeting anywhere in sight, and partially because I'm a mean mom.
Where do you guys do dinner?
Speaking of sloppy joes, we love them in this house! Do you remember this sloppy joe tater tot casserole? Always a hit and it's super popular among readers, too!
Well, I'm the (self-proclaimed) casserole queen, so when I noticed my children all huddled under blankets trying to stay warm this week I decided to bust out a nice, comforting casserole. Cozy and warm, here we come!
I used the cornbread base from my chicken tamale casserole and doctored it up a bit with some sloppy joe sauce making a super tangy, sweet, kid friendly family favorite! Serve this with a side salad and some steamed broccoli and you have a pretty easy meal.
One note, this sloppy joe casserole recipe uses the larger can of sloppy joe sauce. You DO NOT have to use all of it here. If you do, things will be extra saucy (not a bad thing!). Use your best judgement when it comes to pouring the sauce into the meat and add as much as you personally like on your sandwiches. If you like them saucy, dump it all in. If you like them dryer, leave some out. You really can't mess this recipe up!
Sloppy Joe Cornbread Casserole
Ingredients:
1 (8 1/2-ounce) box corn muffin mix (Jiffy works great)
1 cup shredded cheddar, divided
1/3 cup milk
1 egg
1 (14 3/4-ounce) can cream-style corn
24 ounce can sloppy joe sauce (or homemade), divided
1 pound ground beef
1 tablespoon butter
1/2 sweet onion
1 bell pepper, any color
1/4 cup diced green onions
Directions:
Heat the oven to 400 degrees. Spray a 9x13 baking dish with non-stick cooking spray.
In a medium sized bowl, add the cornbread mix, 1/2 cup of cheddar cheese, milk, egg, and canned corn. Stir until well combined. Pour into the prepared baking dish.
Bake for 15 minutes or until just set.
While the cornbread is baking, heat a large skillet over medium heat and add the butter.
While the butter is melting, chop the onion and bell pepper into small pieces. Add to the pan and cook until just beginning to soften.
Add the ground beef to the skillet and cook until no longer pink. Drain the fat.
Add all but 1/2 cup of the sloppy joe sauce to the pan with the meat to warm.
Remove the cornbread from the oven and use a fork to prick holes over the cornbread. Pour the remaining 1/2 cup of the sloppy joe sauce over the cornbread.
Spoon the meat and sauce over the baked cornbread and top with the remaining cheese. Return to the oven for 15 minutes.
Top with the green onions before serving.
Share this: