August 16, 2018
Lofthouse Sugar Cookie Bars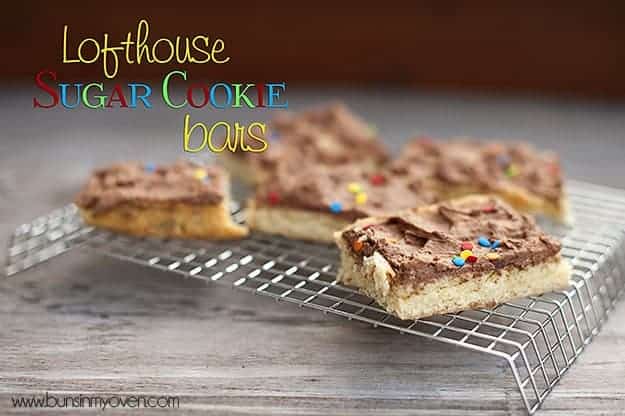 Pin It

I have this bloggy friend and she is totally adorable.
And funny. OMG, she is funny.
We've sorta been reading each other's blogs forever now and this probably isn't the first recipe I've snagged from her site to share on my own. It's not stealing if you're friends. It's borrowing, people. Borrowing.
Even if it was stealing, and it's not, some recipes are just plain good enough to warrant a little theft. I admit to nothing, though.
Y'all know how I like to get bossy, so let me plan your day for you.
First, head to the kitchen and whip these soft, chewy sugar cookie bars up. They're super easy and taste like those yummy Lofthouse sugar cookies without the weird chemical after taste. (Am I the only one who tastes that? I just can't eat those things. It's like chewing on something soaked in toilet bowl cleaner.)
Second, while your cookie bars are baking, head over to Shelly's blog and waste your day reading her hilarious stories and drooling over her amazing recipes. Just don't get so caught up in her little world that you burn your cookie bars. That'd be sad.
Third, spend the rest of the day eating cookies. No laundry. No dishes. No cooking dinner.
And that's an order!
I topped my cookie bars with a simple chocolate frosting this time around, but I've also topped them with buttercream (Here is a link to Shelly's favorite buttercream recipe. It's also delicious. Much like her cute little face.). Either way, they are delicious and absolutely perfect for large get togethers. Just be sure to have a copy of the recipe ready, because people will totally want to steal borrow it from you.
Lofthouse Sugar Cookie Bars
Servings: 12 servings
Course: Dessert
Cuisine: American
Keyword: easy cookie recipes, easy dessert recipes, party recipes
Calories: 497 kcal
I topped my cookie bars with a simple chocolate frosting this time around, but I've also topped them with buttercream. Either way, they are delicious and absolutely perfect for large get-togethers.
Ingredients
For the cookies:
1 1/2 cups sugar
1 cup butter room temperature
8 oz cream cheese room temperature
1 large egg
2 teaspoons vanilla extract
2 1/2 cups flour
1/2 teaspoon baking soda
1 teaspoon baking powder
For the chocolate frosting:
1/2 cup white sugar
3 tablespoons butter
3 tablespoons milk
1/4 cup chocolate chips milk chocolate or semi-sweet
1/2 cup powdered sugar
Up to 1/4 cup milk or heavy cream as needed
Instructions
To make the cookie bars:
Preheat oven to 350°

Line a jelly roll pan (15x10x1) with aluminum foil or parchment paper and spray with cooking spray.

In the bowl of your stand mixer, cream together the butter, cream cheese, and sugar. Beat in the egg and vanilla until well incorporated.

With your mixer turned to low, add in the flour, baking powder, and baking soda, mixing until just combined.

Press the dough evenly into your prepared pan. The dough is sticky and it will look too thin, but it all works out. Just keep pressing it until you have an even layer over the entire baking sheet.

Bake for 20 minutes until edges begin to turn golden.

Cool completely before frosting.
For the frosting:
While the cookies are baking, prepare the frosting.

Add sugar, butter, and milk to a small saucepan over medium heat and bring to a boil. Boil for exactly 60 seconds and remove from heat. Stir in chocolate chips and continue stirring until the chocolate has melted.

Place the mixture in the bowl of your stand mixer and place in the refrigerator to cool.

When the mixture is mostly cool (it can still be a little warm, but not too hot or it won't whip - just return to the fridge if you find it not whipping good), place the bowl on the mixer and, using the wire whisk, whip the mixture with the powdered sugar until soft and fluffy. If needed add a bit of milk or heavy cream (up to 1/4 cup).

Spread over the cookie bars.
Nutrition Facts
Lofthouse Sugar Cookie Bars
Amount Per Serving
Calories 497 Calories from Fat 234
% Daily Value*
Fat 26g40%
Saturated Fat 15g94%
Cholesterol 85mg28%
Sodium 277mg12%
Potassium 102mg3%
Carbohydrates 61g20%
Sugar 41g46%
Protein 4g8%
Vitamin A 850IU17%
Calcium 53mg5%
Iron 1.4mg8%
* Percent Daily Values are based on a 2000 calorie diet.
Nutrition Disclaimer: All information presented on this site is intended for informational purposes only. I am not a certified nutritionist and any nutritional information shared on bunsinmyoven.com should only be used as a general guideline.
recipe from Cookies and Cups