If you love strawberry scones, you'll love this easy recipe. Soft, fluffy biscuits studded with juicy strawberries and topped with a sweet glaze!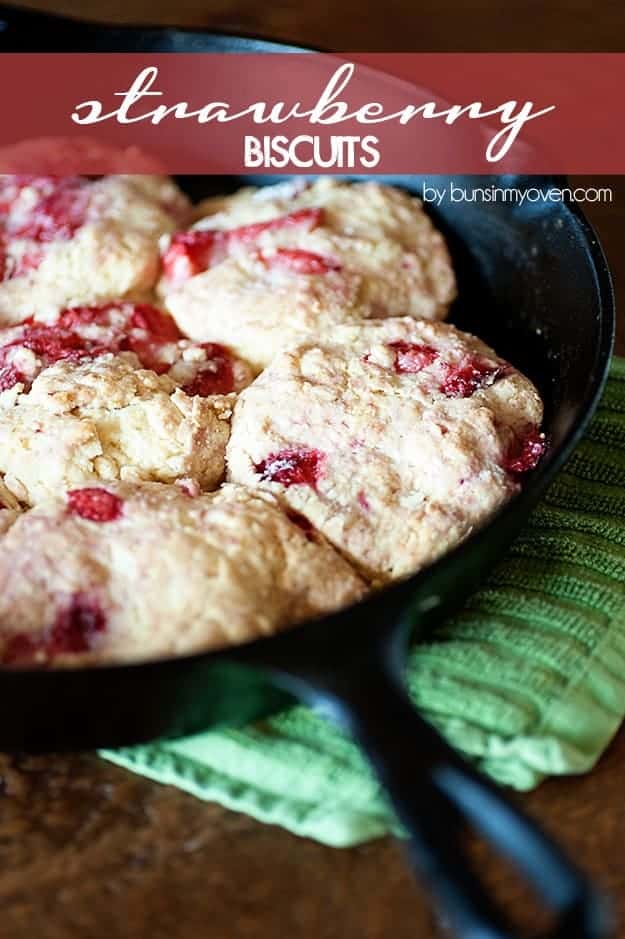 Ugh.
Can someone please explain to me why these photos look like crap? I hate when that happens. I make something amazing and I'm just not feeling the photography.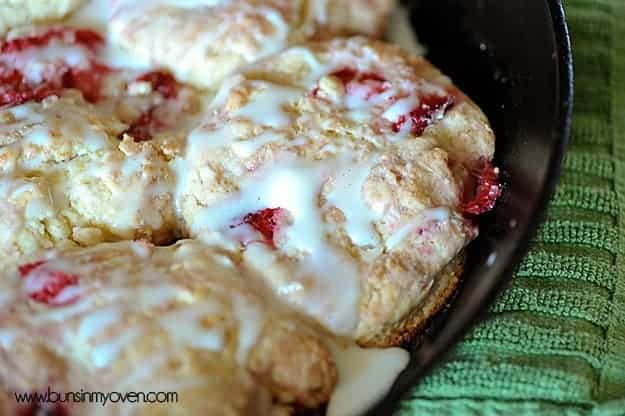 What's that?
You think it's because I was in such a hurry to taste these magical, fluffy little biscuits full of juicy strawberries and drizzled with a sweet glaze that I rushed through the photo session and instead just aimed, shot, and then crammed every last biscuit in my face?
Huh. Interesting theory.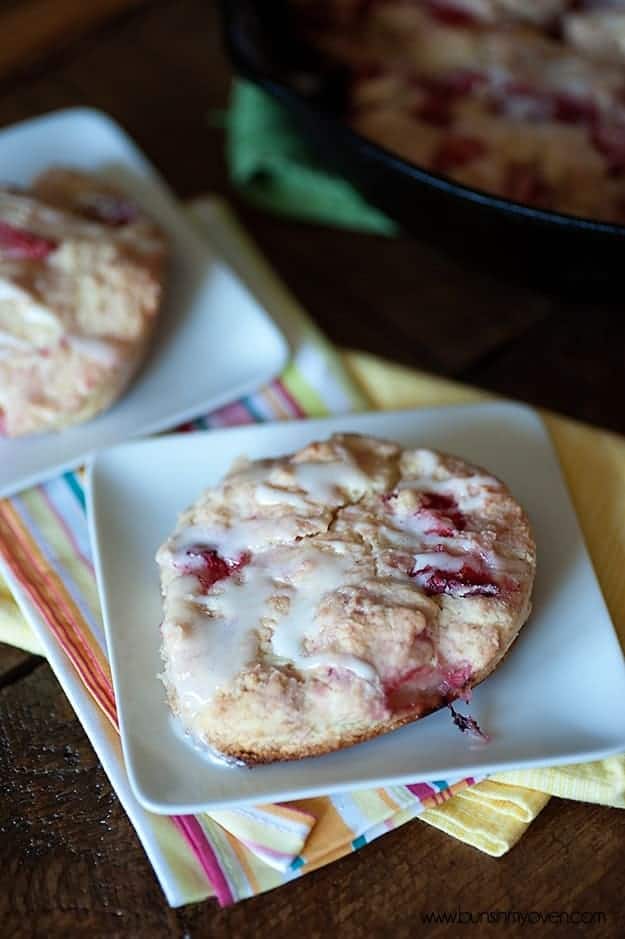 You might be on to something there.
In fact…yeah, pretty sure that's what happened. The smell of these biscuits was just too much for me. I wanted to eat them warm and I wanted to eat them all.
Don't worry, though. I totally let my kids eat the leftovers. And by leftovers, I mean crumbs. #oops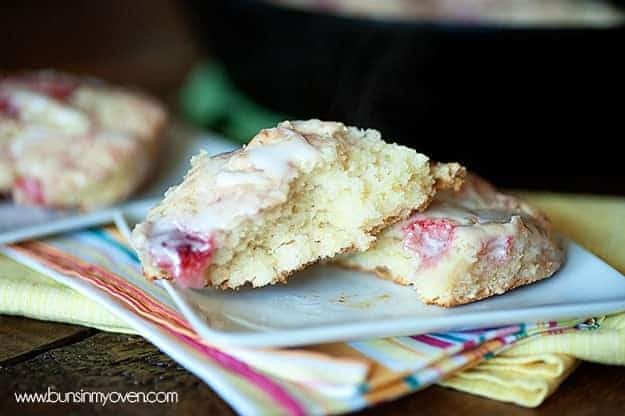 I have a thang for biscuits, my friends, and these biscuits seriously did not dissappoint.
Not that I really worried about that much since the recipe for the biscuits came straight from Smitten Kitchen. I did top mine with a sweet glaze, but that's only because sugar is my friend. If it's not your friend, leave it off. Or drizzle on some honey. Or just smear on some butter. Orrrrr, you can totally bend down so that your face is directly over the pan of hot, steamy strawberry biscuits, open your mouth, and basically just inhale them as is. I mean, nobody could blame you.
Either way, make these strawberry biscuits for breakfast or for an afterschool snack and you'll be in soft, flaky, buttery, berry heaven. True story.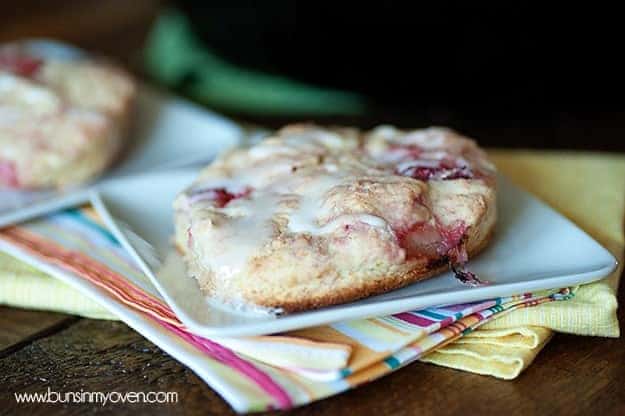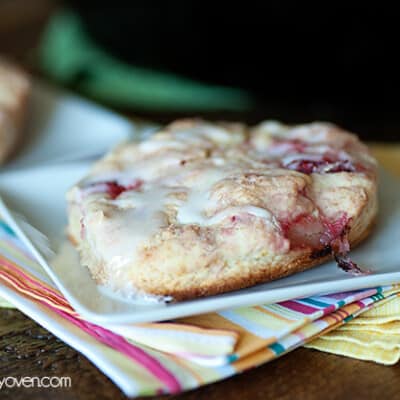 Glazed Strawberry Biscuits
These biscuits are so light and fluffy with little bits of juicy berries. They make a perfect breakfast or afternoon snack.
Prep10 minutes
Cook12 minutes
Total22 minutes
Ingredients
For the biscuits:
2 1/4 cups all-purpose flour
1 tablespoon baking powder
1/4 cup granulated sugar
1/2 teaspoon salt
6 tablespoons butter cold
1 cup chopped very ripe strawberries
1 cup heavy cream
For the glaze:
1/4 cup powdered sugar
2 tablespoons heavy cream
Instructions
Preheat oven to 425 degrees. Line a large baking sheet with parchment paper or set aside a 12 inch cast iron skillet.

In a large bowl, whisk together the flour, baking powder, sugar and salt.

Cut in the butter using 2 knives or a pastry blender until you mixture is crumbly with small pea-sized crumbs.

Gently stir in the strawberries, so that they are coated in the dry ingredients, then stir in the heavy cream.

When you've mixed it in as best as you can, knead it once or twice in the bowl, to create one mass. Don't worry about getting the dough evenly mixed, rather be careful not to overmix the dough.

Generously flour your counter. Transfer your dough to the counter, generously flour the top of it and with your hands or a rolling pin, gently roll or press the dough out to a 3/4-inch thickness.

Cut into 2 1/2-inch circles with a floured biscuit cutter or top edge of a drinking glass, pressing straight down as you cut. Carefully transfer the biscuits to your prepared baking sheet or cast iron skillet.

Re-roll the scraps of dough and repeat. The berries will release more juice, so the second batch will be a bit more wet, but they'll still work out.

Bake the biscuits for 12 to 15 minutes, until golden at the edges and the strawberry juices are trickling out of the biscuits in places. Cool in pan for a minute, then transfer to a cooling rack.

While the biscuits are cooling, whisk together the powdered sugar and heavy cream to form a glaze.

Drizzle it over the still warm biscuits and serve warm or cooled.
Nutrition Information:
Calories: 324kcal (16%)| Carbohydrates: 35g (12%)| Protein: 4g (8%)| Fat: 18g (28%)| Saturated Fat: 11g (69%)| Cholesterol: 60mg (20%)| Sodium: 209mg (9%)| Potassium: 212mg (6%)| Fiber: 1g (4%)| Sugar: 9g (10%)| Vitamin A: 670IU (13%)| Vitamin C: 9.6mg (12%)| Calcium: 87mg (9%)| Iron: 1.6mg (9%)