Chocolate sprinkle donuts make the most fun breakfast treat and they're easy to whip up since they're baked instead of fried!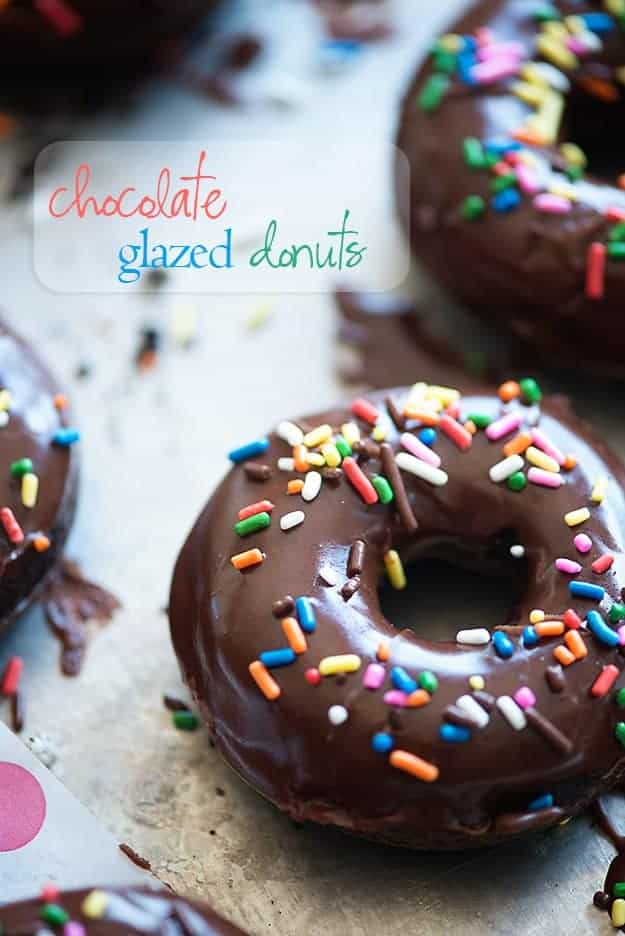 I have a confession to make, guys.
A couple of weeks ago my daughter was away for the weekend. While she was gone I did something unforgivable.
No, I didn't clean her room and throw away all the random bits of paper.
No, I didn't raid her candy stash and eat all of her Reese's.
No, I didn't watch our favorite TV shows without her.
I made donuts. With sprinkles. When she wasn't here to eat one.
Unforgivable, right? I mean, the girl loves her some donuts. And sprinkles just so happen to be her favorite flavor. Obviously, chocolate is a thing that she enjoys.
I'm a bad mom, aren't I?
Anyway, these chocolate sprinkle donuts are fun to make for yourself, when you're alone with no one to judge how many you eat, but they're definitely also fun to make as a quick treat or special breakfast for your kiddos.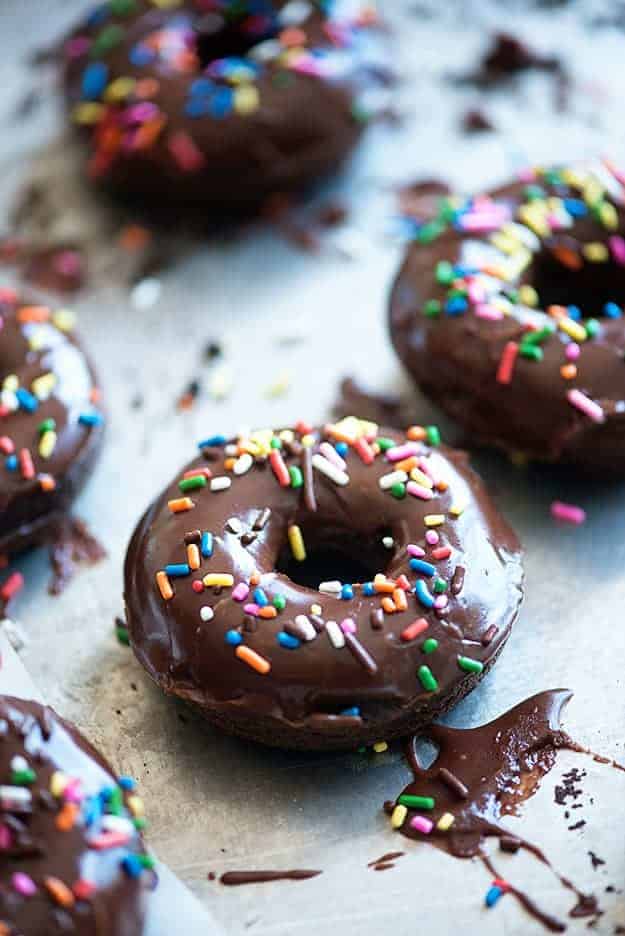 I used my base for the best baked chocolate donuts and topped the donuts off with my mama's fudge frosting.
This is a killer combo and it only gets sweeter when you pour on the sprinkles.
Special Tools Needed to make baked donuts:
These donuts are super easy to whip up if you have a donut pan. I use this one (affiliate link) and I highly recommend it. We make baked donuts regularly in this house. Find all of my donut recipes here!
If you don't have a donut pan, you can use a mini muffin tin to make donut holes! They weren't be perfectly round, but they taste just as delicious!
Hope you guys enjoy these sweet treats!
If you're looking for a traditional donut, be sure to check out my grandma's cake donut recipe! It's the BEST!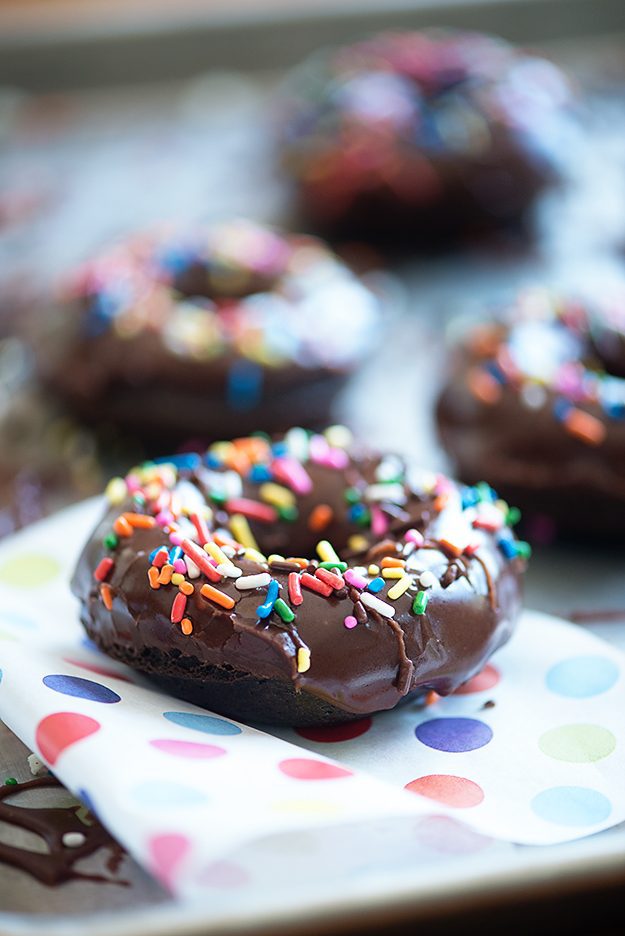 Chocolate Sprinkle Donuts
These chocolate sprinkle donuts are a kids dream come true! Perfect for a fun breakfast treat.
Prep5 minutes
Cook8 minutes
Total13 minutes
Ingredients
For the donuts
1 cup flour
1/2 cup sugar
1/4 cup cocoa powder
1/2 teaspoon baking soda
1/2 teaspoon espresso powder
1/2 teaspoon vanilla extract
1 egg
6 tablespoons sour cream
1/4 cup milk
1/4 cup vegetable oil
For the frosting
1/2 cup white sugar
3 tablespoons butter
3 tablespoons milk
1/3 cup semi-sweet chocolate chips
1/4 cup sprinkles
Instructions
To make the donuts, preheat oven to 375 degrees.

In a medium mixing bowl, combine the flour, sugar, cocoa powder, baking soda, and espresso powder.

In a small bowl, beat together the vanilla, egg, sour cream, milk, and oil.

Stir the wet ingredients into the dry until just combined. Spoon in a greased donut pan.

Bake for 8 minutes or until the tops spring back when you touch them. Let the donuts cool in the pan before frosting.

To make the frosting, add sugar, butter, and milk to a small saucepan over medium heat and bring to a boil. Boil for exactly 60 seconds and remove from heat.

Stir in chocolate chips and continue stirring until the chocolate has melted. Use frosting immediately as it will harden quickly.

Dip the tops of the donuts into the frosting and remove to a cooling rack.

Immediately top with sprinkles.

Let sit for 10 minutes before serving.
Nutrition Information:
Serving: 1donut| Calories: 473kcal (24%)| Carbohydrates: 64g (21%)| Protein: 5g (10%)| Fat: 23g (35%)| Saturated Fat: 15g (94%)| Cholesterol: 50mg (17%)| Sodium: 171mg (7%)| Potassium: 183mg (5%)| Fiber: 2g (8%)| Sugar: 44g (49%)| Vitamin A: 320IU (6%)| Calcium: 53mg (5%)| Iron: 2.2mg (12%)
This post was originally published Sept. 2015. It's been updated with a new video in February 2019.