December 9, 2017
Reese's Chocolate Peanut Butter Seven Layer Bars
This is a Sponsored post written by me on behalf of REESE'S® Brand for SocialSpark. All opinions are 100% mine.
Hello there, party people. I have a recipe for you today that is going to rock your little chocolate peanut butter loving world. And if you're not a chocolate peanut butter fan, then you can quietly and shamefully click the red "x" up in the corner, because you are totally not welcome here today. (Kidding! You're always welcome. You smell lovely and your hair is so shiny. Let's be friends!)
Anyway, let's talk about seven layer bars. Have you ever tried these thangs? I'm somewhat new to them, because I don't like coconut and the original seven layer bar has coconut and *barf.* Right?
So, I went ahead and changed things around to be outrageoulsy gooey, chocolatey, and peanut butter-y. You guys are going to lose your minds over this.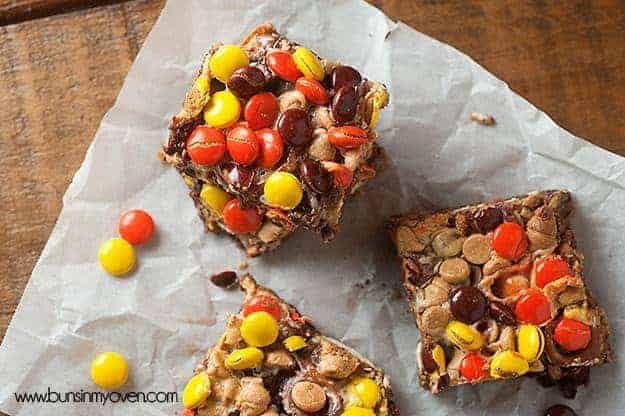 First up, we have a layer of chocolate graham crackers, followed by a layer of pretzels, a layer of chocolate chips, a layer of peanut butter chips, a layer of mini Reese's cups, and then a layer of sweetened condensed nectar of the gods…I mean milk…and all of that gets topped off with some Reese's Pieces.
Whew. I'm out of breath just typing all of that.
Can you even imagine what your mouth is going to say when you shove 18 of these bars in there? It's going to punch you in the elbow. Or…something?
This dangerous little recipe is brought to you as part of a Reese's Baking Bracket Challenge, a Reese's and Walmart promotion to help make game day more fun! (What game day, you may say if you are not a basketball person. College basketball game day, my friends. That's what we be talkin' 'bout.)
There are a total of 32 recipes in the bracket that you can find at REESE'S® Baking Bracket Challenge. Fans who vote for a recipe (preferably MY recipe, guys…have some dang loyalty, would ya? Or whatever.) will be entered for a chance to win a daily prize of a $100 Walmart gift card. I dunno about you, but I could buy a lot of things at Walmart for $100!
College basketball games are the perfect time to get together with friends and family, huddle around a bag of REESE'S® Peanut Butter Cups, and talk about how cute the boys look in their little outfits. Wait, no. I mean, watch the game. Go…Tigers? Monkeys? Pandas? Right. So, anyway, gather up yo' people and host a delicious party full of Reese's and other affordable treats available at Walmart with their everyday low prices.
Reese's Peanut Butter Overtime Bars
Ingredients
2 cups chocolate graham cracker crumbs
1/2 cup butter, melted
8 ounce bag Reese's Minis
1 heaping cup pretzel twists
2/3 cup milk chocolate chips
2/3 cup Reese's peanut butter chips
14 ounces sweetened condensed milk
1 cup Reese's Pieces
Instructions
Preheat oven to 350 degrees. Line a 9x13 baking dish with parchment paper or foil and spray with non-stick cooking spray.
In a small bowl, combine the graham cracker crumbs and melted butter to combine. Press the mixture into the prepared baking dish.
Top with the Reese's Minis, pretzels, chocolate chips, and peanut butter chips, in that order. Pour the sweetened condensed milk over the top. Sprinkle on the Reese's Pieces evenly.
Bake for 25 minutes or until golden brown and bubbly. Let cool for at least 2 hours before cutting and serving.
Disclaimer: The nutrition information presented below is not guaranteed to be accurate.

Affiliate Links: This blog contains affiliate links.
Nutrition Facts
Serving Size
1 bar
Amount Per Serving
As Served
Calories 453kcal Calories from fat 194
% Daily Value
Total Fat 22g
34%
Saturated Fat 11g
55%
Transfat 0g
Cholesterol 27mg
9%
Sodium 358mg
15%
Carbohydrate 60g
20%
Dietary Fiber 2g
8%
Sugars 33g
Protein 8g
Percent Daily Values are based on a 2,000 calorie diet. Your daily values may be higher or lower depending on your calorie needs:
Calories
2000
Total Fat
Less than
65g
Sat Fat
Less than
25g
Cholesterol
Less than
300mg
Sodium
Less than
2,400mg
Total Carbohydrate
300g
Dietary Fiber
25g
Check out more Game Day Recipes and prepare yourself for a delicious college basketball season!