December 7, 2012
Gooey Chocolate Dulce de Leche Cake
We all know that I'm not much of a cake baker. I mean, sure, I try. But, I usually fail.
Layers split apart and fling themselves onto the floor.
The fillings end up oozing out the sides in a most unattractive manner.
The moist cake that I imagine is, in reality, a dry, crumbly, pathetic excuse for a cake.
It's very sad, is what I'm saying.
Trust me when I say that this cake is simple, fail-proof, and super delish. This might have something to do with the fact that it's just baked in a 9×13 dish with no worry of evening up layers, or stacking layers, or filling layers, or any of that other ridiculous cake making junk.
Sure, it's not the most pretty cake ever, but it's perfect for a family dinner or a chocolate attack. You probably noticed there is no frosting, and that's because it truly doesn't need it. It's so moist and gooey from the filling, that you won't miss the frosting. Told ya this was an easy cake!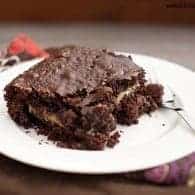 Gooey Chocolate Dulce de Leche Cake
Ingredients:
1 box chocolate cake mix, prepared according to package directions, but not baked
1 1/2 cups dulce de leche (or caramel sauce)
1 cup hot fudge sauce
Directions:
Preheat the oven to 350 degrees. Spray a 9x13 baking dish with cooking spray.
Pour half of the prepared cake mix into the bottom of the baking dish.
Bake for 10 minutes.
Remove the cake from the oven and pour warmed dulce de leche and hot fudge sauce over the cake. Spread to cover the entire cake.
Pour remaining cake batter over the top of the cake and return to the oven for 20 minutes or until the cake is done.
Cool for 20 minutes (or more) before serving.
Share this: