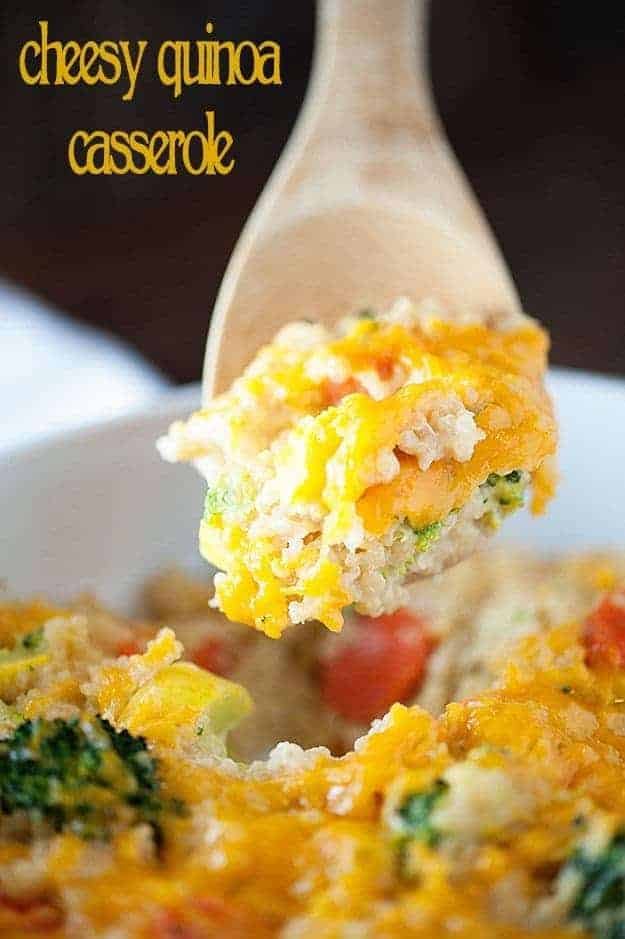 I am so beyond excited about this cheesy quinoa casserole, you guys! It's creamy, cheesy, protein packed goodness that works as a main dish or a side dish and can be totally customized based on the veggies you love and have in your fridge. I'd wager that even your kids will eat this one! Bonus points: It's a great vegetarian main dish for Meatless Monday!
You need to get with this veggie quinoa bake, like yesterday.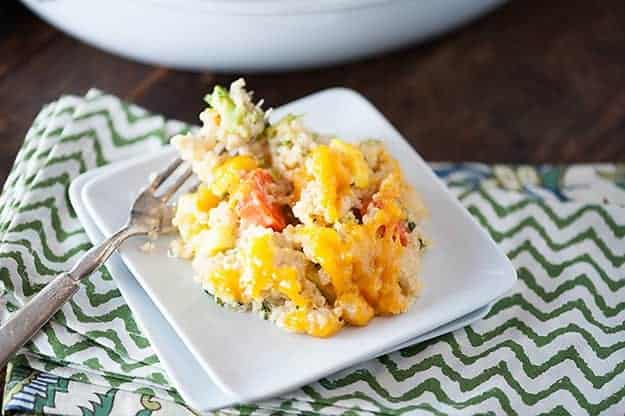 Before I get into more gushing over the recipe, let me tell you a story about my mother. It's a funny one.

We were talking the other day about our go to dinner recipes and I mentioned that I make tacos at least once a week. She went on to say that, oh no, she never makes tacos because they're too much work.
Um, guys? I'm pretty sure tacos are the easiest dinner ever. Like, ever ever.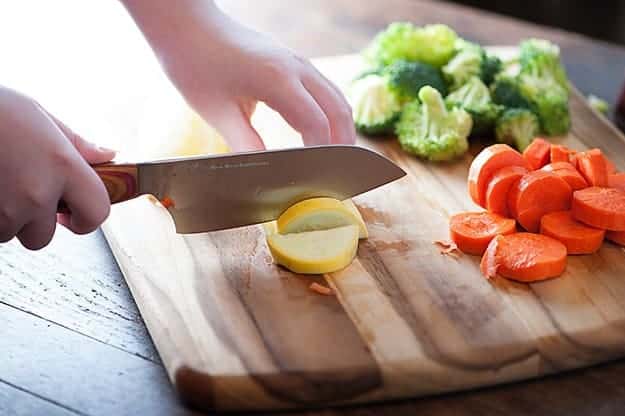 It's the chopping that she has a problem with, though. She likes diced tomatoes, onions, and olives with her tacos and she hates taking the time to cut them, so she just doesn't make tacos.
I don't know why I find that so hilarious, but I do. I mean, I get not wanting to spend the extra time cutting up food. It's a chore. Especially if you have crap knives. Which, don't tell her I said this, but she kind of does.
So, today I wanted to tell you about my new favorite knives. Full disclosure: I received the knife set I'm about to talk about for free. I was not paid otherwise. I did not guarantee a glowing review. In fact, I was a little concerned that these knives wouldn't quite live up to my admittedly snobby knife standards. I was worried they would look pretty on the counter, but not actually perform.
Oh, my people. I was wrong. These knives. They make chopping and cutting and dicing and slicing an absolute joy. I seriously look forward to cooking recipes that have a bunch of chopping, because it means I get to play with these knives. If that's not weird, I don't know what is.
The knife set I'm raving over is the Fusionwood 2.0 set from New West KnifeWorks. The knives came in a gorgeous knifeblock that is seriously a piece of art. Top that off with the brightly colored hand crafted wood handles and it's a truly beautiful piece to place on my counter tops.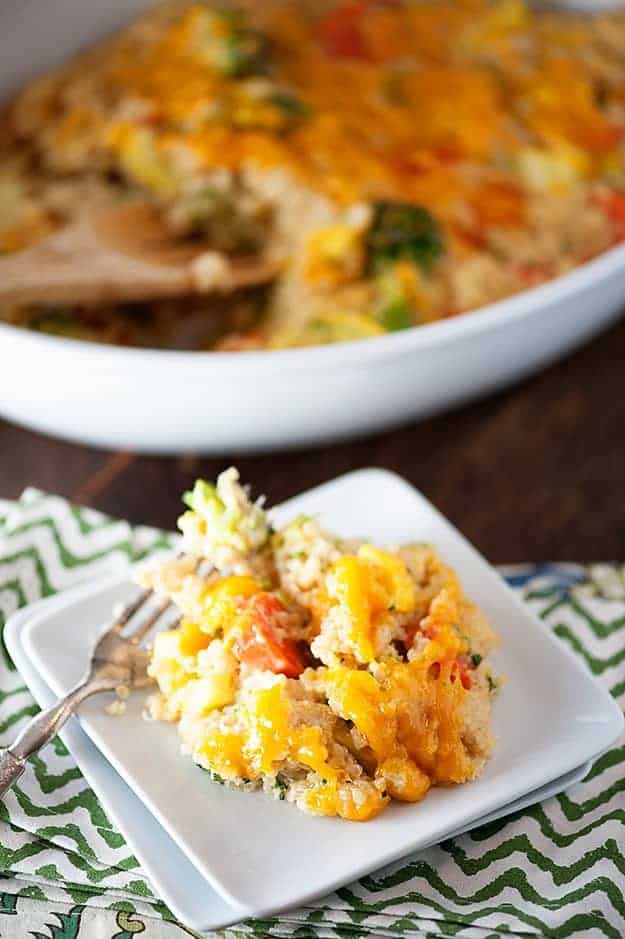 My favorite knife of the set surprised me quite a bit. I love love love the Chopper Chef Knife. It's a medium sized chef's knife. I've always worked with a full sized santoku knife and I was very happy with it. But this smaller knife just gives you so much control and it slices so easily.
These knives are even Saveur's favorite and have gotten glowing reviews all over the place.
Okay, so back to the food! I wanted to make you all a dish that would get you in the kitchen chopping up veggies! I picked my favorites…broccoli, carrots, and squash, but you can totally switch those out for your own favorites! Asparagus, green beans, cauliflower, anything would be good in here.
This dish would make an excellent vegetarian main dish. The quinoa is full of protein and very filling. The cheese sauce is creamy, smooth, and heavenly. Even the kids love this one! I don't even hear complaints about all the vegetables in here. I think that has to do with the cheese sauce! Serve this with a side salad for a complete meal.
This would also make an excellent side dish in place of rice or macaroni and cheese. It really reminds me of a cheesy broccoli casserole, but without the yucky canned soups.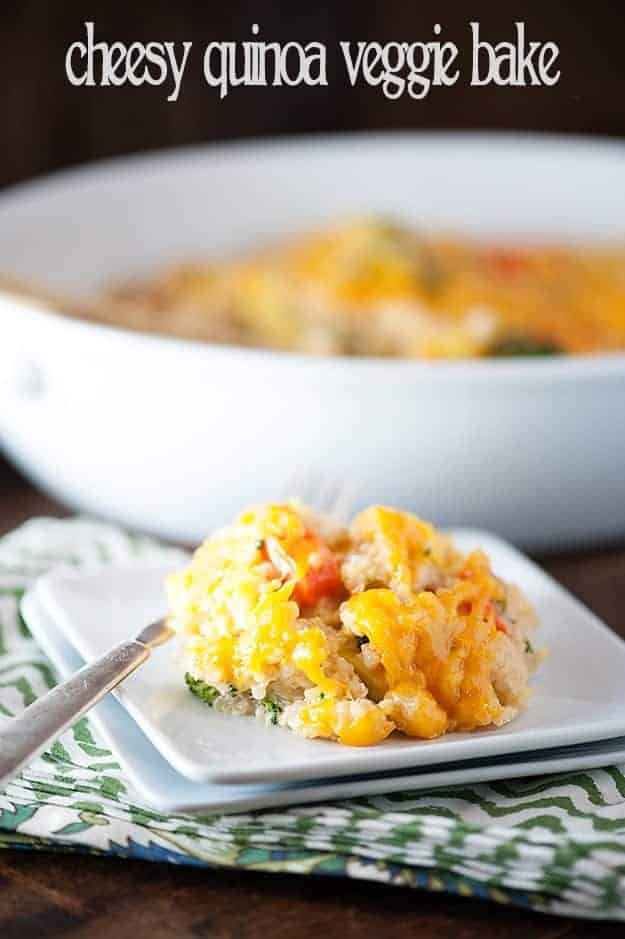 Be sure to enter New West Knife Works holiday knife set giveaway! You don't want to miss out on a chance to win these gorgeous knives!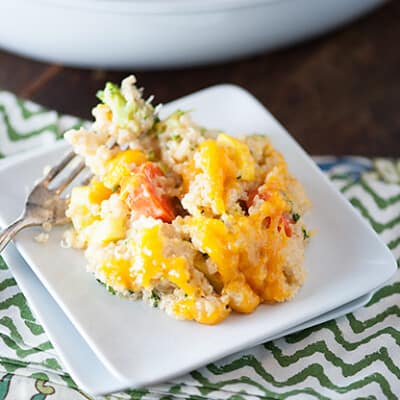 Cheesy Quinoa Vegetable Bake
This would also make an excellent side dish in place of rice or macaroni and cheese. It really reminds me of a cheesy broccoli casserole, but without the yucky canned soups.

Prep30 minutes
Cook15 minutes
Total45 minutes
Ingredients
1 cup quinoa rinsed and drained
2 cups water
1 teaspoon onion powder
1/2 teaspoon garlic powder
1 cup broccoli florets
1 cup carrot coins
1 cup zucchini or yellow squash chopped
2 tablespoons butter
2 tablespoons flour
1 cup milk
4 ounces grated Gruyere cheese
4 ounces grated cheddar cheese divided
Salt and pepper to taste
Instructions
Add the quinoa, water, onion powder, and garlic powder to a small sauce pan and bring to a boil over medium heat. Reduce to a simmer, cover, and cook for 15 minutes or until the water is absorbed and the quinoa is fluffy. Place quinoa in a large mixing bowl.

While the quinoa is cooking, steam the vegetables for 10 minutes or until tender crisp. Add to the bowl with the quinoa.

Melt the butter in a small sauce pan. Whisk in the flour and continue cooking and whisking for 2 minutes.

Slowly pour in the milk, whisking constantly, and continue cooking until thickened, about 3 minutes.

Remove from the heat and stir in the Gruyere and 2 ounces of the cheddar. Whisk until smooth and melted.

Pour the cheese sauce over the quinoa and vegetables and stir to combine. Taste and add salt and pepper as needed.

Pour into a greased 2 quart casserole dish. Top with the remaining cheddar. Bake at 350 degrees for 15 minutes.

Serve immediately.
Nutrition Information:
Calories: 517kcal (26%)| Carbohydrates: 39g (13%)| Protein: 25g (50%)| Fat: 29g (45%)| Saturated Fat: 16g (100%)| Cholesterol: 82mg (27%)| Sodium: 388mg (17%)| Potassium: 625mg (18%)| Fiber: 4g (17%)| Sugar: 6g (7%)| Vitamin A: 6375IU (128%)| Vitamin C: 27.7mg (34%)| Calcium: 610mg (61%)| Iron: 2.7mg (15%)
Big thanks to New West Knife Works for sending me this knife set to review.