August 9, 2017
Pumpkin Whoopies with Maple Bacon Filling
These pumpkin whoopie pies are so soft and tender! The filling is made from a mixture of maple and cream cheese and sprinkled with crispy bacon bits!

I know. I'm not sure how this happened either.
I mean, I'm just a normal girl. I grew up in the Midwest. I come from a good family. And, then, one day I was found in the kitchen whipping up a maple cream cheese frosting and adding chunks of crispy, salty bacon to the bowl.
I'm probably never going to be forgiven for this, am I?
It's just…pumpkin. Pumpkin Whoopie Pies. Soft, cake-y whoopie pies.

Maple cream cheese frosting. It's creamy, it's full of maple flavor, it's a bit tangy from the cream cheese.
Bacon. Crispy, salty, greasy. In the frosting. Sandwiched between the whoopies.
Yep. My life is now complete.
I ate as many of these as I could and then shipped the rest off to work with my husband. But not before warning him that I wasn't certain his employees could handle this. I mean, bacon in the frosting. Am I the only one still freaking out about this?
There is enough frosting to generously fill each whoopie pie. If you have frosting leftover, pop it in the fridge and spread it on pancakes, waffles, or French toast the next morning. Just trust me on that one.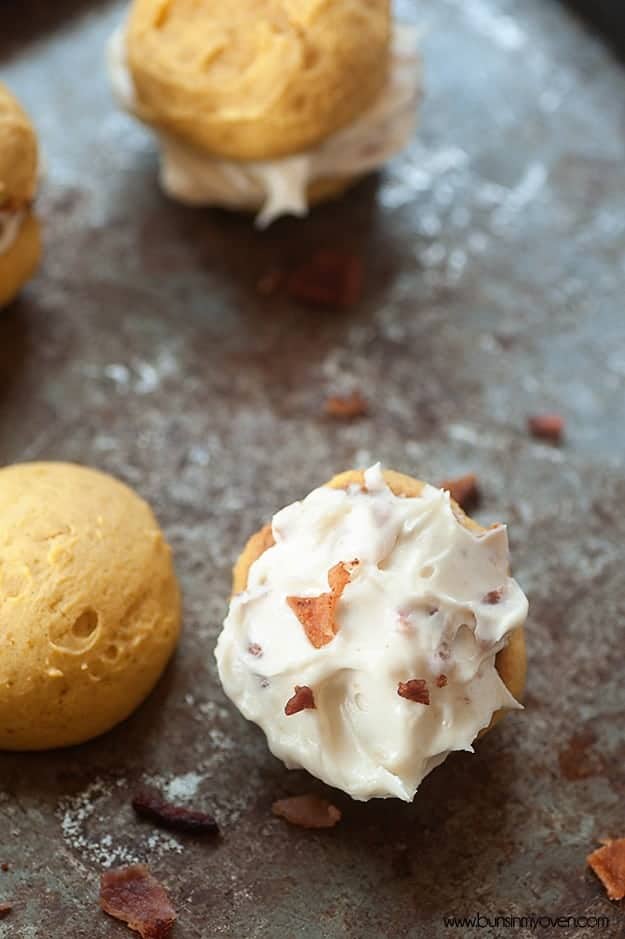 Pumpkin Whoopie PIes with Maple Bacon Frosting
Ingredients:
For the cookies:
1/2 cup butter, softened
1 1/4 cups granulated sugar
2 large eggs
1 cup pumpkin puree
1 teaspoon vanilla
2 cups flour
1 teaspoon baking powder
1 teaspoon baking soda
1 teaspoon ground cinnamon
1/2 teaspoon ground ginger
1/2 teaspoon salt
For the filling:
1/2 cup butter, room temperature
8 ounces cream cheese, room temperature

1 cup powdered sugar
1/4 cup maple syrup
4 slices bacon, fried and crumbled
Directions:
Preheat oven to 350 degrees. Line a baking sheet with parchment paper.
To make the cookies, beat together the butter and sugar in the bowl of a stand mixer until light and fluffy. Beat in the eggs, pumpkin, and vanilla until well combined.
In a medium bowl, whisk together the flour, baking powder, baking soda, cinnamon, ginger, and salt.
Using a small cookie scoop, drop scoops of dough onto the prepared baking sheet, about 1-inch apart. Bake for 10-12 minutes or until springy to the touch. Cool completely.
To make the filling, beat the butter, cream cheese, sugar, and maple syrup together until well combined. Fold in the bacon crumbles.
Flip half of the cookies over and spread with the filling. Top with the remaining cookies.
If there is leftover frosting, keep it in the fridge and spread on pancakes, waffles, or French toast.
Share this: