January 14, 2015
Banana Coffee Cake with Chocolate Chip Streusel. Oh My Word.
My husband is not one to get excited about food. I know. I don't know what I was thinking when I married him. I mean, IT'S FOOD. What's not to get excited about, especially when we're talking about this banana coffee cake recipe, right?
There are three foods that I have heard him talk about with any sort of excitement. Number one is the steak we had on our wedding night. It was a filet mignon and it had a big blob of butter on top. He loved that steak. He still dreams about it.  Number two is sausage egg rolls. He loves those things. They are a pain in the butt to make though, so he doesn't get them often. Number three is a cheeseball. He likes cheeseballs. He's a simple man.
The other day I made this scrumptious banana coffee cake with chocolate chip streusel and do you know what my husband said about it? HE TOLD ME I SHOULD SELL THE STUFF. Sell it. For money. Because it's just that good. This is quite possibly the nicest thing my husband has ever said about my food before.
I'm certainly not going to start selling the stuff though, so why don't you make your own and tell me what you think?
The first thing we need to do is preheat the oven to 350 degrees.
And then butter an 8×8 baking dish. And don't worry. I won't start carrying on about my love of butter.
For the streusel topping, we're going to get a small bowl and dump in 1 cup of chocolate chips, 2/3 cup of brown sugar, 1/2 cup chopped walnuts, and 1 tablespoon of cinnamon.
Stir it all up and then spend a couple seconds picking out chunks of brown sugar and eating them. I like chunks of brown sugar.
Set your streusel topping aside before you eat all the brown sugar.
At this point the recipe says you should sift together 1 1/2 cups of all purpose flour, 3/4 teaspoon of baking soda, 3/4 teaspoon of baking powder and 1/4 teaspoon of salt. But, me? I don't DO sifting. I dump everything in the bowl and then I stir it. That's good enough, right?
Take a fork and mash your bananas. I only had two bananas. The recipe called for three. I'm sure this would be tastier with three bananas but I didn't let it ruin my day.
Next, beat together 1 stick of softened butter, 3/4 cup of sugar and 1 large egg until the mixture is nice and creamy. Take a lick. Go ahead. I dare you.
Add in your mashed bananas and either 3 tablespoons of buttermilk OR 3 tablespoons of plain yogurt. (I ended up using 5 tablespoons yogurt to make up for the missing banana.)
Slowly add in your flour mixture and blend well.
Spread half of this mixture into your 8×8 baking dish and sprinkle half of the streusel topping on top. Lather, rinse, and repeat with the remaining batter and streusel. Er, maybe just repeat.
(I forgot to take a picture of the layering process. Please forgive me.)
If you have a short person nearby, let her poke at the topping and listen attentively while she whines about her tummy grumbling. Tell her that if she doesn't quit whining you'll toss her in the oven along with the coffee cake.
Bake for about 45 minutes or until a toothpick inserted in the center comes out clean.
Let this cool for just as long as you can stand it.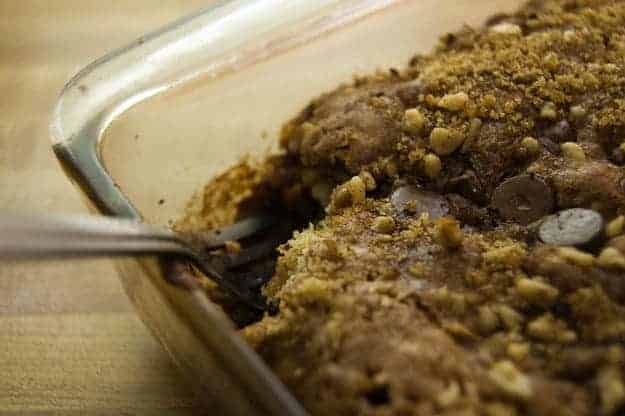 Don't be like me and get impatient. Don't take a bite right out of the whole cake. It's not polite. It's rude. You'll regret it.
Oh, who am I kidding? You won't regret it.
Banana Coffee Cake
undefined undefined

Ingredients
1 cup semisweet chocolate chips 2/3 cup (packed) golden brown sugar 1/2 cup chopped walnuts 1 tablespoon ground cinnamon 1 1/2 cups all purpose flour 3/4 teaspoon baking soda 3/4 teaspoon baking powder 1/4 teaspoon salt 3/4 cup sugar 1/2 cup (1 stick) butter, room temperature 1 large egg 1 1/3 cups mashed very ripe bananas (about 3 large) 3 tablespoons buttermilk or plain yogurt
Instructions
Preheat oven to 350°F. Butter and an 8x8 inch baking dish.
Stir chocolate chips, brown sugar, walnuts, and cinnamon in small bowl until well blended; set streusel aside.
Sift together (or just STIR TOGETHER) all purpose flour, baking soda, baking powder, and salt into medium bowl. Beat sugar, butter, and egg in a large bowl until fluffy. Mix in mashed bananas and buttermilk or yogurt. Add flour mixture and blend well.
Spread half of batter in prepared baking pan. Sprinkle with half of streusel. Repeat with remaining batter and streusel. Bake coffee cake until toothipick inserted in center comes out clean, about 45 minutes. Cool for about 10 minutes and serve.
Disclaimer: The nutrition information presented below is not guaranteed to be accurate.

Affiliate Links: This blog contains affiliate links.