These pork kebabs are coated in my special white bbq sauce recipe for a dinner that's ready in about 30 minutes! Big thanks to Smithfield for sponsoring this recipe!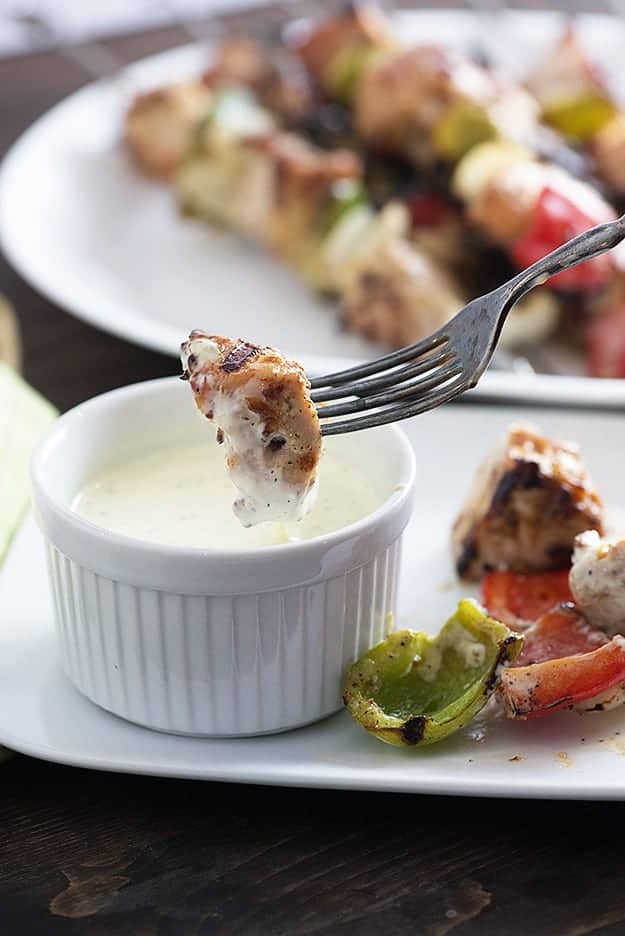 Let's talk for a minute about the grill, shall we? Like, specifically, who does the grilling in your house?
It's usually portrayed as a man's job, but then all the cooking happening inside is the woman's job. I just think that's all so weird. I am perfectly happy to grill myself and do so quite a bit when the husband isn't home.
Of course, when he is home I totally pull the "grilling is a boy's job" card, because hi, have we met? I'm super lazy.

Curious who does most of the grilling in your house? Let me know if I'm the only grill out there brave enough to man the grill.
Anyway, I really hope that SOMEONE in your house fires the grill up and soon, because these pork kebabs are so dang good and they're super easy. I took a big ol' Smithfield Marinated Fresh Pork Loin Filet in Applewood Smoked Bacon. Don't be scared of such a big hunk of meat on busy weeknights – you can totally still get dinner on the table quickly with this guy by cutting it all up into bite sized pieces and popping it on some skewers with a few veggies.
The pork has a great smoky flavor from the bacon that it's rolled around in. The flavor is pretty divine on it's own, but then I went and coated it in my favorite white BBQ sauce recipe and these little kebabs just disappeared! My kids went nuts for them. Of course, my daughter totally gave all the onion chunks to me, but I sure didn't complain. Grilled onions are my jam.
You could also add some cherry tomatoes or chunks of zucchini to your kebabs to bulk them up even more.
This white barbecue sauce is my jam, but honey mustard dressing would be pretty fabulous too!
I like to serve the kebabs with extra white barbecue sauce for dipping. Serve these alongside my hashbrown casserole with some chocolate cobbler for dessert. So yummy!
White BBQ Pork Kebabs
These pork kebabs are coated in white BBQ sauce. Such a perfect recipe for summer!
Prep10 minutes
Cook15 minutes
Total25 minutes
Ingredients
1 package Smithfield Marinated Fresh Pork Loin Filet in Applewood Smoked Bacon
1 large sweet onion
2 bell peppers any color
1/2 cup mayonnaise
2 tablespoons buttermilk
2 tablespoons vinegar
1 teaspoon prepared yellow mustard
1 teaspoon ground pepper
1 teaspoon salt
1 teaspoon sugar
1 teaspoon garlic powder
Instructions
Preheat grill to 400 degrees.

Cut pork loin filet into 1 inch cubes. Cut onion and peppers into 1 inch slices.

Alternate threading pieces of pork and vegetables on 12 kebab skewers.

Add the remaining ingredients to a mason jar and shake to combine. Pour half of sauce into a small bowl to brush on the pork. Reserve remaining sauce.

Brush all sides of the kebabs with sauce and grill for 8 minutes. Brush with more sauce and turn.

Continue grilling for 8 minutes or until pork is cooked through. Brush with more sauce about 2 minutes before pulling from the grill.

Serve with reserved sauce for dipping.
Nutrition Information:
Calories: 484kcal (24%)| Carbohydrates: 10g (3%)| Protein: 11g (22%)| Fat: 44g (68%)| Saturated Fat: 12g (75%)| Cholesterol: 56mg (19%)| Sodium: 625mg (27%)| Fiber: 2g (8%)| Sugar: 7g (8%)