Just about everyone I know loves brownies. They truly are the perfect treat, rich and dense, chocolatey and chewy. What's not to love about a brownie? Some days, a plain old brownie is exactly what you need. Other days, you might want to live on the edge and try something new.
Today? Today is the day you try something new. These brownies have a cream cheese frosting middle, a sprinkling of peanuts, and a topping of chocolate peanut butter rice krispies. Yum, right?
You can start out with your favorite brownie recipe or you can be a cheater like me and just use a box mix. There are times when you want a delicious homemade brownie, but in this recipe the stuff from a box will work just fine.
Bake your brownies according to your recipe (or box) and allow them to cool completely.
Whip up some cream cheese frosting and spread it all over the top. I usually prefer buttercream frosting, but I was worried it would be way too sweet for this and I was probably right. This cream cheese frosting was perfect. It's not overly sweet like buttercream, so you (hopefully) won't fall into a sugar coma the minute you take a bite. The cream cheese frosting is nice and tangy, almost a bit like cheesecake and, personally, I loved it. I'll go ahead and admit that my kids thought it could be a bit sweeter, but they always think things should be sweeter. Pizza? Add sugar. French fries? Add sugar. Toothpaste? Add sugar.
Sprinkle the frosting with coarsely chopped salted peanuts. Mm, peanuts.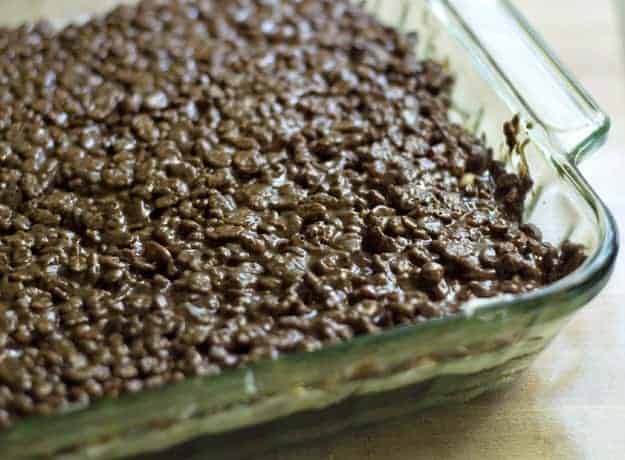 For the topping, grab a big pan, mix together chocolate and peanut butter until it's melted and then stir in the rice krispies cereal. Spread it out on top of the brownies and chill for 30 minutes in the refrigerator and oh my word, have you got one yummy dessert. Go ahead and eat as many as you can before your husband leaves for work and then beg him to take the rest with him. You don't want to overindulge or anything, right?
Triple Threat Brownies
For the brownie base:
1 box brownie mix OR favorite recipe brownies (9×13 pan size)
Mix brownies according to package directions or your favorite recipe. Bake and allow to cool completely.
For the cream cheese frosting:
16 ounces cream cheese, softened
1/2 cup butter, softened
2 cups powdered sugar
1 teaspoon vanilla
1 cup coarsely chopped peanuts
Beat together cream cheese, butter, powdered sugar, and vanilla until fully mixed. Spread on top of cooled brownies and sprinkle with nuts.
For the chocolate peanut butter rice krispies topping:
1 cup peanut butter
1 1/2 cups milk chocolate chips
3 cups rice krispies cereal
In a large pan, combine chocolate chips and peanut butter over low heat. Continue stirring until the chocolate and peanut butter are melted. Stir in cereal, making sure to coat all the cereal in the peanut butter chocolate mixture.
Spread the cereal mixture on top of the brownies and frosting and chill in the refrigerator for 30 minutes.
Keep covered and store in the refrigerator.