I have just thoroughly weirded out my kids, you guys.
"Whatcha making," they asked me, when they saw me hovering around the stove.
"A grilled cheese sandwich with white cheddar, bacon, and strawberry jalapeno jelly," was my answer.
The looks I received from both of them were, well, interesting to say the least.
Apparently, grilled cheese with a sweet and spicy jelly is not a kid thing. But, whatever! I wasn't making this sandwich for them! I was making it for me.
I have been on a gourmet grilled cheese kick. There is a food truck in our town that makes really creative grilled cheese sandwiches. I love it. Most of the restaurants in my little town stick to super basic food. I mean, it's exciting if someone offers up an avocado on your burger. 😉 Okay, I'm exaggerating, but seriously – let's liven our food up, guys!
When Smucker's reached out to me with their new line of Fruit and Honey spreads, I knew I was going to love them. I love jam and jelly and all things fruit, so I knew I would love it even more if it was naturally sweetened with honey.
They sent me some Concord Grape, Strawberry, Blueberry Lemon (what?!), and Strawberry Jalapeno. It was tough to choose which flavor I wanted to feature, but in the end, I had to go the gourmet grilled cheese route.
The strawberry jalapeno is the perfect balance of sweet and spicy. I've also eaten it poured over a brick of soft cream cheese. Dip a few crackers in there and you'll be in heaven.
Remember my list of favorite Disney world food? Well, this sandwich was inspired by number 6 on that list!
I love this sandwich, because it has sharp white cheddar cheese, all warm and melty. That's followed by crispy, crunchy, savory bacon. Then you've got just enough strawberry jalapeno fruit spread to give this sandwich an unexpected sweet and spiciness.
If you're on the fence about a sweet jam in your grilled cheese or a spicy jalapeno in your sweet jam (both things my kids were concerned about!), I really hope you'll just trust me on this one and give it a shot. Somehow, the flavors in here just work and you'll be hard pressed not to devour the entire sandwich in 10 seconds flat.
For more fun grilled sandwiches, check out my jalapeno popper grilled cheese, grilled peanut butter and jelly, and my grilled s'mores sandwich.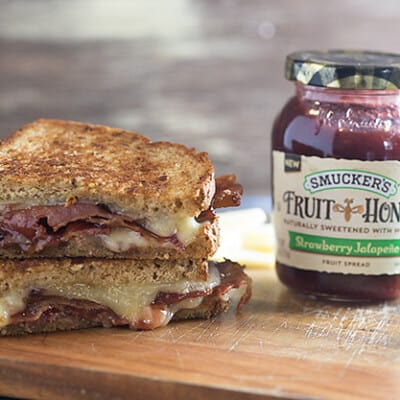 Strawberry Jalapeno Grilled Cheese
This might seem like a surprising flavor combo, but give it a shot! The spicy sweet fruit spread pairs so well with the cheese.
Prep2 minutes
Cook5 minutes
Total7 minutes
Ingredients
2 slices sandwich bread
1 tablespoon butter
4 slices white cheddar cheese
1 tablespoon Smucker's Fruit and Honey Strawberry Jalapeno divided
3 slices cooked bacon
Instructions
Heat a skillet over medium heat.

Spread the butter evenly over one side of each slice of bread.

Place the bread butter side down and lay 2 slices of cheese on top. Spread with half of the fruit spread.

Top with the bacon slices.

Place 2 more slices of cheese on the bacon and spread with the fruit spread.

Top with the remaining piece of bread, butter side up.

Cook for 2 minutes on each side or until the bread is browned and the cheese has melted.
Nutrition Information:
Calories: 1063kcal (53%)| Carbohydrates: 31g (10%)| Protein: 44g (88%)| Fat: 85g (131%)| Saturated Fat: 41g (256%)| Cholesterol: 200mg (67%)| Sodium: 1574mg (68%)| Fiber: 2g (8%)| Sugar: 5g (6%)