Can we talk for a minute about the dream house? And how I moved into it a couple of months ago? And how I still wake up every morning and walk out of my bedroom and look around and think, seriously? This is my life now? Are you sure?
I am loving my new house, guys. Like, a lot. And I'm dying to share it with you. I have a few blog posts coming up over the next couple of months that will give you a sneak peek into my home. It's going to be so fun. Just let me hide my dirty socks and wipe the dust off my coffee table real quick like first, k?
So, obviously when I was looking for a new house one of the most important aspects was the kitchen. There were quite a few houses that I saw online that fit everything we needed, but the pictures of the kitchens were so atrocious that I didn't even bother dragging my realtor to look at them.
In the end, we were in a huge time crunch to buy a new house. Ours wasn't actually even on the market when we got an offer on it. It was all a total surprise and unless we wanted to bunk with family, we needed to get an offer in on a new home really quickly.
My husband was out of town the week we got and accepted the offer on our old home, so the kids and I spent four days looking at forty-five houses. House hunting is one of my favorite things, but this was a bit overwhelming. I narrowed it down to two possibilities – one that was a bit of a fixer upper and one that was the dream house. My husband and I toured those houses as soon as he got home and he fell in love with the dream house, thankfully. I really wasn't feeling the fixer upper, but I couldn't just show the man one house, could I? 😉
Anyway, I love the kitchen in the dream home!

(Do you follow me on Instagram? You should!)
When we moved into our new house, I was immediately looking to replace the old appliances. I'm not a fan of electric stoves or side by side refrigerators at all and that's what the house came with. So, we had a guy out to run a gas line and I drooled over all the appliances in the local stores. Then I contacted GE and said hey, I'm kind of in love with your Profile Series appliances and I'd love to work with you.
Lucky me, they think you guys are pretty rad and wanted me to tell you all about their stuff, too! So, that's how I ended up with a kitchen full of the most gorgeous appliances ever. I'll be doing a blog post about each one over the coming months and today is refrigerator day! Kind of like leg day, but better?
My kitchen is equipped with the GE Profile French Door Refrigerator and it rocks my socks. There is SO much room in there. I was really worried about the icemaker in the door taking up too much space, but this is a space-saving icemaker and it even has little bins right on it to utilize that space as much as possible. I've not had a problem with space yet, and I tend to be an over-shopper in the grocery department!
My kids are obsessed with the hands-free autofill water dispenser. They stick their glass under the water dispenser, push a button, and walk away. When they come back their glass is perfectly filled with water. I mean, they're totes busy. They don't have time to be standing around pushing a button and filling their water all day long. Cartoons to watch and all that, right?
I'm also really happy with the large drawer on the bottom of the fridge. I use it for cheese, deli meat, and snacks. It's mostly cheese in there, though. I'm a cheese hound.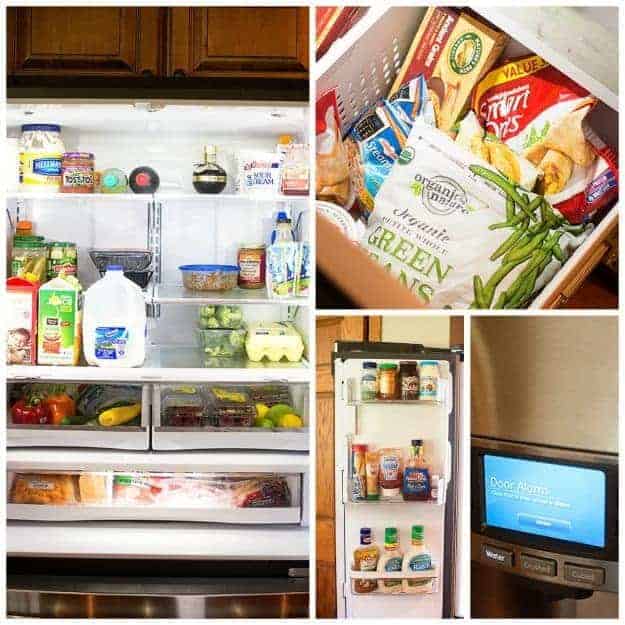 The freezer drawer is working great for us, too. It's two separate drawers, so it doesn't seem like things are getting lost in the depths. The top drawer has little organizers too, which makes my heart extra happy.
All in all, I love this fridge. The only thing I regret about my choice is that I got the stainless steel. I debated forever about stainless steel or GE's new Slate finish. In the end, I went with what I knew – the stainless. I think I would have loved the custom look of the Slate better and I know I would have liked the lack of fingerprints. Live and learn, though!
I have gotten really good at cleaning the fingerprints though. I wipe it down with a Clorox wipe and then rub it dry with a microfiber cloth. Spotless fridge every time!
Geeze, I'm getting wordy. Sorry, guys! I can talk appliances all day every day.
Now, onto the recipe! I've been on a big s'mores kick lately as you may have noticed. Remember these apple slice s'mores? Or my s'mores cookie? Well, to celebrate the new fridge, I wanted to share a no-bake recipe that is best served cold. Pudding, y'all!
This s'mores pudding was so easy to whip up. I know some of you will get all shouty at me, because I'm using a box of pudding mix and some Cool Whip, but guys, shh. Just shhhhhhh. This is good stuff. I love to cook from scratch just as much as the next guy, but sometimes the easy way just wins out. This recipe can be thrown together in minutes and it is just unbelievably good! I love how it's not over the top sweet. It's almost a little dangerous, because it just feels really light and you could sit and eat the whole batch with a spoon before you know it.
The graham crackers take on an amazing texture in this pudding, too. Don't skimp on those!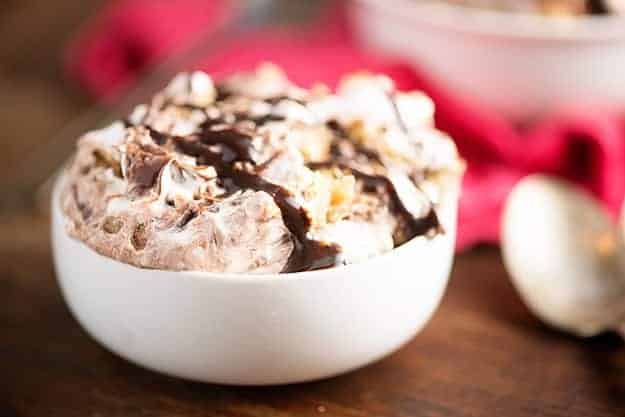 S'mores Pudding
This s'mores pudding was so easy to whip up. I know some of you will get all shouty at me, because I'm using a box of pudding mix and some Cool Whip, but guys, shh. Just shhhhhhh. This is good stuff.

Prep2 minutes
Cook3 minutes
Total5 minutes
Ingredients
8 ounces refrigerated whipped topping such as Cool Whip
1 cup marshmallow fluff
3.5 ounces instant chocolate pudding, prepared according to package directions 1 box
12 graham crackers
Chocolate syrup for serving
Instructions
Fold together the whipped topping and marshmallow fluff with a spatula in a large bowl until just combined. Stir gently so as not to deflate the topping.

Crumble the graham crackers into the whipped topping mixture and gently fold in the chocolate pudding, just enough to mix the two flavors together.

Place in refrigerator for 4 hours to allow the graham crackers to soften.

Before serving, drizzle with chocolate syrup and sprinkle with extra crushed graham crackers, if desired.
Nutrition Information:
Calories: 331kcal (17%)| Carbohydrates: 62g (21%)| Protein: 3g (6%)| Fat: 8g (12%)| Saturated Fat: 4g (25%)| Sodium: 448mg (19%)| Potassium: 126mg (4%)| Fiber: 1g (4%)| Sugar: 39g (43%)| Vitamin A: 30IU (1%)| Calcium: 51mg (5%)| Iron: 1.4mg (8%)
Huge thanks to GE for sending me their gorgeous Profile Series refrigerator in exchange for this blog post! I'm so blessed to work with brands that I love and I appreciate you taking the time to read about them as well.