I think I have a problem, guys. A big one. A scary one. A terrible, no good, very bad problem.
Okay actually, it's not that big of a deal.
I like casseroles. There. I said it.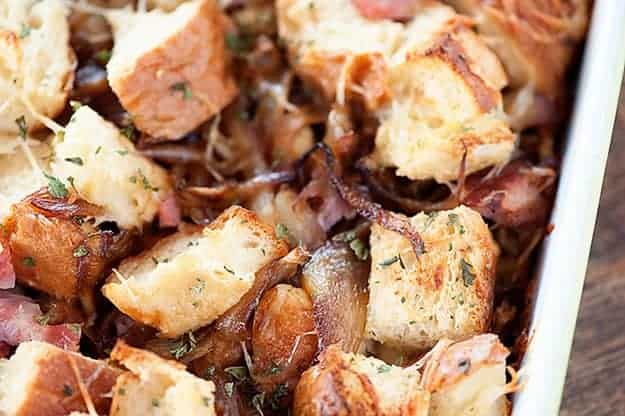 It's like I'm living in the 50s or something. Minus the whole high heels and an apron look that those ladies had going on.

No, I'm like the modern 50s woman. I expect my husband to help clean the house, I don't often (ever) wear pearls, I live in comfy pants, and I'm a total feminist. But, I absolutely bake casseroles all day err day, because casseroles are the bomb dot com. <—- Oh, did I mention I'm also stuck in the 90s?
So, anyway, today I have prepared for you a lovely fall casserole that is loaded with flavor, easy to prepare, and budget friendly.
We have a bunch of French bread cut into cubes. We have glorious caramelized onions. There's some ham tossed in there. A bit of cheese. Aaaaaand, of course, some eggs!
You can't make bread pudding without eggs, guys. I used my go-to egg brand, Davidson's Safest Choice. As you've probably noticed, I'm an ambassador for the brand, which means that I love them and I tell you about it. Kind of like those horrific Matthew McConaughey commercials with his car. He was driving a Lincoln before he was paid to drive a Lincoln. I was eating Safest Choice eggs before I was paid to eat Safest Choice eggs, but I promise to never do that weird finger rubbing thing he does while telling you about it, deal?
I'm not sure how we got so far off track.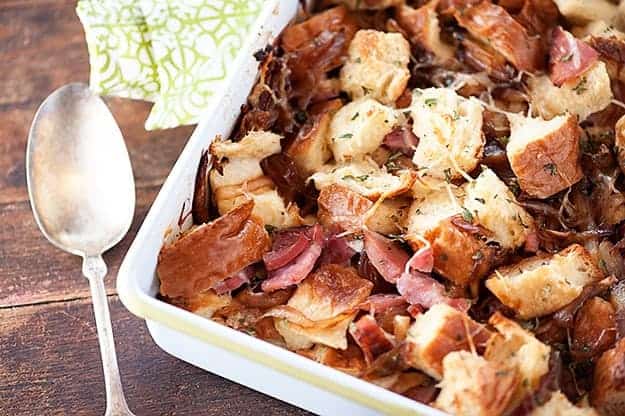 Eggs! Full of good stuff!
So, anyway, make this casserole. It's perfect for a chilly night. Serve it with a bowl of soup or a side salad.
Hop on over to SafeEggs.com to get the recipe for this delightful autumn dinner!