This caramel corn recipe is made easy in the microwave! This post is sponsored by Orville Redenbacher's. Thank you for supporting the brands that support this blog!
Have we talked about the new (ish) TV season yet? I mean, it's already November and I don't think I've even told y'all yet how excited I am to have my evenings back.
During the summer evenings are spent outside. Doing nature-y things, like flinging bugs out of my hair and sweating. During the fall? It's TV time, baby!
It's also the season for allllll of the family gatherings, between football games, the world series, Halloween, and Thanksgiving, so it's a major win for snack time.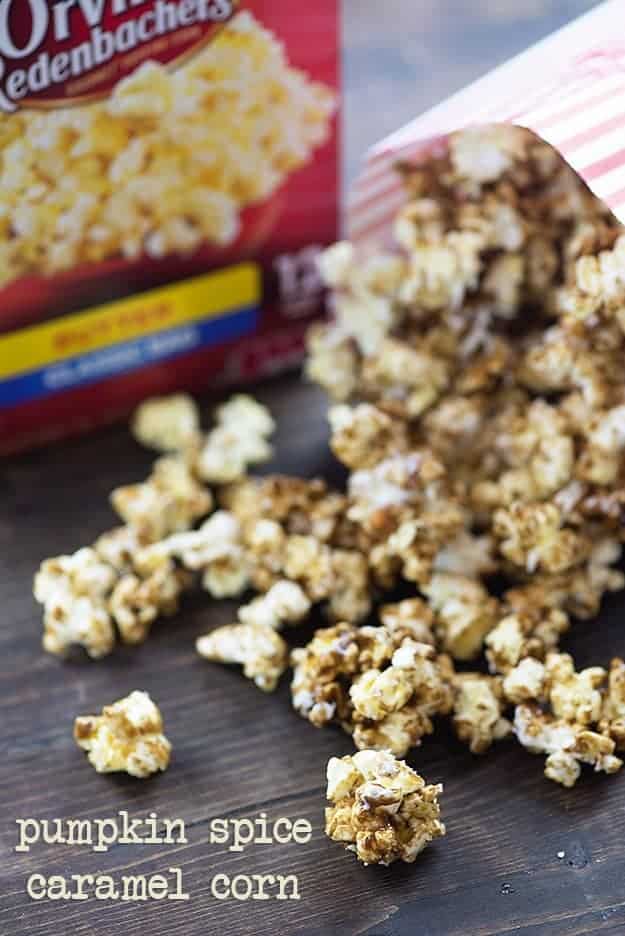 I teamed up with Orville Redenbacher's this season to bring you some crazy town caramel corn. This stuff is pumpkin spice, my friends. You all know I would pumpkin spice my shoelaces, if I could. I'm happy to report that pumpkin spice caramel corn is way better than shoelaces. Also way better than traditional caramel corn, if you ask me! It has the perfect hint of cinnamon-y goodness that we all love!
Did you know that Orville Redenbacher was a real man? One who dedicated his life to growing the perfect popcorn? Sounds like someone I would have liked to meet! Today, his commitment to quality lives on through the company's use of the highest quality ingredients to create the best tasting popcorn.
Their third-generation family farmers were chosen by Orville himself! They grow only the highest quality non-GMO kernels that pop up lighter and fluffier than ordinary popcorn. They're also the only leading brand that uses real butter! And y'all know how I feel about real butter.
I wanted to keep this caramel corn as simple as possible, so I started with Orville Redenbacher's microwavable Butter Popcorn. Pop yourself a bag in just a few minutes, dump some sugar, corn syrup, and butter in a bowl and microwave that, mix it all together and bam! You have caramel corn. You can totally leave out the pumpkin pie spice, if it's not your thing or if you just want a traditional caramel corn. Just don't tell me you did it or I'll weep for possibilities of what could have been. Or whatever.
I finished this off with a drizzle of melted white chocolate, because I thought it looked pretty and people in my family go absolutely nuts for anything with a drizzle. I think you'll like it too.
Go forth, gather some friends and family, and munch away, my friends.
Pumpkin Spice Caramel Corn
This microwave caramel corn is simple to prepare and has a hint of warm, cinnamon pumpkin spice to it! You can skip the pumpkin spice for a more traditional caramel corn if you prefer. The white chocolate drizzle is also optional.
Prep5 minutes
Cook8 minutes
Total13 minutes
Ingredients
1 bag Orville Redenbacher's microwaveable Butter Popcorn
1/2 cup brown sugar
1/4 cup butter
2 tablespoons light corn syrup
1 teaspoon pumpkin pie spice
1 teaspoon vanilla extract
1/4 teaspoon baking soda
1/3 cup white chocolate chips
Instructions
Pop the popcorn according to the directions on the bag. Set aside.

Add the brown sugar, butter, and corn syrup to a microwave safe bowl and microwave for 2 minutes, stirring halfway through.

Stir until mixture is combined, about 30 seconds.

Add the pumpkin pie spice, vanilla extract, and baking soda to the bowl and stir vigorously until well combined and smooth.

Add the popcorn to a large mixing bowl and pour the caramel over the top. Stir to coat.

Microwave in the bowl for 30 seconds to firm up the caramel.

Spread coated popcorn onto a parchment lined baking sheet.

Melt the white chocolate chips in the microwave in 20 second bursts, stirring each time, until melted.

Drizzle over the popcorn and let sit until hardened, about 30 minutes.
Nutrition Information:
Calories: 502kcal (25%)| Carbohydrates: 39g (13%)| Protein: 1g (2%)| Fat: 39g (60%)| Saturated Fat: 25g (156%)| Cholesterol: 94mg (31%)| Sodium: 108mg (5%)| Fiber: 1g (4%)| Sugar: 38g (42%)