This spin on chicken salad will make a perfect summer lunch with the cold chicken, creamy guacamole, sweet pineapples, and spicy peppers. Big thanks to Udi's Gluten Free for sponsoring this post!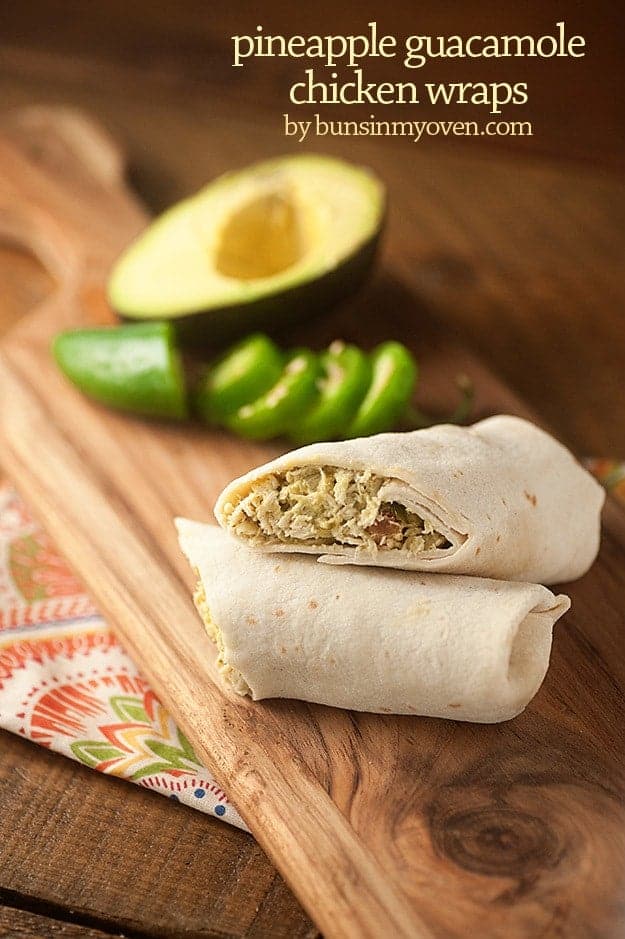 So, um, let's talk about kitchen hacks. You know. Those genius tips and tricks that everyone but me seems to know.
Like, for example, using a marshmallow to keep your brown sugar soft and moist.
Or using the apple slicer to make potato wedges! (This one is a life changer, guys.)
Or how about freezing lemons or limes in a muffin tray with water for big lemony ice cubes to put in your pitcher of water? Geeeeenius.
I had to google all those tips, because like I said. I'm not very up on the kitchen hacks. My one and only kitchen hack claim to fame is for easy shredded chicken in your stand mixer.

Oh my gosh, guys. It makes my life so much easier. I'm always adding shredded chicken to recipes and I keep bags of it on hand in the freezer. I just take cooked boneless, skinless breasts (cook them all day in the crockpot or poach them on the stove) and toss 'em in the mixer fitted with the paddle attachment. Turn it to low and in about 30 seconds you'll have perfectly shredded chicken.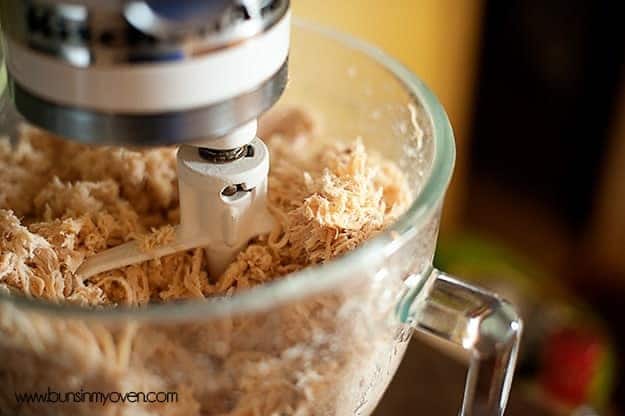 When Udi's Gluten Free reached out to me and asked me to create a kitchen hack and recipe for their What the Hack contest, I knew that was the hack I would enter.
Then they sent along a list of ingredients to choose from, Chopped competition style, and I had to choose one of this and three of that and some of those and I ended up freaking out a little bit, further proving that no. I could never be on one of those competitions in real life, no matter what my mama says. In the end, I pulled together this ridiculously delicious (and easy!) chicken wrap.
This wrap is full of my favorite flavors. Shredded chicken breast, coated in creamy guacamole mixed with sweet pineapple and fiery jalapenos, all wrapped up in a delicious Udi's Gluten Free Tortilla. By the way, this was my first time trying their tortillas and I was so surprised by how much I loved them. The texture after warming them up is amazing and I loved the flavor. These might just replace my regular flour tortillas!
I've now eaten this for lunch three days in a row and I see no end to it. After all, I have bags of shredded chicken lurking the freezer, just begging to be put to good use!
Udi's What The Hack: Hackathon contest just launched and it's open for all of you to enter as well! Have a unique hack? Go share it for the chance to win a cash prize or some Udi's products!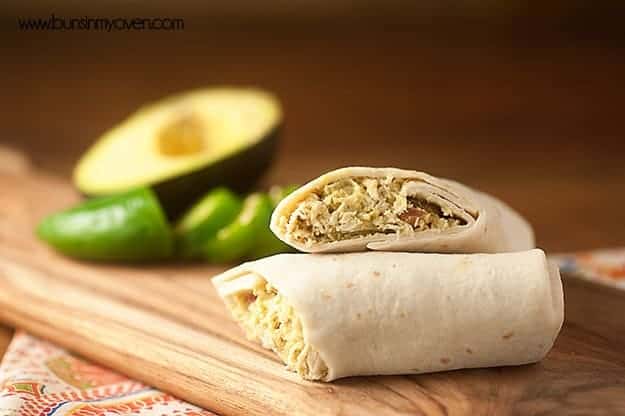 Pineapple Guacamole Chicken Wraps
This spin on chicken salad will make a perfect summer lunch with the cold chicken, creamy guacamole, sweet pineapples, and spicy peppers.

Prep10 minutes
Cook15 minutes
Total25 minutes
Ingredients
1/2 pound boneless skinless chicken breasts
1 1/3 cup prepared guacamole
2 ounces freshly grated Parmesan cheese
1/4 cup crushed pineapple
2 tablespoons diced jalapeno
1/2 teaspoon salt
4 Udi's Gluten Free large tortillas
Instructions
Add the chicken to a small sauce pan and cover with water. Bring to a simmer and cook for 10 minutes, or until the chicken is cooked through.

Remove the chicken to the bowl of a stand mixer fitted with the paddle attachment. Turn the mixer to low and let the mixer shred the chicken for you.

Add the shredded chicken, guacamole, Parmesan cheese, pineapple, jalapeno, and salt to a small bowl and stir to combine.

Wrap the tortillas in a damp paper towel and microwave for 15 seconds.

Spoon a quarter of the chicken mixture into each tortilla. Roll up like a burrito, cut in half, and serve immediately.
Nutrition Information:
Calories: 367kcal (18%)| Carbohydrates: 28g (9%)| Protein: 21g (42%)| Fat: 19g (29%)| Saturated Fat: 4g (25%)| Cholesterol: 45mg (15%)| Sodium: 795mg (35%)| Potassium: 735mg (21%)| Fiber: 6g (25%)| Sugar: 7g (8%)| Vitamin A: 350IU (7%)| Vitamin C: 21.2mg (26%)| Calcium: 218mg (22%)| Iron: 1.9mg (11%)