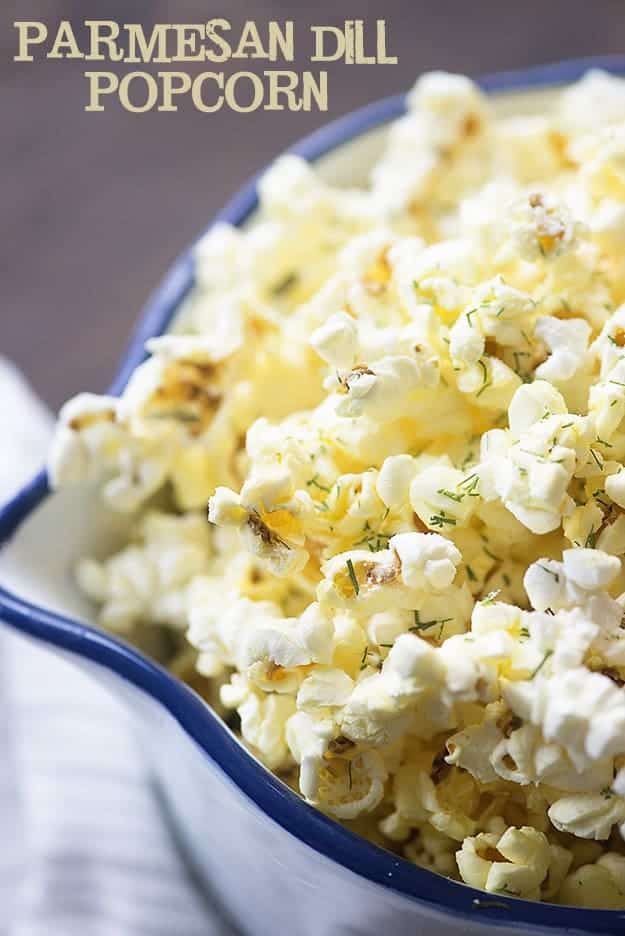 It's the most magical time of the year, my friends.
No, not Christmas.
Awards season!
I mean, personally, I am not all that interested in who wins what, but I will absolutely sit in front of every award show possible, because it means one thing – popcorn time!
Like, it's not even probably legal to watch an awards show without consuming mass quantities of popcorn, ya know?
Luckily for you, I have some pretty creative popcorn recipes just in case you're getting tired of plain old buttered popcorn. <— Yeah, right. Who could get tired of that?!

I vote that we all serve a smorgasbord of popcorn at the big show coming up. You'll want my caramel corn recipe, my white chocolate popcorn, and my puppy chow popcorn for sure!
Of course, sometimes it's nice to have something a little savory to go along with all the sweet and that's why I'm sharing this Parmesan Dill Popcorn recipe today. You guys are going to love it and it's so stinkin' easy to make with Orville Redenbacher's microwavable Butter Popcorn.
I'm working with Orville Redenbacher's this awards season to bring you these recipes and I'm so excited about it. You should be too, because it means PARMESAN DILL POPCORN. Yassss.
Anyway, Orville Redenbacher's brings you the best quality, non-GMO popcorn, which means that you can trust that what you're about to serve to your family and friends is top-notch. It'll pop up into fluffy little kernels of popcorn goodness every time!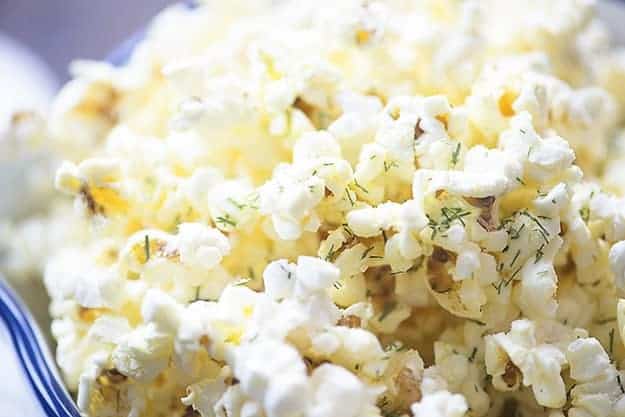 I started with the Orville Redenbacher's microwavable Butter Popcorn, because y'all. Never pass up an opportunity for butter. That's a life tip from me to you.
Then I just sprinkled on a bit of powdered Parmesan cheese – you know…the kind that comes from the green can. It has it's place in life and that place is on your popcorn. It seasons it perfectly!
Then I mixed in some fresh dill to brighten up the flavors, make things look all fancy and fresh, and because dill is the best. A little bit of garlic powder rounds things out.
You guys are going to love this simple popcorn recipe! Give it a shot and let me know what you think!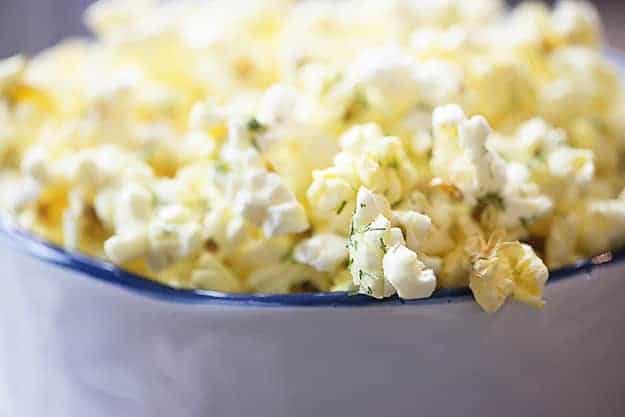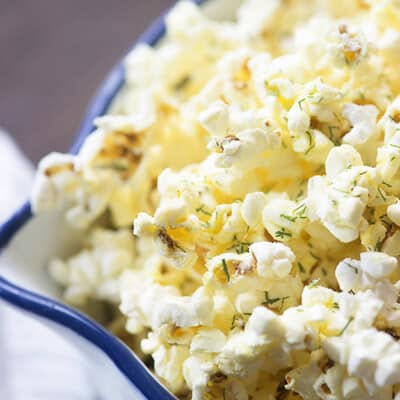 Parmesan Dill Popcorn
This Parmesan Dill Popcorn is a nice twist from the traditional buttered popcorn.
Prep2 minutes
Cook3 minutes
Total5 minutes
Ingredients
1 package Orville Redenbacher's microwavable Butter Popcorn
1/4 cup powdered Parmesan cheese
1 tablespoon fresh dill
1/2 teaspoon garlic powder
Instructions
Pop the popcorn according to package instructions.

Remove popcorn from the microwave and add to a large bowl.

Add the Parmesan cheese, dill, and garlic to the popcorn and stir to coat.

Serve immediately.
Nutrition Information:
Calories: 927kcal (46%)| Carbohydrates: 2g (1%)| Protein: 11g (22%)| Fat: 99g (152%)| Saturated Fat: 63g (394%)| Cholesterol: 262mg (87%)| Sodium: 404mg (18%)