September 6, 2018
Oatmeal Cream Pie Brownies
Oatmeal cream pies and brownies are both such classic childhood treats! You'll love this easy brownie recipe and the oatmeal cream pies just give the brownies an extra burst of fun!
The other day I was standing in that aisle of the grocery store.
You know the one.
The aisle with the candy and the cookies and the prepackaged foods that are generally best to stay far away from.
But, you guys, those oatmeal cream pies were just calling my name. How could I ignore them? Who was I to leave them looking so lonely on the grocery shelf?
I had just about talked myself into walking away empty handed when my daughter piped up and said "Can we make brownies for dessert tonight?"
Oatmeal Cream Pie Brownies were born in that instant, you guys. Welcome to the world, you delicious little treats.
I used Alice Medrich's cocoa brownies as the base, because this is one of my favorite brownie recipes. They are so easy and unbelievably dense and fudgy. I know some people believe that true brownies need melted chocolate, but I'm telling you, these cocoa brownies are to die for.
Feeling extra bake-y today? Make your own oatmeal cream pies! These blow the store bought version right out of the water!
The little bits of oatmeal cream pies scattered throughout the brownie just give them this unexpected spice and flavor with little bursts of sweetness from the melted cream filling. All in all, these brownies were simply amazing.
My homegirl Shelly (what? I'm gangsta enough to use the word homegirl!) totally outdid me in the oatmeal cream pie department today. Stop over and check out her Oatmeal Cream Pie Cheesecake Bars. They're heavenly.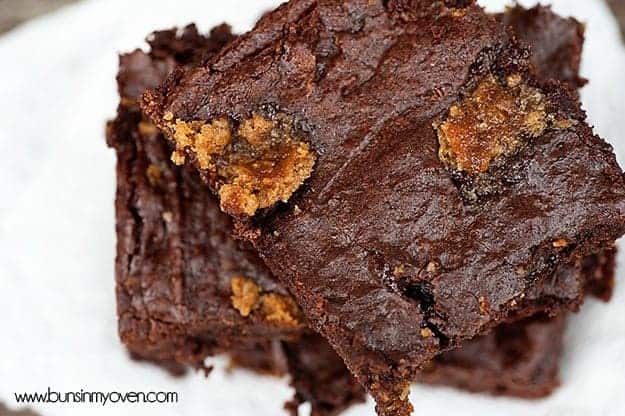 Oatmeal Cream Pie Brownies
Servings: 12 brownies
Course: Dessert
Cuisine: American
Keyword: comfort food, easy brownie recipes, easy dessert recipes
Calories: 215 kcal
Oatmeal cream pies and brownies are both such classic childhood treats! You'll love this easy brownie recipe and the oatmeal cream pies just give the brownies an extra burst of fun!

Ingredients
10 tablespoons unsalted butter
1 1/4 cups sugar
3/4 cup plus 2 tablespoons unsweetened cocoa powder natural or Dutch-process is fine, I prefer natural
1/4 teaspoon salt
1 teaspoon vanilla
2 large egg
1/2 cup flour
3 oatmeal cream pie cookies broken into small pieces
Instructions
Preheat oven to 325 degrees. Line an 8x8 baking dish with parchment, leaving an overhang on two opposites sides to make removal easier.

Combine the butter, sugar, cocoa, and salt in a medium heatproof bowl and set the bowl on top of a sauce pan with barely simmering water. Stir until the butter is melted and the mixture is smooth. When the mixture is hot enough that you want to remove your finger fairly quickly after dipping it in to test, remove from the heat. Set aside a few minutes, until the mixture is warm, but not hot.

Stir in the vanilla with a wooden spoon. Add the eggs one at a time, stirring vigorously after each one.

When the batter is thick, shiny, and well blended, add the flour and stir to combine. Then beat vigorously for 40 strokes with the wooden spoon or a rubber spatula. Stir in the oatmeal cream pie pieces. Spread batter evenly in the prepared pan.

Bake until a toothpick inserted near the center comes out just slightly moist with batter, 20 to 25 minutes.

Let cool completely on a rack.

Lift up the ends of the parchment paper and transfer the brownies to a cutting board. Cut into small squares to serve.
Nutrition Facts
Oatmeal Cream Pie Brownies
Amount Per Serving
Calories 215 Calories from Fat 99
% Daily Value*
Total Fat 11g 17%
Saturated Fat 6g 30%
Cholesterol 56mg 19%
Sodium 71mg 3%
Potassium 105mg 3%
Total Carbohydrates 29g 10%
Dietary Fiber 1g 4%
Sugars 21g
Protein 2g 4%
Vitamin A 6.7%
Calcium 1.6%
Iron 6.9%
* Percent Daily Values are based on a 2000 calorie diet.
Nutrition Disclaimer: All information presented on this site is intended for informational purposes only. I am not a certified nutritionist and any nutritional information shared on bunsinmyoven.com should only be used as a general guideline.
Love brownies?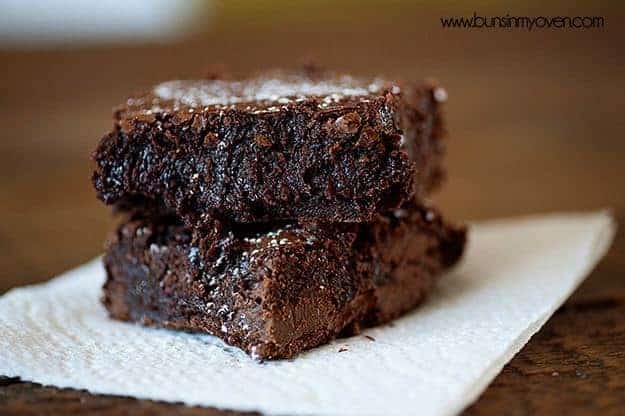 Check out these Nutella Brownies! They're thick, fudgy, and fabulous.
Red Velvet Cheesecake Brownies are always a favorite!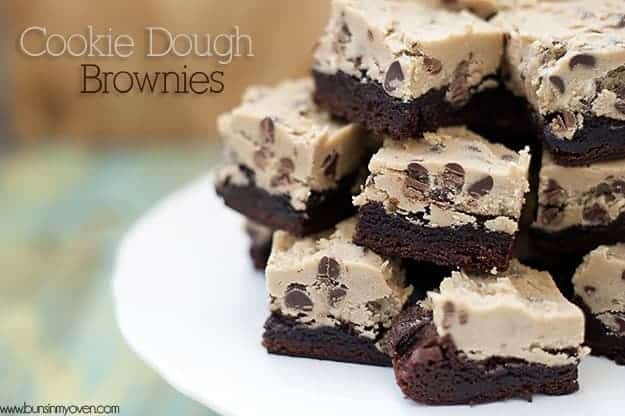 I can never get enough Cookie Dough Brownies!