Hi, friends and fellow bloggers!
I get a lot of questions about blogging – how I got started, how I make a living doing this, what's my number one tip, etc.
It seems like everyone wants to quit their job and stay home, blogging for a living. I don't blame ya. It's a pretty cool gig, but man it took a lot of work and a lot of time to get where I am today! I started blogging in December of 2008, started doing it full time in 2013, and actually started making what I would consider a full time income in 2014. It took years of work! I don't say that to discourage anyone, just so that you set realistic expectations.
I've got a great network of other bloggers that have helped me along the way and, since June of 2015, I've had a great ad networkthat has really helped me increase my income. I wanted to chat with you about that ad network, Mediavine, a bit, because they have really helped me to earn an impressive income and I could not be happier with them!
I knew one of the founder's of Mediavine from before Mediavine was a thing – she was another blogger, just like me. When she talked to me about her new venture, I was pretty excited. An ad network that put the blogger's first. Yes! Count me in. I was actually one of the first blogs to launch Mediavine and it was terrifying, to say the least. My family relies on my income and we were all a little nervous about what the future might hold.
You guys. It was one of the best decisions I've made for my business.
Mediavine truly DOES put the publishers first and I appreciate that more than I can say. I've been with a few other networks and ad management teams in the past and, while they always did fine, they certainly didn't make me feel like I was their number one priority. The lack of transparency was also a major issue for me.
With Mediavine, everything is super transparent. You can see everything in their fancy-pants dashboard that is updated daily. They even have this little red light green light site health system that tells you how specific ad placements are performing. If you need to shorten your sidebar for better ad revenue, you'll see a yellow or red light. If your ads are performing how they expect, you get the green light. I love it – and as you can see, I need to do a little work on my mobile content ads, as indicated by that yellow light.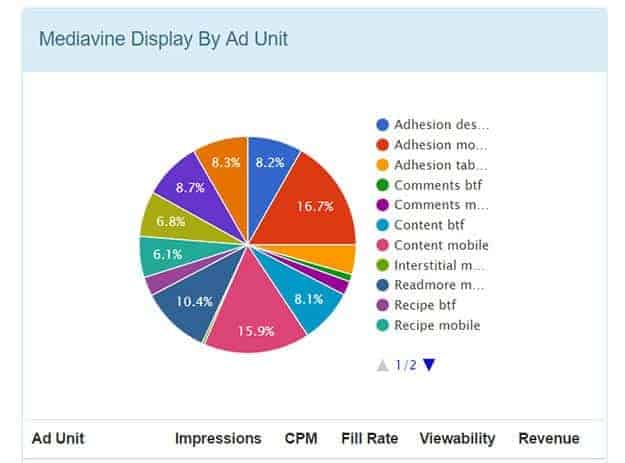 Their advanced reporting lets you see a breakdown of income by each specific ad so that you can make your own decisions and turn ads on and off as you please right from your dashboard. Below that pie chart, you'll see the breakdown of each ad, the number of impressions, CPM, fill rate, viewability, and the revenue earned from that specific ad.
They also launched their own video player that lets you earn good money from playing ads on any videos that you make of your content. See an example here!
Their support is top notch and I never have to wait more than a day for a response. They are quick to respond, friendly, and always willing to go above and beyond.
Beyond the support, they are super into SEO and are so willing to help you improve in that area. They've written SEO guides and are always happy to answer specific questions. It's a huge benefit, considering that SEO is such a confusing topic to many of us.
They even have a Facebook group for their publishers where you can ask other bloggers any question you might have, whether it's ad related or not. That group is full of information and I love to check in there and see what other bloggers are doing and how they are handling things.
My RPM is higher than it ever has been, my involvement in my ads is lower than it ever has been (this is a good thing for me!!), and my peace of mind is through the roof. I can not recommend this company enough.
Mediavine DOES NOT offer an affiliate program, which means that I'm not being paid for this review. Mediavine wants to grow based on their merit, not because their publishers are trying to earn affiliate dollars. Love their integrity!
Mediavine DOES offer a loyalty bonus program. After your one year anniversary with Mediavine, you get a bonus of 1% of your previous year's earnings. After two years, that bonus is 2%. I believe this bonus goes all the way up to 5% which would be a pretty impressive amount. I'm on year two right now and my bonus will be a nice little sum of money!
Okay, guys. That's all I've got! I hope you found this Mediavine review helpful and that it might help you make any ad management decisions you've been trying to make. Please feel free to message me if you have any specific questions and I'd be happy to answer them honestly. 🙂