Holiday meals involve a lot of prep and planning, but I'm sharing my tips and tricks for making this Thanksgiving even easier! This post is brought to you as part of my partnership with Bob Evans. As always, all opinions are my own.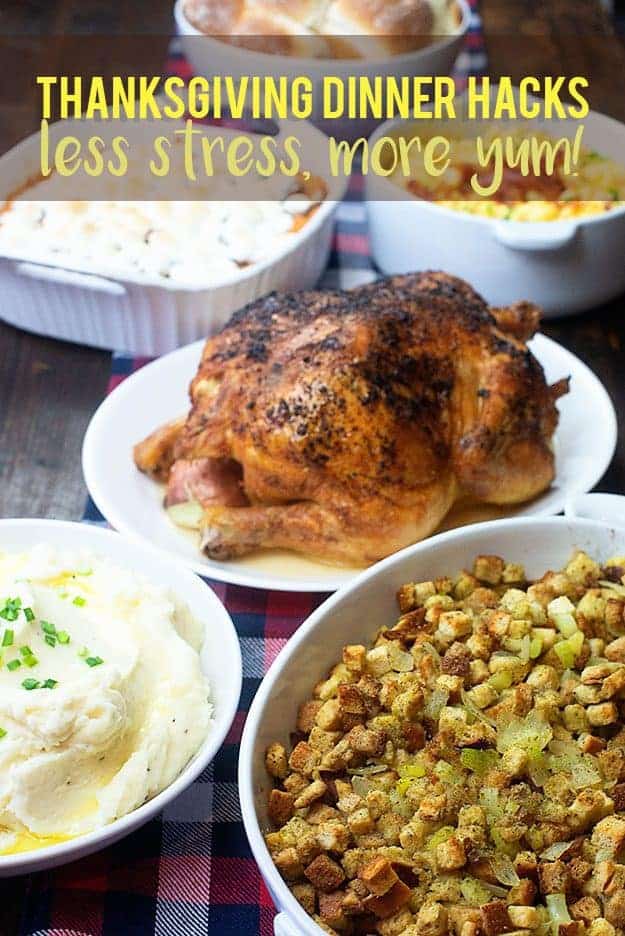 This year is my first year hosting the big Thanksgiving dinner and I'm not going to lie – it's a little nerve-wracking!
I mean, I certainly don't want to be responsible for screwing up the big dinner that everyone looks forward to all year long!
I've been working with Bob Evans this year to share recipes featuring their refrigerated side dishes and I'm here to tell you that they are making Thanksgiving so much easier on me this year!
I'm going to share some of my favorite ways to doctor up Bob Evans side dishes to make them just a little fancier with minimal prep and loads of flavor. Whether you use every one of these shortcuts to make your meal easier or just one, I feel like we can all really appreciate how easy these little hacks are. Ready?
Sweet Potato Casserole Hack:
Bob Evans makes ultra creamy, perfectly seasoned mashed sweet potatoes. I love them on their own and feel like they go well with any dinner.
But, on Thanksgiving you need sweet potato casserole. Plain ol' mash is fine for any other day of the year, but let's live a little on the holidays!
I kept it super simple here and just heated 2 packages of Bob Evans Mashed Sweet Potatoes and spooned those into an 8×8 baking dish.
Top the sweet potatoes off with about a cup of chopped pecans and a handful of mini marshmallows.
The marshmallows will puff up and get that gorgeous golden brown on top in just about 10 minutes in a 350 degree oven.
So easy and seriously good!
If you wanted, you could even take the topping from my sweet potato casserole and pop it on these mashed sweet potatoes. No one will ever guess this dish wasn't made totally from scratch!
Cheddar Bacon Mac and Cheese Hack:
Have you tried Bob Evans Original Macaroni and Cheese yet? I've been singing it's praises ever since I discovered. It's honestly something that we always have on hand, because it's so easy to complete a meal.
I mean, how many times have you stood in front of the fridge and wondered what to serve alongside your main dish? Mac and cheese to the rescue!
To fancy this mac and cheese up just a bit and make it feel even more homemade and special, I stirred in a heaping handful of freshly grated cheddar cheese, 4 slices of chopped bacon, and a tablespoon of fresh chopped chives.
This mac and cheese is outrageously good, you guys.
Mashed Potatoes Hack:
Ha. Just kidding.
Bob Evans Original Mashed Potatoes are so classically perfect for Thanksgiving that I didn't even consider messing with them. The only thing I did was drizzle melted butter over the top and sprinkle on some fresh herbs.
A homemade turkey gravy would complete these, but I'm happy to eat mine plain.
Heaven.
Leftover mashed potatoes go great in my mashed potato puffs!
Caramel Apple Cheesecake Hack:
It's not Thanksgiving without dessert and I decided to go big this time around.
Bob Evans Sliced Glazed Apples are one of my son's favorite sides. He orders them anytime he spies them on a menu and he was so excited when I brought home a package from the store.
I kept things majorly easy with this one and started with a store-bought cheesecake. I warmed the apples as directed on the package and then spooned them right over the top of the cheesecake.
Drizzle on some caramel sauce and dessert is served.
Chopped pecans would have made the perfect addition to this too!
If you wanted to make a homemade cheesecake, I'd start with my pecan pie cheesecake and just skip the topping!
More holiday recipes to add to your menu:
Corn Casserole: You can't have Thanksgiving without this creamy corn!
Homemade Scalloped Potatoes: White cheddar cheese and loads of creaminess.
Green Bean Casserole with Bacon: My from scratch version is oh so good!
Roasted Sweet Potatoes: Simple and delicious!
I hope you give a couple of these holiday hacks a try! I think they really make life easier without sacrificing flavor.
Happy holidays!