This post is sponsored by Pillsbury. As always, all opinions are my own.

If you've been paying attention, you know that I homeschool my kids.
Ugh. I know. They're always here and they're always in my business. Sometimes I really just want them to go visit Grandma for a month or two.
(Here's my guide for NOT losing your mind while homeschooling!)
Most of the time, though, it's pretty fabulous having the short people (okay, short person, since my oldest is officially just as tall as his mama) around all the time. I don't want to brag or anything, but I'm pretty good at making humans. Mine are kind of awesome.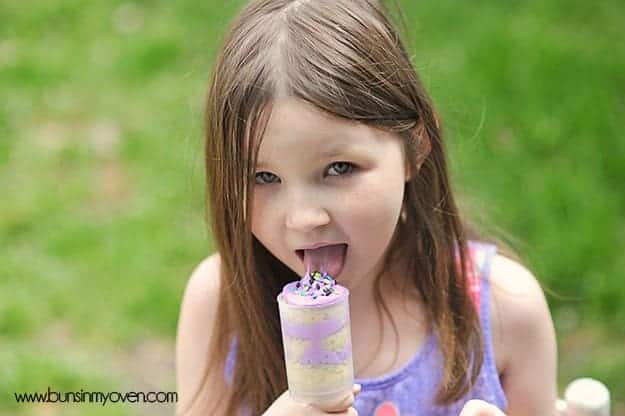 Because I think my kids are genuinely cool people, I like to celebrate the everyday. What does this mean? It means we eat a lot of cake for no reason. It means that we have random Secret Family Game Night Parties complete with invitations (made by my daughter and hand delivered to me, Daddy, and Bubba), party decor, snacks, and treats. It means, basically, that we look for reasons to have fun and celebrate life, for no reason at all other than the fact that celebrations are fun.
There is no law that says you can't have a part any old time you please! I mean, if there was, I would totally be calling my senator and sending out those mass emails asking for signatures. Except, no, I probably wouldn't. That sounds hard. I'd just hold secret parties in my basement on random Tuesday nights and cross my fingers that no one got arrested.
Anyway, my kids were being extra cute. I was in a good mood. The husband was actually going to make it home on time from work. My son had just finished up a big essay he was working on. My daughter finished her math without making me want to shout at her. Seems like a perfect time to par-tay. Bust out the confetti and streamers, because we're having push up pops.
These would be all kinds of awesome for a birthday celebration, but we certainly enjoyed eating them just for fun!
Speaking of birthday celebrations, Pillsbury is partying all over their facebook page! Stop by and check out their 25th birthday celebration! They're giving away all kinds of goodies over there!
Lucky you, they're also offering up a Celebration Starter Kit to one of you lucky readers! The kit includes some fabulous premium cake mixes, colorful frostings, and a $50 gift card! To enter, just use the Rafflecopter widget BELOW the recipe for these push pops!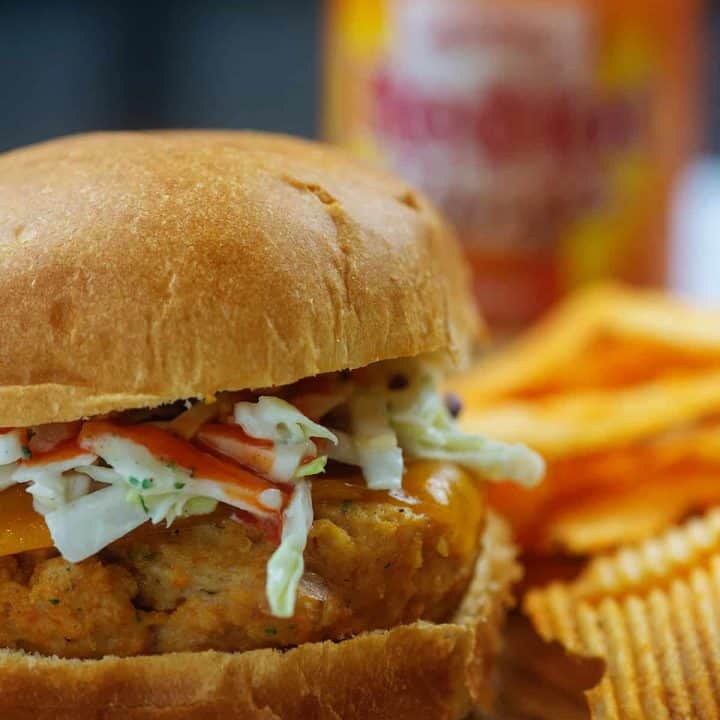 Buffalo Chicken Burgers with Ranch Slaw
These buffalo chicken burgers are so moist and juicy! The grill up quick and easy for an easy weeknight dinner, too!

Prep10 minutes
Cook12 minutes
Total22 minutes
Ingredients
For the burgers:
1 pound ground chicken
2/3 cup panko see note
1/4 cup wing sauce
1 tablespoon ranch seasoning powder
1 tablespoon prepared ranch dressing
1 large egg
4 slices cheddar cheese
4 hamburger buns
For the slaw:
2 cups coleslaw mix
1/4 cup prepared ranch dressing
1 tablespoon ranch seasoning powder
Instructions
In a large bowl, combine the chicken, panko, hot sauce, ranch powder, ranch dressing, and egg. Stir to combine thoroughly. Use your hands to form mixture into four patties.

Cook chicken patties on a preheated grill or skillet, six minutes per side or until chicken reaches 165 degrees. Top with sliced cheddar one to two minutes before removing from the grill.

To prepare the ranch slaw, mix together the coleslaw mix, ranch dressing, and ranch powder in a small bowl to combine.

Place the chicken patties on the sandwich buns, top with the ranch slaw, and drizzle with extra hot sauce, if desired.
Tips & Notes:
If you'll be grilling the chicken burgers, I recommend adding another 1/3 cup of panko to the mixture to help the patties hold together so they won't fall through the grill grates. If you're cooking these on a skillet, they should hold up as written just fine.
Nutrition Information:
Calories: 573kcal (29%)| Carbohydrates: 36g (12%)| Protein: 34g (68%)| Fat: 31g (48%)| Saturated Fat: 10g (63%)| Cholesterol: 179mg (60%)| Sodium: 1718mg (75%)| Potassium: 801mg (23%)| Fiber: 2g (8%)| Sugar: 5g (6%)| Vitamin A: 405IU (8%)| Vitamin C: 25.1mg (30%)| Calcium: 327mg (33%)| Iron: 3.6mg (20%)