It's entirely possible that I'm losing my mind.
But, in the best way possible, of course. I mean, I already have my Christmas tree up. I even have presents under it, if you were wondering what kind of over-achiever I am. I'm that kind. The kind that shops in July and puts her tree up in November.
This is probably the only area in my life that you could call me an over-achiever and it's mostly just because a) I love Christmas, b) I'm beyond excited for Christmas cookies, c) the tree makes the house feel so warm and cozy, and d) I know what's coming.
By "what's coming," I mean the nuttiness of the holidays. I start early because I'd surely run out of time and sanity otherwise. Between the holiday shopping, holiday decorating, holiday guests, holiday baking, holiday holiday holiday, things get a little…intense…this time of year. Know what I mean?

So, I teamed up with CVS Pharmacy to promote their exclusive Gold Emblem snack line this holiday season – new flavors of nuts, the nuttiness of the holidays…see how it's all tying in?
I'm a firm believer in being prepared for guests during this time of year. People are in from out of town, everyone is out and about, and people just tend to drop by. When I tried out the Gold Emblem Dill Pickle Cashews, I knew immediately that I was making a dill pickle snack mix. The cashews are just perfect in this mix and this is just great to keep on hand for unexpected guests.
This mix is crunchy snack perfection – I added real pickle juice to the mix, because yum. I'm a little pickle obsessed.
Did I mention you don't even have to turn the oven on to make this? It's perfect for this nutty time of year!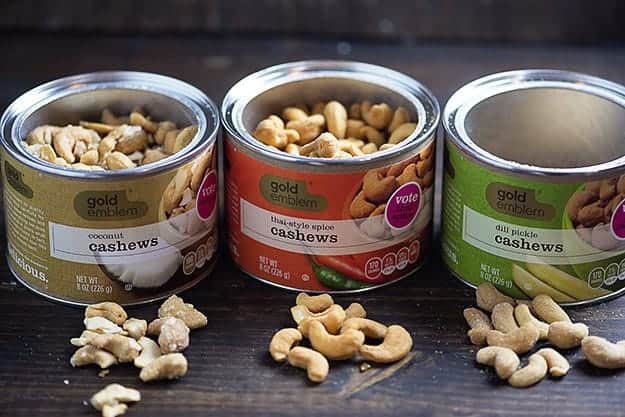 Be sure to check out the sweet coconut cashews and the exotic Thai-inspired spiced cashews with a kick. Vote for your favorite flavor right here and get a coupon in the process! I was surprised by how much I enjoyed the coconut flavor! But in the end, I had to vote for dill pickle! I love it!
Disclosure: I'm proud to partner with CVS Pharmacy to promote their exclusive Gold Emblem snack line. I am being sponsored by CVS Pharmacy for my posts and activities, but all opinions expressed are my own, and all product claims or program details shared should be verified at CVS.com or with the appropriate manufacturers.
Dill Pickle Snack Mix
If you love dill pickles, you've got to give this savory snack mix a try.
Prep5 minutes
Cook3 minutes
Total8 minutes
Ingredients
2 cups rice cereal
2 cups wheat cereal
2 cups corn cereal
2 cups pretzels
2 tablespoons olive oil
2 tablespoons dill pickle juice
2 tablespoons fresh dill
1 tablespoon garlic salt
2 cups Gold Emblem Dill Pickle Cashews
2 cups popped popcorn salted
Instructions
Add the cereals and pretzels to a large mixing bowl.

In a small bowl, whisk together the olive oil, pickle juice, dill, and garlic salt.

Pour mixture over the cereal and pretzels and stir to coat.

Microwave for 3 minutes, stirring every 60 seconds.

Add the cashews and popcorn to the bowl and stir well to combine.

Spread mixture onto a baking sheet to dry for 30 minutes.

Toss to combine and store tightly covered.
Nutrition Information:
Calories: 326kcal (16%)| Carbohydrates: 42g (14%)| Protein: 9g (18%)| Fat: 16g (25%)