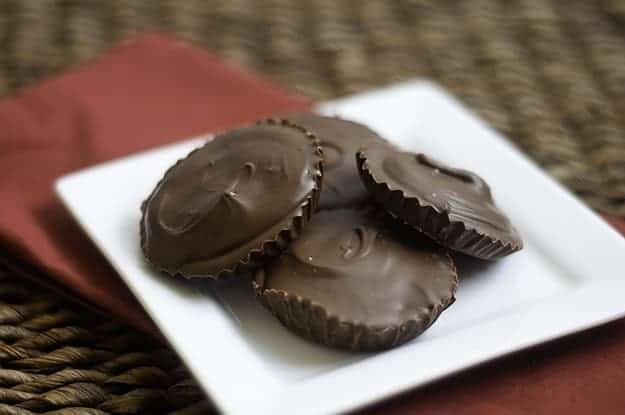 I'm almost to the point where I'm embarrassed to post another chocolate and peanut butter recipe. I mean, surely there are other flavor combos out there that I could share with you, right? Eh, maybe. But, they wouldn't be as yummy as this flavor combo. Chocolate and peanut butter are just classic and there is nothing you can say to make me think otherwise.
These little treats are absolutely perfect for your holiday baking. They are unbelievably simple and quick, but even better, they are impressive. People think candy making is so difficult, but these little guys will seriously take you about 15 minutes. Wrap 'em up in pretty packaging and deliver them to all of your family and friends and you will be a hero. Or, be like me, and eat them all in one night. It's okay. No one will ever know.
Now, if you are anything like me, you know that Reese's cups are the very best peanut butter cups out there. I think that the big secret to getting your peanut butter cups to taste similar to Reese's is to add quite a bit of salt to the peanut butter mixture. It sounds weird, but the next time you bite into a Reese's, really stop and taste the peanut butter. It's quite salty! So, while making these, don't freak out about the amount of salt in the mixture. Just start out slow and add more salt as needed. You really, really want to be able to taste it in the peanut butter mixture to make it pop against the chocolate. It'll also help to keep everything from getting too sickly sweet once it comes together.
On the other hand, if you prefer your peanut butter cups from the local candy shop, then go ahead and keep the salt at a minimum. Those things are usually sweet, sweet, sweet. These will taste just like those guys if you leave the salt out.
Are we clear?
Now, go make these. That's an order.
Chocolate Peanut Butter Cups
lightly adapted from Babble
1 cup peanut butter
3/4 cup powdered sugar
3 tablespoons butter, softened
1 teaspoon vanilla
2-4 teaspoons salt, to taste (start slow and add more, tasting in between additions)
2 bags milk chocolate chips (I used Ghiradelli)
Beat together the peanut butter, sugar, butter, vanilla, and salt until creamy and well combined. Set aside.
Melt the two bags of chocolate chips in the microwave by microwaving for 30 second intervals and stirring between each heating. Do not over heat!
Spoon a small spoonful of the melted chocolate into the bottom of a foil cupcake wrapper. Roll a teaspoon of the peanut butter mixture into a ball and flatten into a small disc. Place on top of the melted chocolate. Spoon more melted chocolate over the top and spread a bit to cover the peanut butter. Repeat with the remaining chocolate and peanut butter and allow to harden at room temperature (do not put in the fridge to speed this up!). Remove from the wrappers and enjoy!