I've been on a bit of a cake mix bender lately, you guys.
I mean, cookies from cake mix is just brilliant! It's easy, it's tasty, and it sorta tastes like cake and cookies all in one.
Total win, right?
I've also been on an avocado bender since, well…since the first time I tasted an avocado 4-ish years ago. I'm making up for lost time in the avocado department!
So, I did what any normal, sane, completely logical person would do.
I mixed cake mix with avocado and turned it into cookies.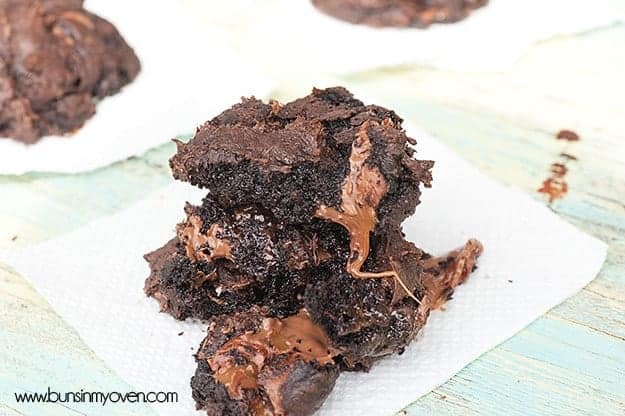 Seriously, I'm falling in love with baking with avocados! Don't get me wrong, I'll always love my butter, but avocado is so much healthier and it works just as well! You truly can not taste the avocado once it's been baked! It's just as creamy and rich as butter, so you'd never even guess it's in there!
My kids, the little people who rudely turn away all green things, devoured these cookies. Then I gleefully told them they had just eaten avocado and laughed my evil mom laugh. Poor things. They're scarred for life now.
Anyway, big thanks to Avocados from Mexico for sponsoring this post and requesting that I make a dessert recipe. It's really gotten my creative juices flowing with avocados. I'm realizing all of the possibilities beyond guacamole and the world is a much more beautiful (and tasty!) place now.
Be sure to check out the nutritional benefits on the Avocados from Mexico website. It'll make you realize that, actually, eating these cookies is probably what your doctor would want you to do. No guilt! (Unrelated: I am not a doctor. Do not take medical advice from me. I did work in a doctor's office for years though and my daughter still says "Remember when you used to be a doctor, Mom?" So, you know. Listen to your doctor or listen to me. Only one of us will tell you to consider cookies a health food, though.)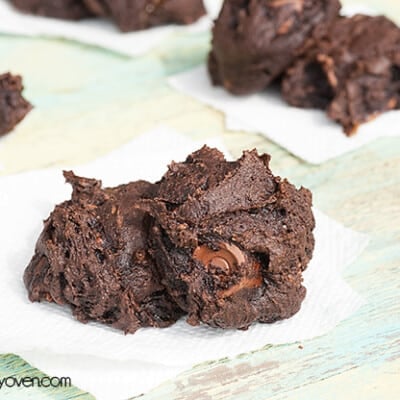 Chocolate Caramel Cake Cookies
I mixed cake mix with avocados and came out with cookies!
Prep10 minutes
Cook11 minutes
Total21 minutes
Ingredients
1 box Devil's Food Cake Mix
1 Hass avocado average size
1 tablespoon heavy cream milk will work as well
1 cup mini Rolo candies
Instructions
Preheat oven to 350 degrees.

Slice the avocado in half. Remove the seed and scoop out the flesh. Add to the bowl of a stand mixer and beat until smooth and creamy.

Stir in the cake mix and milk and continue beating until the dough is well combined.

Gently stir in the Rolo candies.

Drop spoonfulls of dough onto a parchment lined cookie sheet 2 inches apart from each other. Bake for 11 minutes.

Cool completely before serving.
Nutrition Information:
Calories: 102kcal (5%)| Carbohydrates: 15g (5%)| Protein: 1g (2%)| Fat: 4g (6%)| Saturated Fat: 1g (6%)| Cholesterol: 1mg| Sodium: 153mg (7%)| Potassium: 103mg (3%)| Fiber: 1g (4%)| Sugar: 8g (9%)| Vitamin A: 25IU (1%)| Vitamin C: 0.8mg (1%)| Calcium: 31mg (3%)| Iron: 0.9mg (5%)
This post was sponsored by Avocados from Mexico. As always, all opinions are 100% my own.