This CHICKEN PARMESAN MEATBALL CASSEROLE has all the flavors of traditional Chicken Parmesan without the mess of frying chicken! This recipe freezes great and is a favorite with family and friends.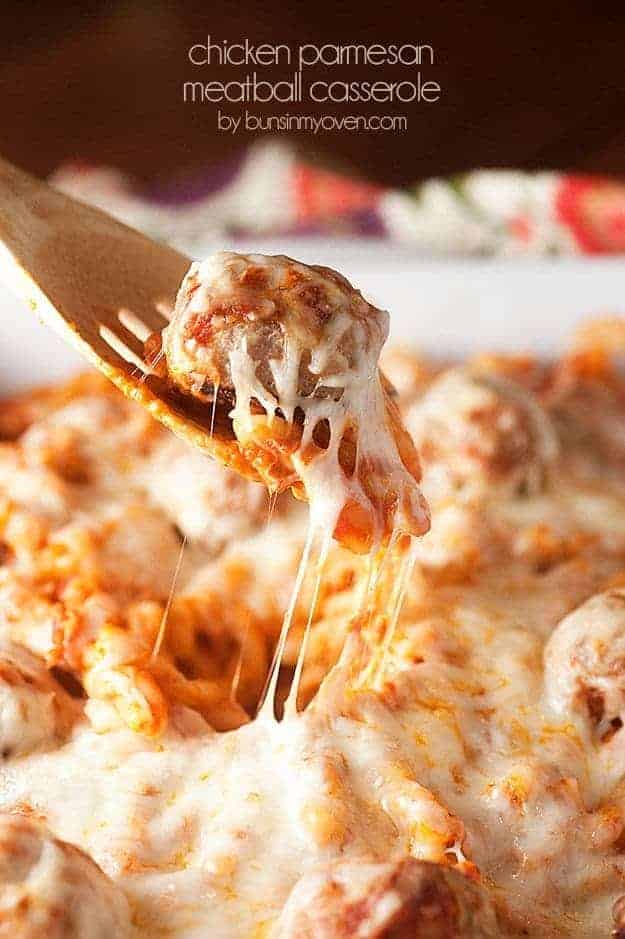 My husband works some rather unpredictable hours. When things go wrong at work, he has to stick around and fix them. It's a bummer when it comes time to cook dinner.
I've told him that 6:30 is dinner time and he can either be home then or he can microwave left overs when he does decide to drop by.
The thing is, on the nights that I'm pretty sure he isn't going to make it on time, the kids and I eat random junk. Cereal, my favorite cold sandwich, chips with restaurant style salsa, oatmeal. Whatever, if it takes me less than 5 minutes, I serve it.
This Chicken Parmesan Meatball Casserole is my way of making up for the lackluster dinners we've been having lately. It's full of melty cheese, healthy chicken, and the tomato sauce totally counts as a veggie.
Plus, pasta reheats like a dream and is usually even better the next day! My whole family ate this, although I did have to chop the meatballs up into tiny pieces for my daughter. She hates meatballs, unless she doesn't know she's eating meatballs and then she loves them. Kids are weird. 😉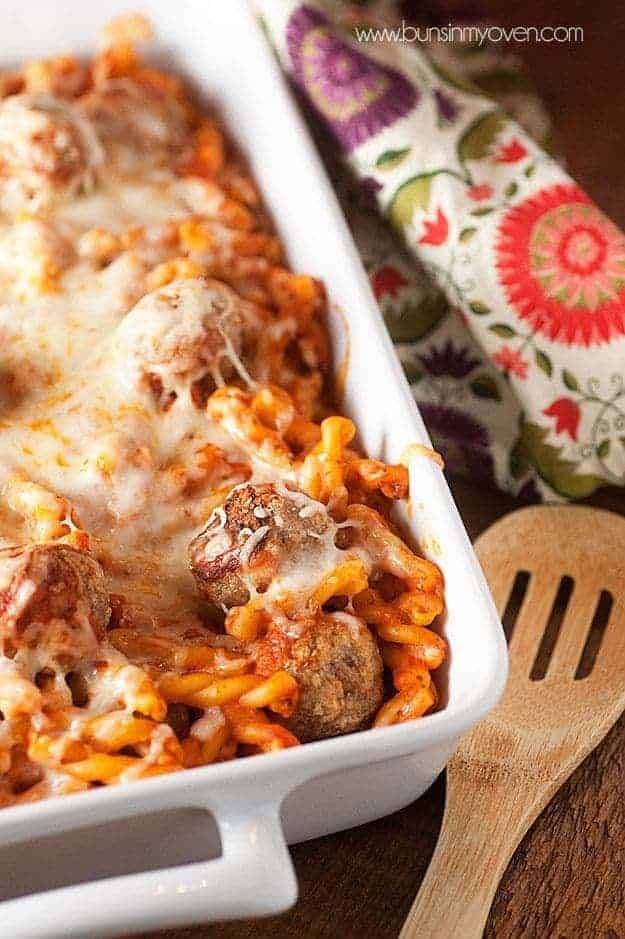 Ingredients Notes:
Ground Chicken – We use lean ground chicken in this recipe, but ground turkey works just as well and can be easier to find.
Panko – We love panko because it's so light, airy, and crisp. Regular bread crumbs will also work in meatballs.
Italian Seasoning – This adds loads of flavor thanks to the basil, oregano rosemary, and thyme.
Marinara – We use and love Rao's marinara sauce. It's our favorite brand of jarred sauce.
Campanelle – We think this is a fun pasta shape to use in this meatball casserole, but you can use any small shape of pasta that you like.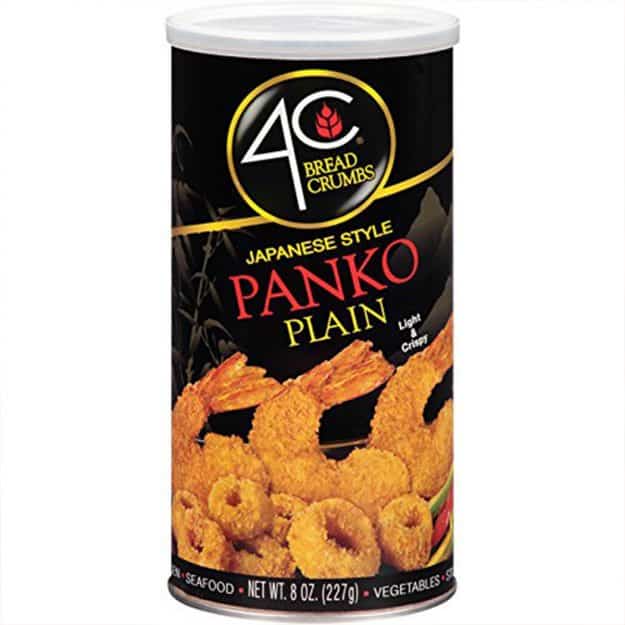 Panko is a Japanese bread crumb that is light, airy, and crispy. It can be found in most any grocery store. We highly recommend using Panko over traditional bread crumbs in any breading recipe where you want a crispy finished product. It works well in meatballs too!
How to make:
Boil your pasta as the directions indicate on the package, but cook them for one minute less than the recipe calls for. This will help your pasta to not overcook in the oven.
Mix together the ground chicken, panko, egg, parmesan cheese, and milk, After they are all mixed well form into balls about an inch in diameter.
Place all the balls on a baking sheet lined with parchment paper or foil. These will bake in just 10 minutes.
Add the pasta sauce to a large bowl and stir in the cooked pasta and meatballs.
Now spread half the pasta mixture into a 9 x 13 pan then top with a layer of mozzarella cheese. Then repeat with the second layer of both.
Bake for 20 minutes at 350 degrees F or until all the cheese is melted.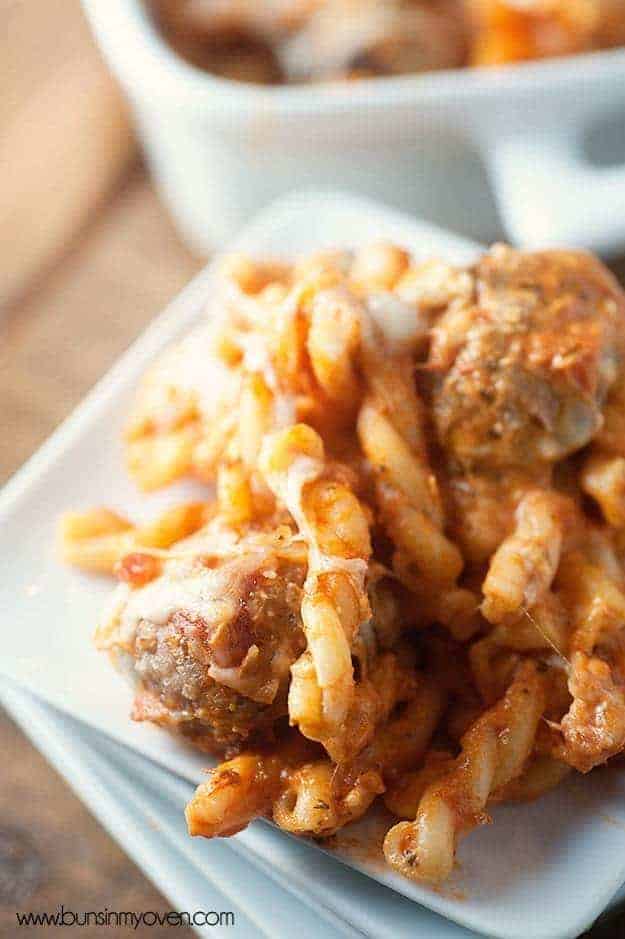 Helpful Tip!
Freeze the dish ahead of time!
After layering the pasta and cheese cover tightly with foil and freeze until ready to bake.
Bake at 350 degrees F for 45 minutes or until hot.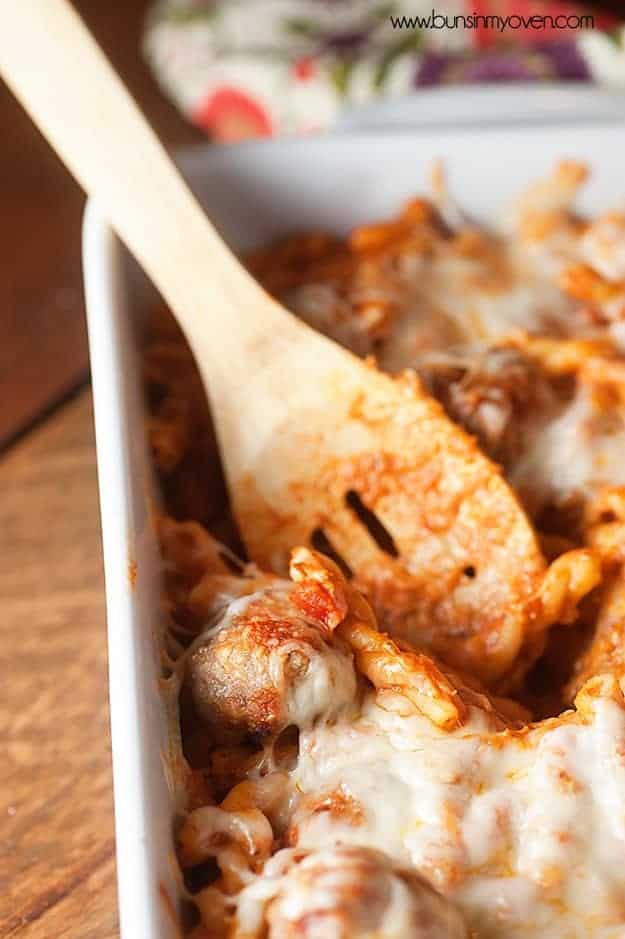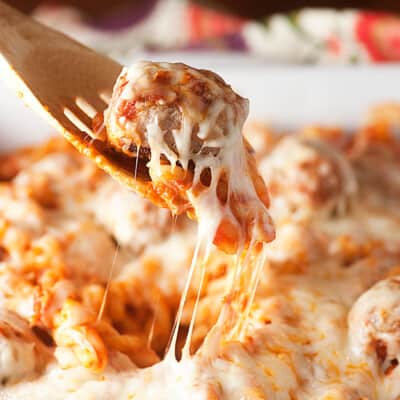 Chicken Parmesan Meatball Casserole
This meatball casserole recipe has all the flavors of traditional Chicken Parmesan without the mess of frying chicken! This can also be one of your go-to freezer meals that your whole family will love!
Prep10 minutes
Cook30 minutes
Total40 minutes
Ingredients
1 pound lean ground chicken
1 cup panko bread crumbs
1 large egg
1/2 cup grated Parmesan cheese
1/4 cup milk
1 pound campanelle pasta any small shape is fine, such as ziti
24 ounces marinara sauce
2 cups shredded mozzarella cheese
1 teaspoon Italian seasoning
Instructions
Bring a large pot of water to a boil and add the pasta. Cook for 1 minute less than package directions state.

Preheat oven to 450 degrees.

While the pasta is cooking, prepare the meatballs. Add all of the ingredients to a large bowl and use your hands to mix them together well. Form into small balls, about 1 inch in diameter and place on a parchment lined baking sheet.

Bake for 10 minutes or until cooked through and no longer pink. Remove from the oven and reduce the oven temperature to 350 degrees.

Add the pasta sauce to a large bowl and stir in the cooked pasta and meatballs. Stir gently to coat everything in sauce.

Spread half of the pasta and meatballs into a 9×13 baking dish. Top with half of the mozzarella cheese. Repeat layers. Sprinkle with Italian seasoning.

Bake for 20 minutes or until the cheese is melted. Serve immediately.
Tips & Notes:
To Freeze: Prepare the dish up to the time of baking. Let cool and cover tightly with foil. Freeze for up to 3 months. Bake straight from the freezer at 350 degrees for 1 hour or until hot and bubbly.
Nutrition Information:
Calories: 466kcal (23%)| Carbohydrates: 53g (18%)| Protein: 29g (58%)| Fat: 14g (22%)| Saturated Fat: 6g (38%)| Cholesterol: 100mg (33%)| Sodium: 821mg (36%)| Potassium: 766mg (22%)| Fiber: 3g (13%)| Sugar: 6g (7%)| Vitamin A: 660IU (13%)| Vitamin C: 5.9mg (7%)| Calcium: 267mg (27%)| Iron: 2.8mg (16%)