This BURRITO CASSEROLE is shaped like a pie for a fun twist on taco night. It's got multiple tortilla layers of taco meat, rice, and cheese! Feel free to add your favorite burrito fillings to customize this dish.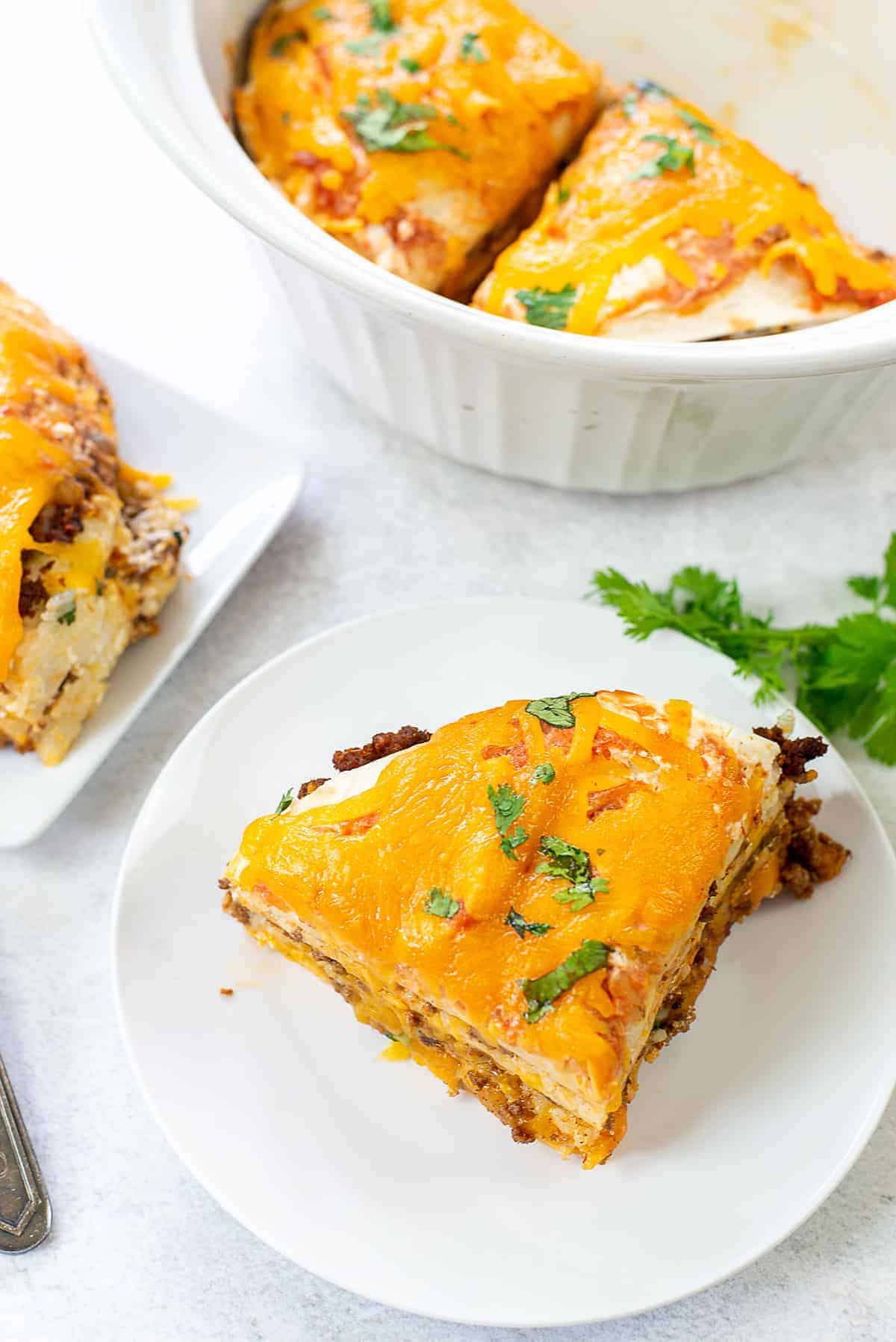 As you all might have noticed, I have a bit of a thang for American-ized Mexican food. I mean, don't get me wrong – I love REAL Mexican food too. It's just that I live in central Illinois and the real stuff can be hard to come by.
Also, I'm quite sure that the majority of the recipes I make at home are not super authentic considering I nearly always start with a packet of taco seasoning. If any of my readers are from Mexico, please answer the following question: Do y'all ever use the taco seasoning packets? Is this an American thing? I feel like it's an American thing.
Anyway!
I do not promise to bring you authentic Mexican cuisine, but I do promise you that what I am about to share is freakin' amazing. My kids had to fight me to share this one with them.
I got the idea for this from my taco casserole. I figured, hey, a burrito casserole might be a good idea too. I was right. I was like the rightest I've ever been in my life.
Whenever we make tacos (once a week, at least), I always make double the amount of meat we'll use. We use the leftovers in taco salads, taco omelettes, or even in my fried tacos. It's also nice to have some extra meat on hand for my low carb taco bake.
Having the taco meat in the fridge and ready to go made this recipe super quick to whip up. This would be great with my barbacoa recipe too.
Ingredient Notes: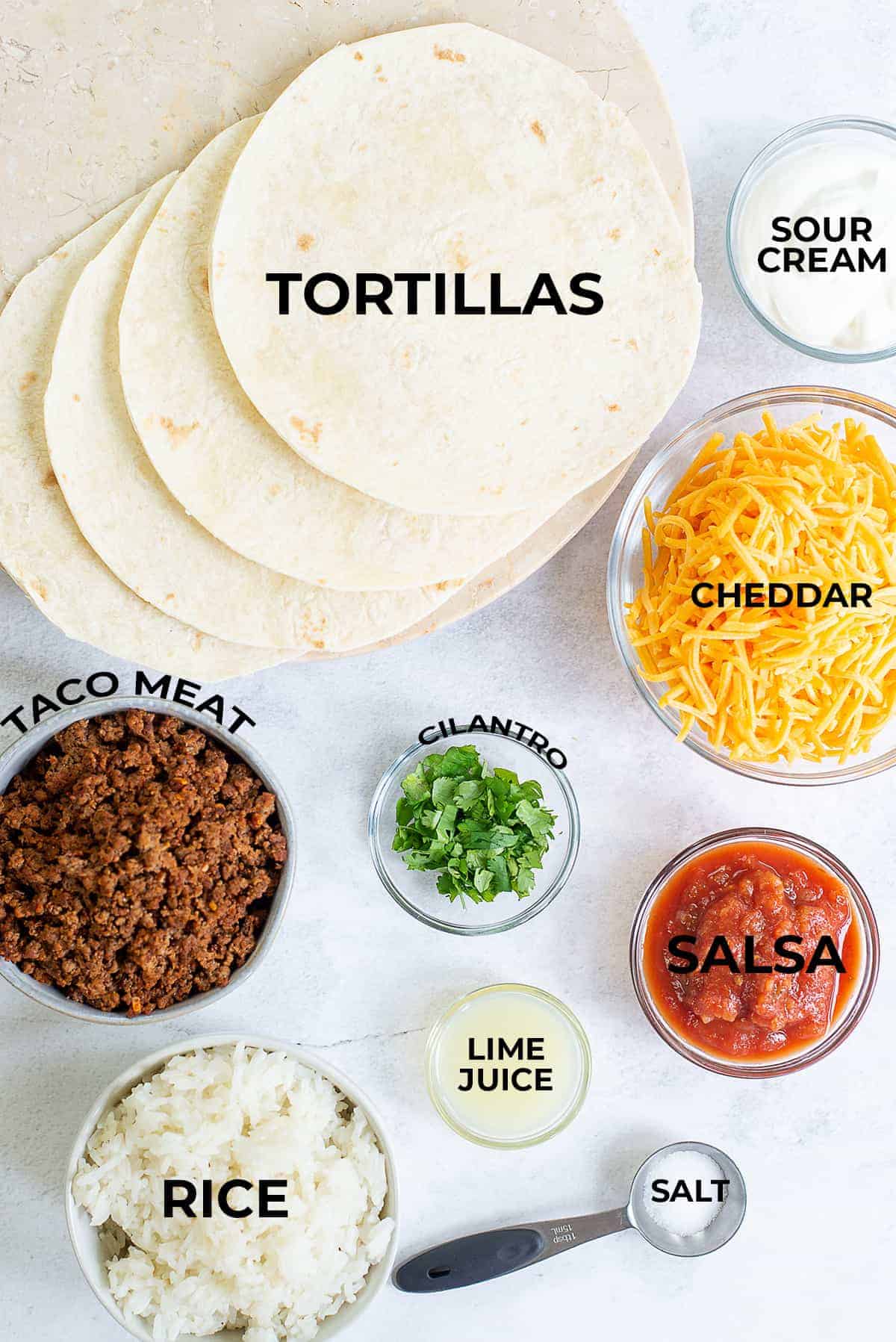 Taco Meat – We use ground beef in this recipe, but you could use any type of meat you like burritos. The chicken from our crockpot chicken tacos would be perfect. This keto taco seasoning is perfect to use on your meat.
Salsa – You can use the jarred stuff from the store or if you've got the time make my homemade restaurant style salsa!
Rice – We're seasoning cooked white rice with cilantro and lime. You can use minute rice to keep it easy or make rice from scratch.
What Readers are Saying!
"Karly, I made your Burrito Pie for dinner tonight. My husband told me…make sure you don't lose this recipe!" – Yvette
How to Make Burrito Pie:
This post contains affiliate links. As an Amazon associate and member of other qualifying programs, I earn from qualifying purchases.
Rice: I made the rice in my Instant Pot, which I love. It makes perfect rice every time! I rinse my rice with water, drain well, and then do equal parts rice to water in the pot. I set the vent to sealing and cook on high pressure for 3 minutes. I let the pressure release naturally for 10 minutes and then open it up and stir. Perfectly fluffy rice every time! Here's the Instant Pot I use. 🙂
When the rice is cooked add it to a mixing bowl along with the lime juice, cilantro, and salt and stir it up well.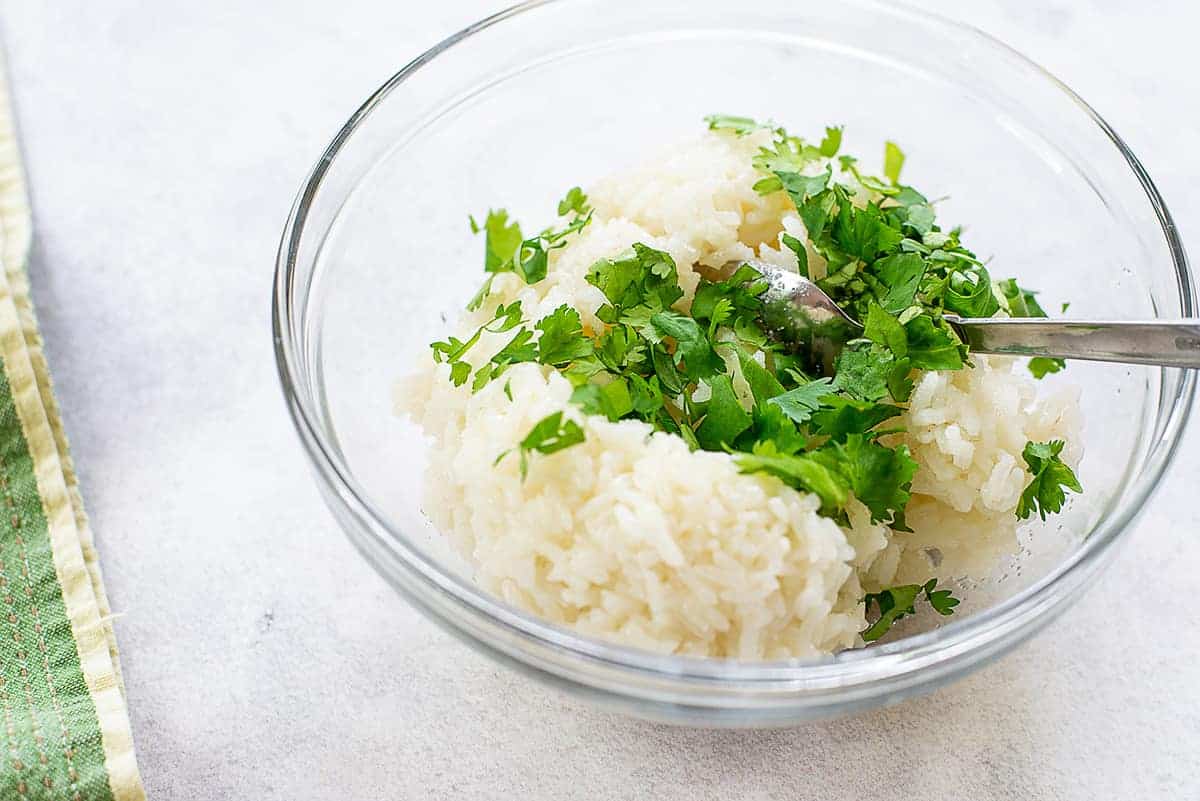 Taco Meat: We use ground beef in this recipe, but you could use any type of meat you like burritos. Shredded beef, pulled pork, shredded chicken, ground turkey…it's all good!
Brown the beef, season with taco seasoning, and get ready to layer it all together.
Layers: Next up you can start making the actual pie and filling it with layers of good stuff!
In a deep dish pie plate, place a 10 inch flour tortilla on the bottom and spread the sour cream on top of the tortilla. Then top that with some of the rice, taco meat, salsa and cheese. That's one layer done!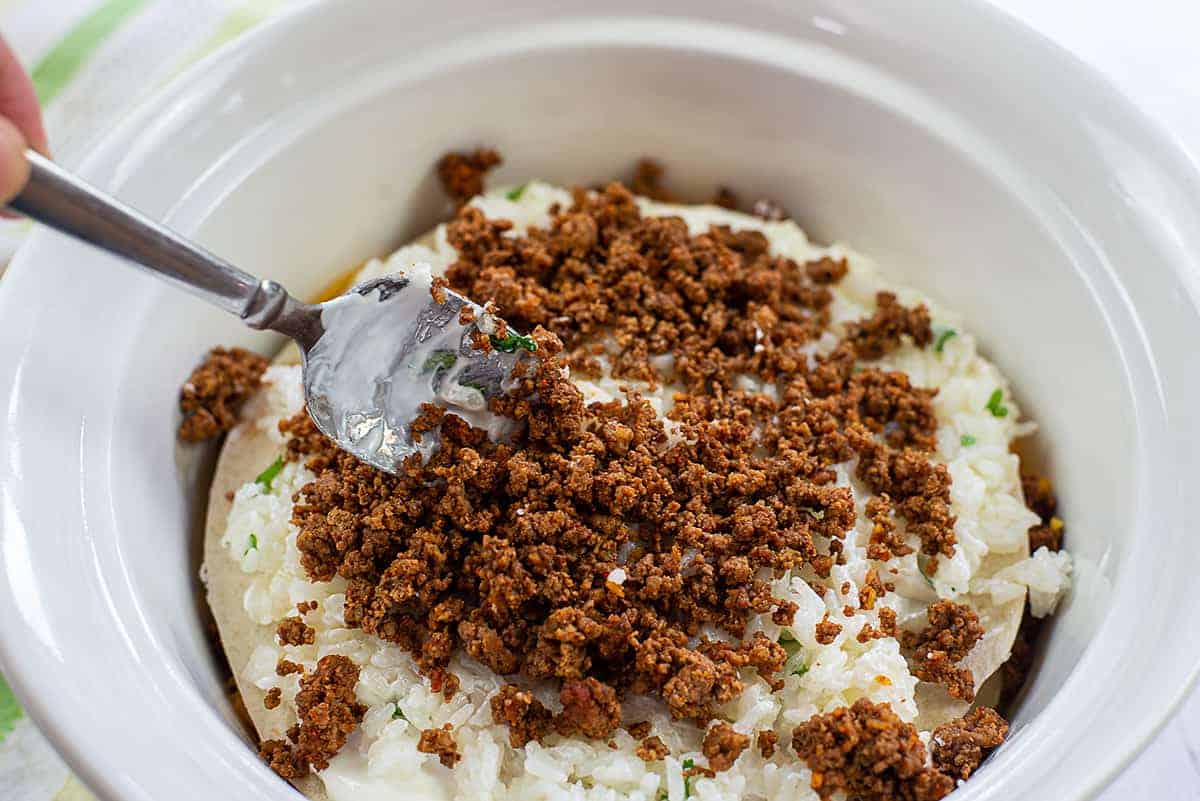 Top all that with another flour tortilla and then add two more layers of the rice, meat, salsa and cheese, topping each with another tortilla and pressing down.
Finally add one last layer of tortilla, sour cream, salsa and cheese to top it off!
Bake: It shouldn't take long for this burrito pie recipe to finish baking. After about twenty minutes the cheese should be all hot and melty and the layers baked together. This goes great with even more toppings like diced tomatoes and our homemade guacamole. Serve it while it's hot!
FAQs:
Can I add/remove/modify ingredients?
The best thing about a burrito is that you can easily customize the ingredients, and the same should work with this burrito pie. You could spice it up with jalapeno or maybe add some pinto or black beans. Enchilada sauce, black olives, grilled bell peppers, etc.
Can I store this recipe?
I would recommend eating this burrito pie while it's hot and fresh! The longer it sits the more liquid the tortillas soak up. It will keep for a few days in the fridge, but we do prefer this one fresh.
MORE MEXICAN & TEX-MEX RECIPES!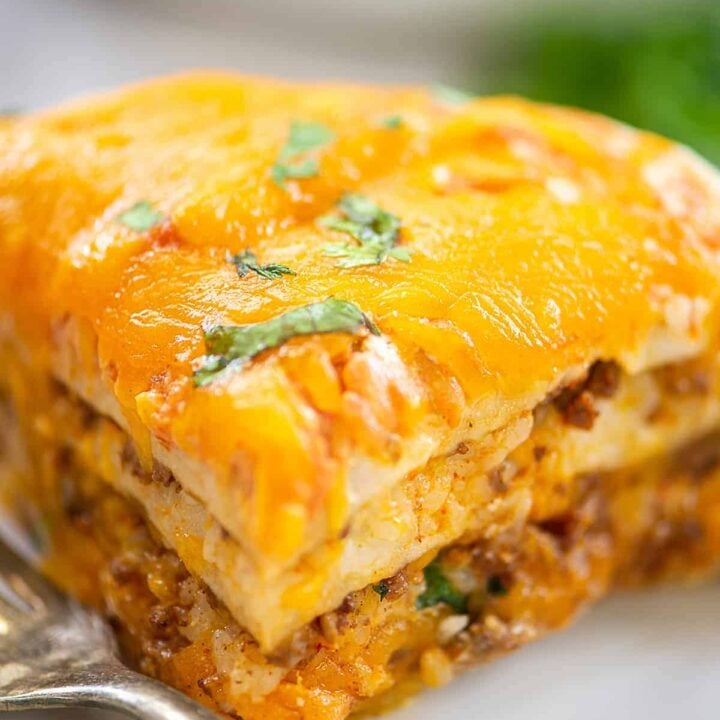 Burrito Casserole
This burrito casserole is shaped like a pie for a fun twist on taco night!

Prep10 minutes
Cook30 minutes
Total30 minutes
Ingredients
2 cups cooked white rice
1 tablespoon lime juice
1 tablespoon chopped cilantro
1 teaspoon salt
1 pound ground beef
3 tablespoons taco seasoning
4 10-inch flour tortilla shells
1/2 cup sour cream
1/2 cup salsa
2 cups shredded cheddar cheese
Instructions
Preheat oven to 350 degrees.

Add the cooked rice, lime juice, cilantro, and salt to a medium mixing bowl and stir well to combine.

Brown the beef in a large skillet over medium heat. When cooked through, drain the fat and stir in the taco seasoning and 2 tablespoons of water to coat. Set aside.

Place one flour tortilla in the bottom of a deep dish pie plate.

Spread tortilla with 2 tablespoons of sour cream.

Top with 1/2 cup of prepared rice and 1/3 of the taco meat.

Spoon 2 tablespoons of salsa over the top.

Sprinkle on 1/2 cup of cheese.

Repeat layers 2 more times, pressing down the tortilla stack each time you add a new tortilla.

Add a final layer of tortilla, sour cream, salsa, and cheese to the top.

Bake for 20 minutes or until hot and melty.

Serve with all of your favorite toppings, such as diced tomatoes, guacamole, hot sauce, etc.
Tips & Notes:
We cook our white rice in the Instant Pot. Rinse the rice with water and then place in the Instant Pot. Top with an equal amount of water. (1 cup rice, 1 cup water, etc.) Cook on high pressure for 3 minutes. Let release naturally for 10 minutes and then do a quick release and fluff with a fork.
Nutrition Information:
Calories: 788kcal (39%)| Carbohydrates: 62g (21%)| Protein: 38g (76%)| Fat: 42g (65%)| Saturated Fat: 21g (131%)| Cholesterol: 131mg (44%)| Sodium: 1721mg (75%)| Potassium: 572mg (16%)| Fiber: 2g (8%)| Sugar: 5g (6%)| Vitamin A: 900IU (18%)| Vitamin C: 2mg (2%)| Calcium: 543mg (54%)| Iron: 4.8mg (27%)