August 31, 2018
Broccoli, Ham, and Cheese Muffin Tin Strata
Let's talk brunch.
I personally love brunch. First of all, it makes me feel very fancy. Boring, plain people don't eat brunch. They eat breakfast and/or lunch. Cool people have brunch.
That's a fact, you guys.
Also, I'm never hungry first thing in the morning. And breakfast foods are okay, and lunch foods are okay, but when you mix them all up together, everyone is happy.

So, I grabbed my ham and broccoli and cheese and I tossed them all together with some crusty French bread and I poured my favorite eggs right over the top and I made brunch.
Back up. Favorite eggs? Either a) you're wondering what's so special about my favorite brand of eggs, or b) you've been reading long enough to know that I've been working with Davidson's Safest Choice for quite some time now, helping to spread the word about just why exactly they are my favorite.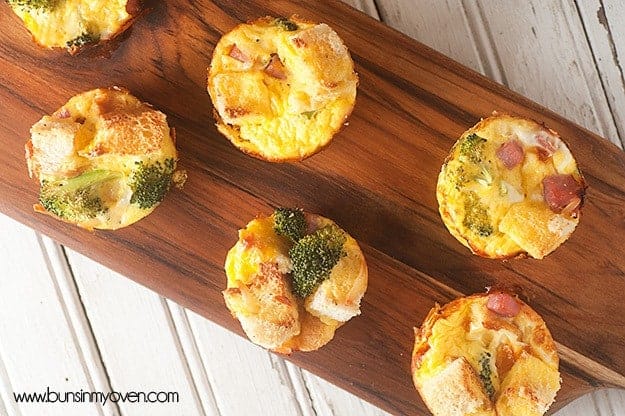 The reason they're my favorite is because they're pasteurized. Mostly, for me, this means that I can eat as much raw cookie dough as I want without worrying about getting samonella. For my kids it means that I can happily and safely make them eggnog all year long (it's their favorite drink!) and for you it means that you no longer need to worry about raw eggs. Davidson's Safest Choice Eggs get gently pasteurized in a water bath, killing all bacteria and viruses.
So, back to brunch.
These little hand held stratas are loaded with veggies, ham, and cheese for a filling and hearty meal. Serve them with a salad on the side or with some fresh fruit. You can also easily change up what you mix in. Swap the ham for sausage or bacon, switch to spinach instead of broccoli, add some onions or bell peppers. These are easy to customize to your tastes! They also make a great weekday breakfast. Just grab and go!
Ham and Broccoli Muffin Tin Strata
Servings: 12 muffins
Course: Breakfast
Cuisine: American
Keyword: brunch recipes, easy breakfast recipes, party recipes
Calories: 89 kcal
I grabbed my ham and broccoli and cheese and I tossed them all together with some crusty French bread and I poured my favorite eggs right over the top and I made brunch.

Ingredients
2 cups bread cubes
1 cup diced ham
1/2 cup broccoli chopped into small pieces
1/2 cup grated Gruyere cheese
5 large eggs
1 cup milk
1 teaspoon bottled hot sauce
1/2 teaspoon salt
1/2 teaspoon ground black pepper
Instructions
In a medium bowl, combine the bread cubes, ham, broccoli, and cheese. Toss to combine.

In a medium bowl, whisk the eggs and milk together. Stir in the hot sauce, salt, and pepper.

Spray a 12 cup muffin tin with non stick cooking spray. Divide the bread cube mixture evenly between the muffin wells. Pour the egg mixture into the muffin wells, just below the top.

Cover and refrigerate for at least one hour or overnight.

Bake at 350 degrees for 20 minutes or until golden brown and the eggs are set.
Nutrition Facts
Ham and Broccoli Muffin Tin Strata
Amount Per Serving
Calories 89 Calories from Fat 36
% Daily Value*
Fat 4g6%
Saturated Fat 2g13%
Cholesterol 90mg30%
Sodium 311mg14%
Potassium 80mg2%
Carbohydrates 3g1%
Sugar 1g1%
Protein 7g14%
Vitamin A 220IU4%
Vitamin C 3.6mg4%
Calcium 98mg10%
Iron 0.6mg3%
* Percent Daily Values are based on a 2000 calorie diet.
Nutrition Disclaimer: All information presented on this site is intended for informational purposes only. I am not a certified nutritionist and any nutritional information shared on bunsinmyoven.com should only be used as a general guideline.
Big thanks to Davidson's Safest Choice for sponsoring this post. As always, all opinions are my own.