If you're anything like me, you're going to love this cowboy breakfast casserole with bacon! It's full of meat, packed with veggies, and is easy to make ahead for busy mornings! This easy breakfast casserole will feed a crowd!

We moved into our home a couple of years ago and we've been so happy here. We knew when we were house shopping that we wanted something that was good for entertaining. And, yeah, we totally felt like a couple on House Hunters every time we said that.
I also might have made the joke about the master closet being all mine. Because I'm nothing if not a cliche.
Anyway, I know people love to make fun of the House Hunters couples for all this entertaining they imagine themselves doing and I get it. I mean, I used to dread having people over. Like, all the cleaning you have to do in advance. All the planning. All the cooking. All the thinking about it and stressing about it.
My breakfast casserole recipe is perfect for feeding a crowd!
And now, it's like a flip switched or something, because inviting people over is basically my favorite. We love to entertain! <— Entertain sounds so much fancier than what we actually do, which is generally just set all of our booze out on the kitchen counter and tell our friends to have at it.
We even took over Christmas day for my family. We used to go to my mama's and now everyone comes here instead and nothing makes you feel more like a grown up than hosting Christmas. I like to do brunch rather than lunch, because it feels fancy and it's just not something that we really ever do. It's fun and different and I love it!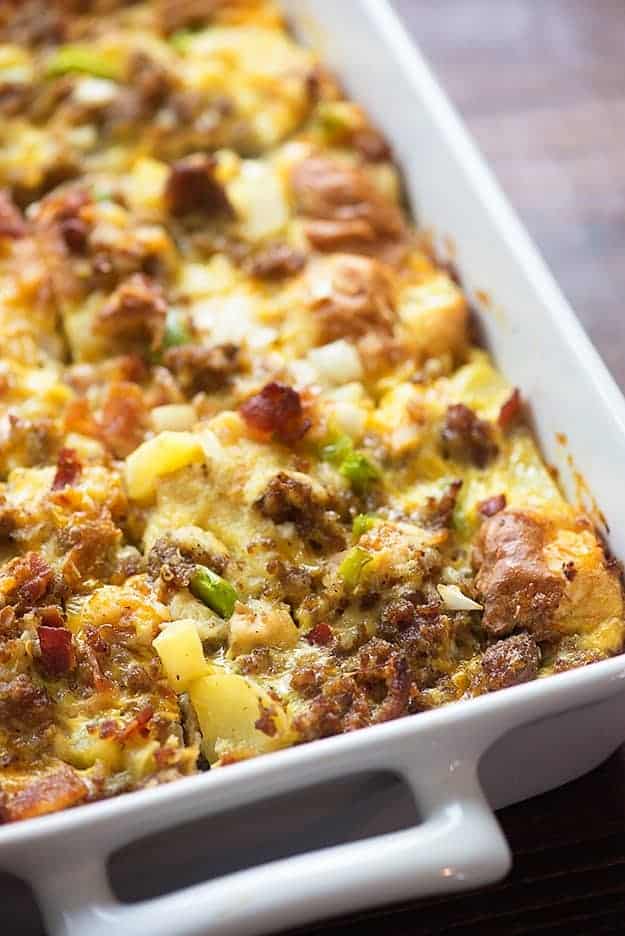 The first year I hosted was literally the most stressful thing I've ever done. Trying to cook brunch for a bunch of people can be tricky, my friends.
Enter this casserole. It's definitely happening for Christmas this year. It's perfect for preparing the night before, which means that you just wake up and pop it in the oven. Serve it alongside a green salad and some mimosas and you're good. 🙂 Maybe throw in some oven roasted potatoes for good measure. The best waffle recipe ever is always good for brunch. Or be like me and go way overboard, serve 10 different dishes, and completely stress yourself out. Ahhh, the magic of Christmas.
Breakfast casserole recipes are perfect for Christmas morning!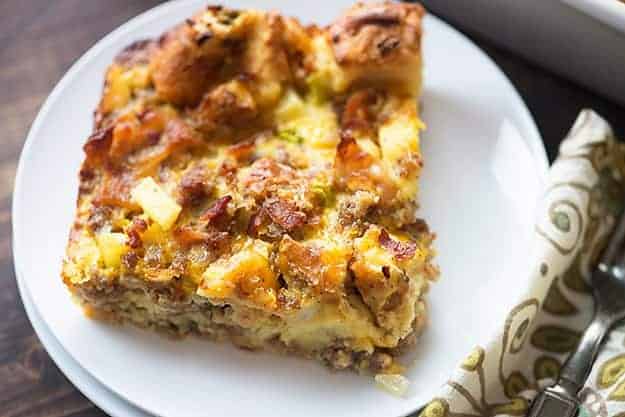 Anyway, I'm calling this a cowboy casserole because it just seems like a thing that tough, manly cowboys would eat. It's packed with bacon, sausage, and eggs. It's super filling and tastes amazing! I hope you guys give it a try and like it as much as we do!
Feel free to make adjustments to fit your family's preferences too! Less meat and more veggies would be good too! 🙂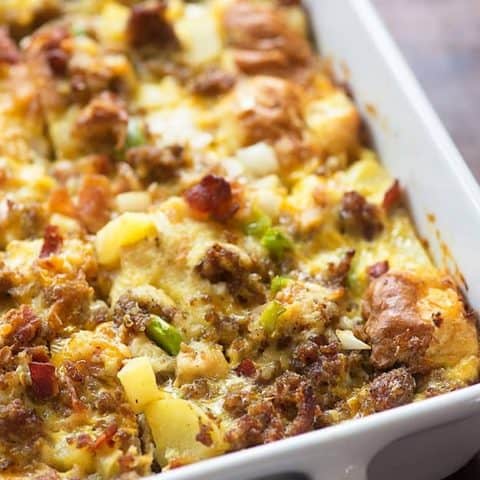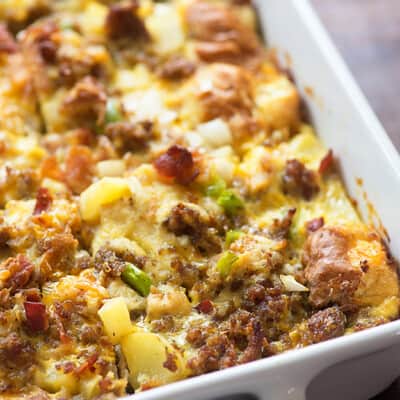 Cowboy Brunch Casserole
I love having a few breakfast casserole recipes on hand for busy mornings! This easy breakfast casserole is loaded with sausage, bacon, cheese, and veggies making it the best breakfast casserole ever! You're going to love it.
Prep10 minutes
Cook45 minutes
Total55 minutes
Ingredients
6 large eggs beaten
2 cups milk
1 pound breakfast sausage cooked and crumbled
1 pound bacon fried and diced
6 slices French bread cubed
1 cup cheddar cheese
1 large potato peeled and diced
1 sweet onion diced
1 bell pepper diced
1 teaspoon salt
1 teaspoon pepper
1 teaspoon red pepper flakes
Instructions
Add the eggs and milk to a large mixing bowl and whisk until well combined.

Add the remaining ingredients to the bowl and stir to combine.

Pour mixture into a greased 9x13 baking dish and cover tightly with foil. Place in the refrigerator overnight or for at least 4 hours.

Bake uncovered in a 350 degree oven for 45 minutes or until the top is golden brown and the eggs are set. Let stand 10 minutes before cutting and serving.
Nutrition Information:
Calories: 714kcal (36%)| Carbohydrates: 35g (12%)| Protein: 32g (64%)| Fat: 48g (74%)| Saturated Fat: 18g (113%)| Cholesterol: 238mg (79%)| Sodium: 1448mg (63%)| Potassium: 545mg (16%)| Fiber: 1g (4%)| Sugar: 7g (8%)| Vitamin A: 1045IU (21%)| Vitamin C: 21.4mg (26%)| Calcium: 229mg (23%)| Iron: 3.6mg (20%)