Can you guys even believe the nerve of my husband?
Every single Saturday morning he wakes up, he sits around in his pajamas until I wake up (hey, some of us like sleeping in, okay?), and then when I do finally emerge from my cocoon of blankets and as many pillows as can fit in my bed, he looks at me and asks what I'm making for breakfast.
Has the man forgotten who he is married to?
Breakfast is my least favorite meal to cook. I mean, cold cereal was on the menu yesterday. And the day before. And it's on the menu for tomorrow. So, go ahead. Guess what I'm planning on cooking you for breakfast today, husband! Right. Cold cereal.
Ugh. Then he gives me his sad eyes and he tells me that he'll just make himself some bacon and eggs. He heads to the kitchen and starts flinging bacon grease all over the place and burning eggs. It's ridiculous.
So, every week, I cave. I end up making the eggs (and cleaning the bacon grease).
Lucky me, these baked scrambled eggs are, no joke, even better than traditional scrambled eggs!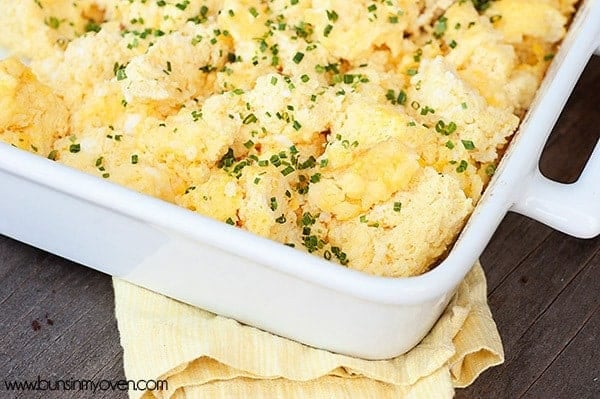 You guys, I just adore these eggs. They are always so light and fluffy, moist, and perfect! Not to mention they are perfect for experimenting! Add in some diced ham and swiss cheese, stir in some diced bacon or sausage, add some sauteed onions and peppers! There are endless options for a big ol' dish full of perfectly cooked eggs!
These are also great for when you're feeding a crowd! You can easily double this recipe and there is practically no hands on time. A couple of stirs and you've got perfect eggs that you didn't have to babysit. Plus you'll leave your stove top free for pancakes and bacon!
Hop over to Craftsy where I shared the super simple recipe for these oven baked scrambled eggs!